Five intrepid ramblers gathered at Rhyslyn car park, Pontrhydyfen to set out on the Richard Burton trail. The trail is about 3 miles long and takes about 1.5 to 2 hours. The weather was cloudy and the walkers encountered one or two very brief rain showers but for the most part, it was dry.
Rhyslyn car park is on the site of the Pontrhydyfen railway station, used by the Swansea Bay and Rhondda railway, and the earth bank shows the position of one of the platforms. From the car park the group moved on to the Aqueduct built in 1825 by ironmaster John Reynolds to supply waterwheels to the nearby Oakwood ironworks. From the aqueduct the walkers looked down at the house where Richard Burton was born and across the aqueduct they passed Bethel Chapel where a memorial service was held following his death in 1984.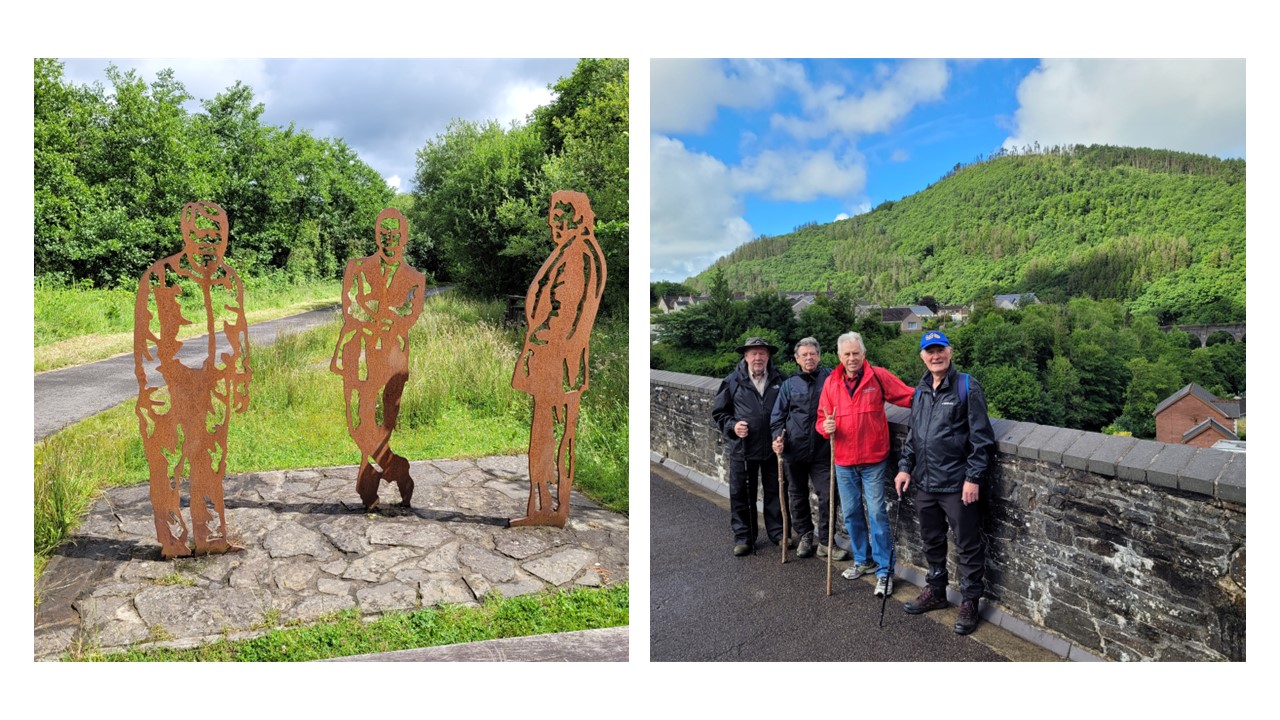 Continuing along the path the Portrait Bench came into view with its silhouettes of Richard Burton, locally born comedian Rob Brydon and local retired Afan Forest Park Ranger Dick Wagstaff. After the inevitable photo opportunity the group carried on to cross the river Afan in Cwmafan and continue back along the opposite bank of the river. Their route took them to the back of the Rock Chapel where one of the group pointed out that he was christened there back in the distant past!
Along the road the Railway Viaduct loomed large; the 9 – arch structure was built in 1898 to carry the South Wales Mineral Railway and its cargo to the docks at Port Talbot. The ramblers went under the viaduct up a series of steps back over the aqueduct to finish their walk at the car park. After their exertions a very heart meal and some liquid refreshement was enjoyed at the Brit pub in Cwmafan.