The Rotary Club of Spey Valleys year drew to a close last Wednesday when Ronnie Dunn, the current President handed over to Stewart McNeish who becomes President for the year 22/23. The handover took place at the Cairngorm Hotel Aviemore where members and guests enjoyed a first class meal which was followed by a short summary of the Clubs achievements throughout the past year. A considerable amount was achieved considering the restrictions of Covid and that most of the club meetings were held on Zoom. The Club assisted at the Nethy Games, the Grantown Show, the Aviemore Triathlon, Aviemore Half Marathon and 10km and the Dramathon.
Russell Jones supported the Club by giving an excellent presentation on his cycle trip across America which raised funds in excess of £1000. This money was used to fund two weekends for Primary P7 pupils transitioning to High School this year. All primary schools throughout the valley participated and the weekends were held at Altnacriche and Lagganlia outdoor centres. Both weekends promoted teamwork , adventure activities and fellowship and were enjoyed by all the children that took part.
Another fundraiser was the golf charity match held at Grantown on Spey golf course in aid of the Highland Hospice and other local charities. which made in excess of £2500. Caledonia Estate Agency stepped up as the main sponsor and we were further supported by local businesses.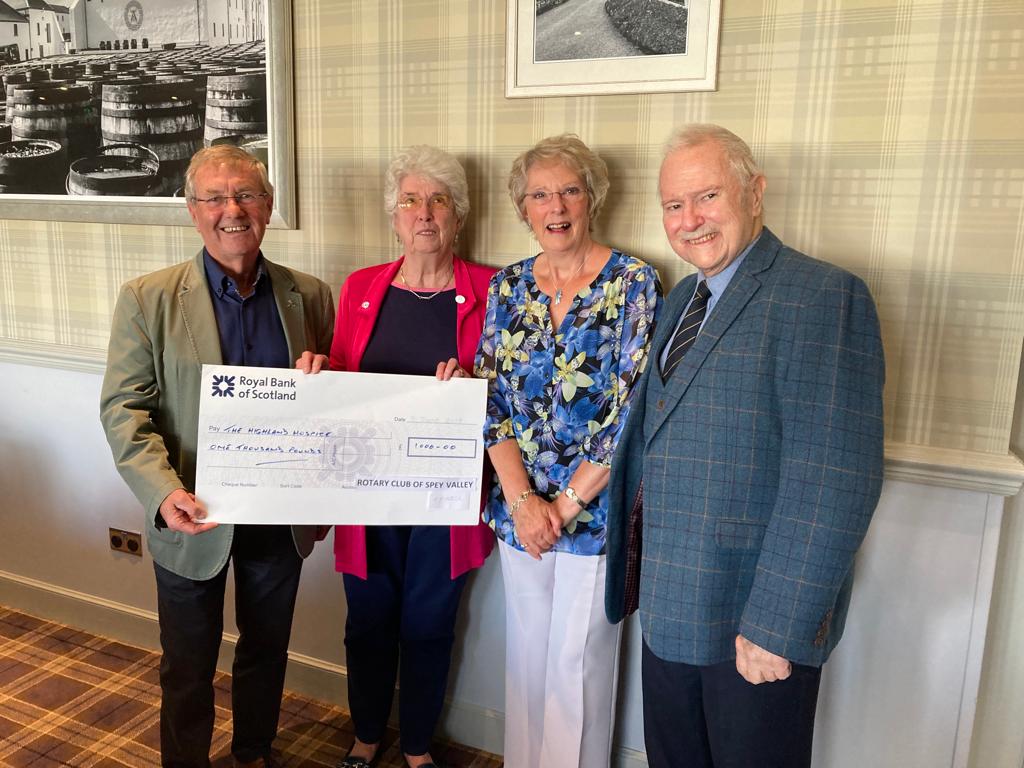 The first major event planned in the New Rotary Year is a presentation in the Boat of Garten Hall on Sat 24th September. It is called "Climb to Recovery" given by trainers and soldiers who have lost limbs in recent conflicts and is not to be missed. We are sure one and all will find this extremely interesting and be amazed by the resillience of these young men.
The Rotary Club of Spey Valley are keen to here from anyone who would like to join the club and become involved in the club activities. The Club meets on a Wednesday evening at 6.30 for a light supper at the Cairngorm Hotel, Aviemore. Once a month there will be a speaker. Further details can be had from the Club Secretary.