District 1090 win the Rotary GB&I Interact Development Award 2013
Celebrating New Arrivals to our Rotary Family

Blessed George Napier School Interact Club, Banbury
It was a real Rotary family affair on Tuesday 23 April 2013 when the new BGN Interact club received its charter from District Interact organiser, Mike Ware.
Sponsored by Banbury and Banbury Cherwell Rotary Clubs and supported by the recently reformed Banbury Rotaract Club, members were out in force to welcome Banbury's first Interact Club into the family.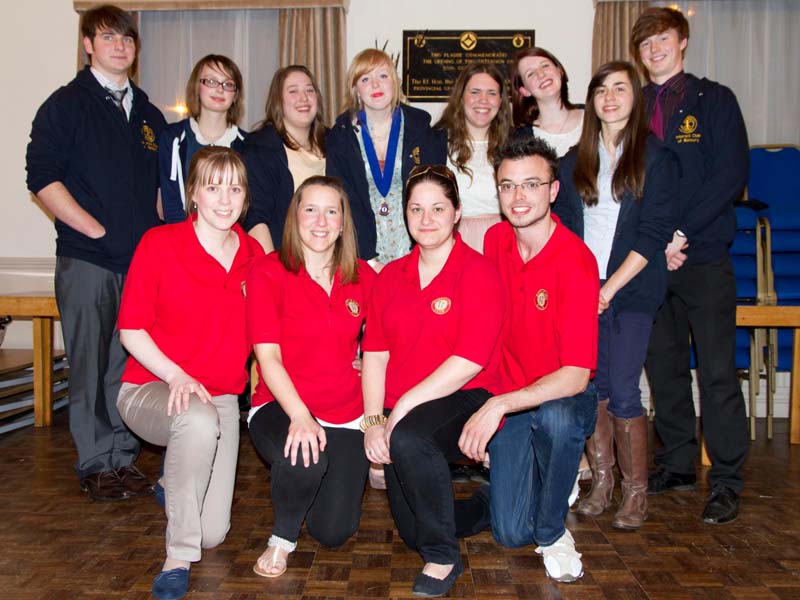 Above: President Rosie Beaumont receives the Charter from Mike Ware on behalf of BGN School, Banbury Interact Club.
Right: Rotaract in red, Interact in blue: on the occasion of the Charter of Banbury's first Interact Club. The future of Rotary!
Burnham Grammar Interact Club
On Thursday 25 October 2012, Burnham Grammar School became the latest D1090 Interact Club when they welcomed the Rotary Club of Burnham Beeches for the inaugural meeting of the schools new Club. Nine students had nominated themselves to be founding members of Interact, to coordinate the charity fund raising within the school. Their president, Zoe Stout, aged 12 is one of the youngest presidents in the country, however the address she gave to over 50 Rotarians was so professional, going way beyond her years with her enthusiasm for this new venture shining through.

Dylan Featherstone, age 14, the club's publicity manager said I felt the evening was a great success, it ran very smoothly. The formality of the Rotary meeting was a surprise but everyone was very friendly towards us and they seemed very impressed by the total amount we raised last year of 6,680. Read more.
Faringdon and District Interact Club
The 13 June 2011 saw the inauguration of the Faringdon and District Interact Club. Eight young people from Faringdon Community College, founder members of the new club, received their Charter from the President of Faringdon and District Rotary Club Rod Benson and, supported by parents, friends and Rotarians, celebrated this wonderful occasion at the Bell Hotel in Faringdon. The new President is Josh Smedley, Vice President: Maggie-May Saunders-Williams, Secretary: Hannah Warnock and Treasurer: Aimee James.

Princes Risborough Interact
Princes Risborough Interact Club received its charter from President David Troup of Princes Risborough Rotary Club on 13 December 2010 and capped what has been an exciting year for the family of Rotary in District 1090. The sixth formers at Princes Risborough were the latest young people to join Rotary and followed hot on the heels of the new Oxford Rotaract Club.

Great Marlow School Interact
Another club to receive its charter this year is the GMS Interact Club, sponsored by Marlow Thames Rotary Club. Based in Great Marlow School and open to 14-18 year old pupils, the club received its charter on June 15 and is well underway in supporting two nominated charities - one local and one abroad.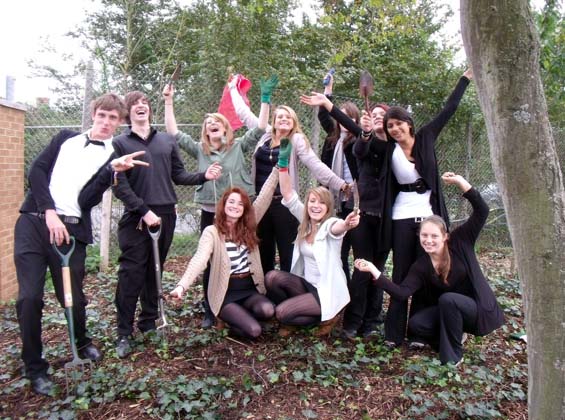 Waingels College Interact
Sponsored by Loddon Vale Rotary Club, Year 12 students at Waingels College held their first Interact meeting on 15 September 2010. One of their first projects was to plant 2000 purple crocuses in the grounds of the College in October to raise awareness of Thanks for Life - End Polio Now.
And there are more to come! The Rotary Clubs of Reading Maiden Erlegh and Henley Bridge are also due to have new Interact Clubs Chartered.