Roundhay Club Celebrates its 50th Anniversary
The Club celebrated its first 50 years with an Anniversary Dinner at the Parkway Hotel.
Ninety seven members, former members, friends and partners including the Founder President enjoyed a wonderful evening. The District Governor, Roger Percival, presented a certificate from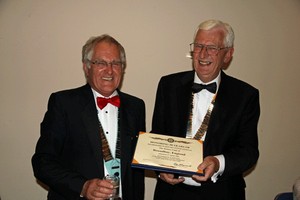 Rotary International honouring 50 years of membership of Rotary International and many former members were able to meet old friends. Past President Walter Butterfield came from Northampton with his family and our guest speaker entertained us superbly with a talk about Wentworth Castle.
The Club's founder President, John Richardson, still a member after 50 years, received the Pengelly Trophy for 50 years of outstanding service and Paul Harris Fellowships were awarded to Bryan Atkinson and Derek Davidson. A fascinating collection of club letters, photographs and past projects was on display and during its 50th year the club is looking forward to working with charities in the Roundhay area.