Welcome to the Youth Services Pages of the District 1070 website. Here you will find information about the exciting range of Activities and Competitions we will be running during the course of the year. Do have a browse and see what's on offer.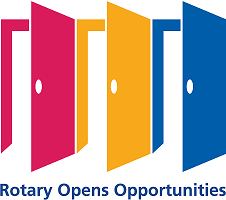 Our theme for the year is 'Rotary Opens Opportunities' and we hope that you will recognise the opportunities on offer to young people in Rotary District 1070. If you would like more information on any of the activities just contact the Rotarian coordinating it. If you cannot find what you are looking for please email Alan Jukes for information on competitions or Maureen Gariff for information about the various projects offered by Rotary as detailed in the Youth Services hand book. We look forward to your participation.
The range of programmes for students and youth offered by the clubs of Rotary District 1070 can change the lives of those who participate. Through these programmes and competitions, young people can:
Earn scholarships,
Travel on cultural exchanges
Help a community through a service project.
Rotary competitions are designed to enable young people to demonstrate and develop their skills and talents and to build their levels of self confidence and life skills. The programmes and competitions take place at local, regional, national and international levels. A summary of the programmes are shown in the Youth Services handbook with full details shown on the individual web pages. Just click on the appropriate link to see some of what Rotary has to offer. The latest Youth Service News is shown at the bottom of this page
Download the 2021 Youth Services handbook in word format here
Download the Youth Services Handbook in PDF format here
Download the Youth Service Programme timetable here
The above documents were revised in December 2020
Click here to see a range of Programs Offered by Rotary International if you see something of Interest please use this link to find your local Rotary Club and they will be able to find out more and facilitate you becoming involved.
( Print landscape, double sided flip on short edge)
For the latest Youth Service news please scroll to the bottom of the page or click here.
There are important notices regarding competitions in 2020-2021
The 2020 RIBI finals of several of the Rotary Youth Competitions have now had to be cancelled due to the current health situation but the competitons will be back in 2021.
And latest updates here
In view of the many Youth Opportunities which take place in Youth Services, please follow the links below for the area which interests you.