Sat 21/05/2022 -
President's Night 2022
Uppingham - President's Night in aid of Ukrainian Refugee Fund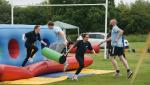 Mon 30/05/2022 -
Charity Golf Event - Sue Ryder/Rotary Charities
Peterborough - Golf Competition In Aid Of Sue Ryder (Thorpe Hall) and the other charities we support. Peterborough Milton Golf Club. Please contact Colin Harrison for more details - we would love some more sponsors.
Thu 02/06/2022 -
Bank holiday
May Day
Fri 03/06/2022 -
Bank holiday
Queen's 70 year holiday

Fri 03/06/2022 -
Platinum Party
District members please log in for more information.
Melton Aurora - Melton Aurora Rotary Club are proud to support Melton Queen's Platinum Jubilee Party, to be held in St Mary's Church on 3rd June 7pm-11pm. Join us and celebrate in style! (Tickets from Foxy Lots or via the QR code in the poster)
Sat 04/06/2022 -
RI Convention
Houston
Sat 04/06/2022 - Wed 08/06/2022
Rotary International Convention
Houston, Texas DG and DGE ate attending
Wed 08/06/2022 -
Kids Out
Sat 11/06/2022 -
Motor cycle Event
Danetre Daventry - RCODD join the Town Council at the Annual Motorcycle Event in the High Street. As with many other events this is the return cancelled for 2 years because of Covid-19.

Tue 14/06/2022 -
District Council
Greetham Valley and Zoom

Mon 04/07/2022 -
District Team Meeting
Zoom
Tue 12/07/2022 -
District Exec meeting
Zoom

Sun 31/07/2022 -
The Eyebrook Walk
Uppingham - A 5 mile charity walk round the beautiful Eyebrook Reservoir on the borders of Rutland and Leices- tershire; through the restricted access Eyebrook Nature Reserve
Mon 22/08/2022 -
District Exec meeting
Zoom
Wed 31/08/2022 -
District Team Meeting
Zoom
Wed 07/09/2022 -
District Council
Greetham Valley and Zoom
Sun 11/09/2022 -
Presentation Skills Training Day
Greetham Valley. Times TBC
Sun 11/09/2022 -
Presentation Skills Training Day
Greetham Valley. Times TBC
Sun 11/09/2022 -
Presentation Skills Training Day
Greetham Valley. Times TBC
Tue 01/11/2022 -
District Team Meeting
Zoom
Wed 09/11/2022 -
District Exec meeting
Zoom
Fri 11/11/2022 -
RC Boston Charter Night
Boston and County Club
Thu 08/12/2022 -
District Council
On-line, Zoom
Tue 31/01/2023 -
District Team Meeting
Zoom. Note changed date
Thu 09/02/2023 -
District Exec meeting
Zoom
Fri 17/02/2023 - Sun 19/02/2023
Young RYLA (Rotary Youth Leadership Award)
Mon 20/03/2023 -
District Council
Greetham Valley and Zoom
Sat 22/04/2023 -
Calvert Trust
Calvert Trust, Lake District
Fri 05/05/2023 - Sun 07/05/2023
District Conference
Days, dates and venue to be confirmed
Thu 11/05/2023 -
District Team Meeting
Zoom
Mon 15/05/2023 -
District Exec Meeting
Zoom
Sat 20/05/2023 -
District Assembly
Loughborough University
Tue 13/06/2023 -
District Council
Greetham Valley and Zoom