Shelterbox
ShelterBox is a Global Rotary Club Project
ShelterBox is made up of people who believe in shelter as a human right – that shelter from the chaos of disaster and conflict is vital. No ifs. No buts. We are project partners with Rotary International, a global community of 1.2 million neighbours, friends and community leaders.
When people are plunged into crisis, normality is suspended. But good, quality shelter can cut through the chaos. This is why we provide the tools that en
able people to rebuild homes and transform their lives. By working together with Rotary, we are able to collaborate and combine resources to ensure that we can support more communities in desperate need of shelter.
We work hard to understand the impact of each emergency and the need this creates within individual communities. Rotarians and Rotary groups across the world support us in different ways, from raising funds to providing support on the ground during our response to a disaster. This enables us to cross boundaries and cut through red tape to reach even the most remote communities.
This partnership has helped us to become who we are today. How will you continue to make a difference? If you have an amazing fundraising story to tell let us know! Just drop an e-mail to fundraising@shelterbox.org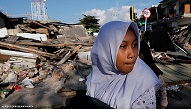 Indonesia after Recent Earthquake
Earthquake in Indonesia – Team Deploying
You may have seen that a 6.9 magnitude earthquake suddenly hit the island of Lombok in Indonesia, killing nearly 100 people. At least 20,000 men, women and children have been left homeless and urgently need shelter.
This devastating quake happened just a week after a 6.4 magnitude earthquake killed 17 people. More deadly aftershocks are possible.
Right now we're working in nine countries around the world and as you read this, we're sending a team of highly-trained volunteers to assess the situation alongside our local Rotary contacts. ShelterBox aid is already positioned in the region, primed to help families who need it. We have an advertisement going in the Guardian tomorrow so keep a look out.
For more information about the earthquake and how we're responding watch this special update from Alf, Head of Operations. We'll keep you updated with more information as we receive it.
---
---
Shelterbox in District 1070
Keepers of Demonstration Boxes
If your club requires a ShelterBox for promotion and/or demonstration please contact the District 1070 International Service Team to reach a representative in your area. These trained representatives will attend your event and demonstrate the full capability contained within the ShelterBox.
---
Contact Alan Jones about this page: