Supporting the Environment
Rotary's 7th Area of Focus
Context
The Government declared Climate Change Emergency is real and now:
Since 2016 – Climate emergency declarations have been made by 1400 local governments in 28 countries.
2018 – UN declares plastic pollution a global crisis.
March 2019 – UN Climate Action Summit – "1.5 degrees C is the socially, economically politically and scientifically safe limit to global warming by the end of this century". A deadline set for achieving net zero emissions to 2050.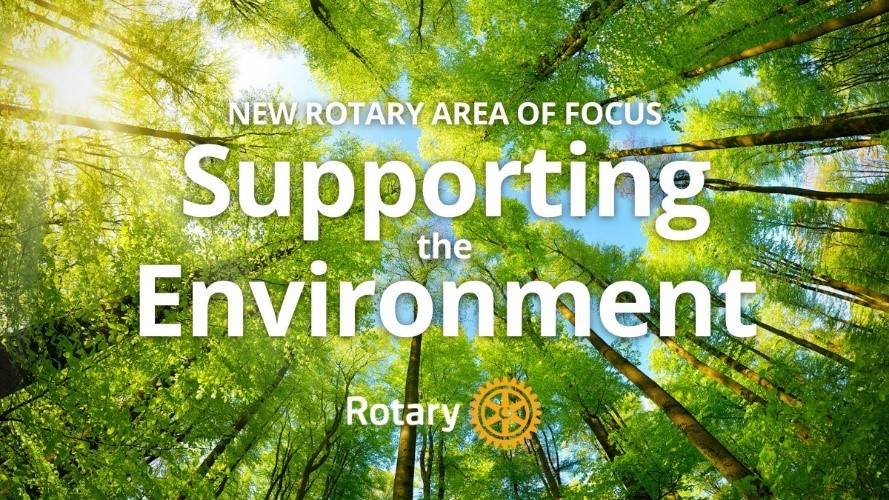 As leaders in our communities and with the recognition of 'Supporting the Environment' as the seventh Rotary Area of Focus, we must do more.
The increased focus on the Environment by Rotary International announced at the outset of this Rotary year has necessitated the adoption of an interim position.
Chris Davies (RC Kimbolton Castle) is the District Environmental Officer.
Read the discussion document for what District 1070 might do for the Environment written by David George in 2019.
Look at the sustainability document prepared by RIBI.
District 1070 have an Environmental Policy
Meeting monthly with a dynamic membership dependent on current projects and priorities is the District Environment Committee:
Chris Davies, Bill Hill, David George, John Rowlatt, Joel Weaver and Phil Morley
Meeting every two months are the Club Environment Leads, 32 have come forward to date along with the Environment Committee members.
Three times a year, the wider Environment Support Group, up to 40 additional members who have expressed a desire to support initiatives to improve the Environment are also invited to the join the meeting with the Club Environment Leads In September, January and May.
Environment Priorities 2020/21 (many carried forward for continuation from last year)
Lead change by example wherever and whenever we can adopting and adapting to, sustainable lifestyles with the long term in mind.

2021 square metres of rewilding by June 30th 2021, in District 1070

Plant at least one tree in a public space per club

Infuse consideration of the Environment across all Rotary projects, activities and committees.

Use a Green Spot in meetings/newsletters and 'How Green is my Tally' activity to educate and gently berate. Appoint an Environment Officer and/or Committee and decide on a plan.

Build on our enhanced awareness of the natural world to improve mental health, encourage interest in our environment, visits, debates, poetry.

Focus on the whole Ecosystem. Long term plan DARWIN (District Acre Re-Wilding Initiative.
How can this be done?
Continue with the District Project – Return a rewilding figure per club updated periodically. Rewild – 2021 square metres by the end of June 2021.

Plant trees, one per club minimum in a public space. Figures to Chris

Stop mowing lawns, or if you have to, use a 4" cut for large swathes.

Build on our enhanced awareness of the Natural world to encourage interest in our environment, visits to farms, open gardens, wildflower meadows, WhatsApp Environment Group etc

Change behaviours, individually, collectively and as leaders in our community, that damage our environment.

Add a Green Spot to your Rotary meetings and/or Newsletters/Facebook. Include what members have done since the last meeting and ideas to try. Trickle feed ideas through Chris for the District magazine.

Coalesce litter picking initiatives into the same date across population centres to coincide with the National Great British Spring Clean week.

Poetry – Each opportunity you get

Reduce significantly or preferably eliminate single use plastics

Advocate: Reduce, Repair, Reuse, Recycle

Work with schools to encourage ponds/trees/wildflower gardens. Chair or contribute to, school 'Sustainability Boards' – listen to ideas and help make them happen.

Reduce unnecessary and polluting travel

Participate in Rotary initiatives

Support the Young

Environmentalist competition

Purple for Polio – Plant crocuses

Plastic Oceans – UK – Support Joel Weaver and Karl Flowers in this ground breaking project.

Next batch of clubs targeted to join in March 2021

Rewilding project – David George

Ensure some of your club funds go towards green charities

Invite Environmental speakers to club meetings:

Sustainable Living I & II – Presentations by Chris Davies & Eric Moore, David George, also, is happy to deliver his
Environmental talks
How Green is my Tally? Chris will have ready by October
Post COVID, retain a number of Zoom or equivalent meetings
Reduce our meat intake
Finally: Stop and Think, Compare & Decide & Act Now