Supporting the Environment
Rotary's 7th Area of Focus
Context
The Government declared Climate Change Emergency is real and now:
Since 2016 – Climate emergency declarations have been made by 1400 local governments in 28 countries.
2018 – UN declares plastic pollution a global crisis.
March 2019 – UN Climate Action Summit – "1.5 degrees C is the socially, economically politically and scientifically safe limit to global warming by the end of this century". A deadline set for achieving net zero emissions to 2050.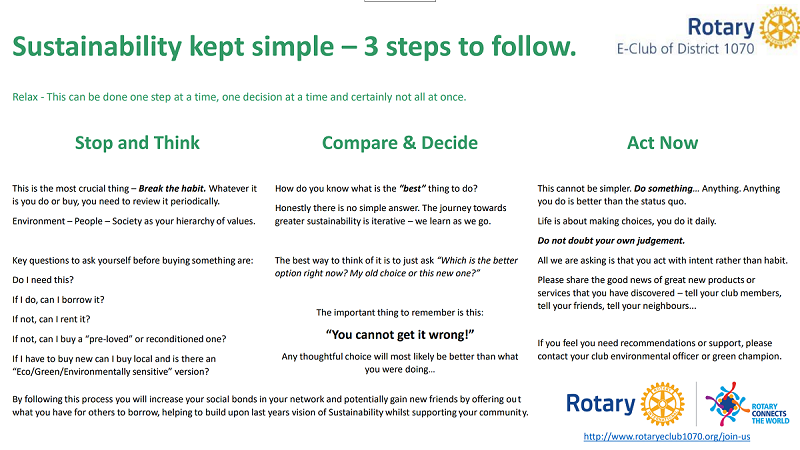 As leaders in our communities and with the recognition of 'Supporting the Environment' as the seventh Rotary Area of Focus, we must do more.
The Area of Focus has moved from embryonic to established, 59 clubs now have an Environment Lead. A District Environment Committee has formed and sits alongside, International, Youth and Community. The Committee is open to a dynamic membership dependent on current projects and priorities.
Chris Davies (RC Kimbolton Castle)

is the District Environmental Officer.

The District Environment Committee comprises

Ange Bebbington – Food & food networks

Bill Hill - Ecology & Biodiversity –
Leicestershire & Rutland Wildlife Trust
Carolyn Cartwright - Recycling

Chris Davies – Education, Reponding, How Green is your Tally, Sustainable Living
Rivers Trust
Wildlife Trust for Beds Cambs & Northants

ESRAG
David George – Rewilding, No Mow May

Gloria Heywood - Engagement

Joel Weaver – COP, Plastics, 'From Rivers to Sea' it starts with me, Citizen Science
Ocean Regeneration,
Sea Trust,
End Plastic Soup
Ecologi
Assoc:
Steve Legg – RSPB Partnership

Environment

Committee meetings take place remotely every two months

Club Leads Meetings with other stakeholders are held monthly by Zoom, with alternate talks and business meetings.
| | | |
| --- | --- | --- |
| Club Lead Meeting Dates. Start 8pm | | Business meeting/Talk |
| July 14th | Wed | B |
| August 19th | Thu | T |
| September 14th | Tue | B |
| October 18th | Mon | T |
| November 17th | Wed | B |
| December 15th | Wed | T |
| January 5th | Wed | B |
| February 15th | Tue | T |
| March 14th | Mon | B |
| April 21st | Thu | T |
| May: Club Assembly | | |
| June 9th | Thu | T |
Environment Targets and Objectives 2021/22
1000m of native hedging
5000 trees planted
Establish at least one Rotary Wood UK
1000 square metres of, or 100 wildlife ponds
A further 1000 square metres of rewilding
All clubs with an Environment Officer/Lead
50% of Clubs with an Environment Committee
Reduce Personal & Club Carbon Footprints by 10%
80% of Clubs with an Environmental Sustainability Policy
Build further partnerships with Environmental groups working to address Environmental issues.
Be actively involved with the UN Framework on the Conventions for Climate Change (UNFCC)
Roll out an educational framework, to include material for inclusion in schools & colleges curriculum
Develop activity in improving Recycling, Air Quality, use of Transport, Local Food networks & Seed banks
Reduce or eliminate single use plastic at club events
Provide an Environmental Risk Assessment for Rotary events
What can we do?
Change behaviours, individually, collectively and as leaders in our community, that damage our environment.
Contribute to District Targets – Periodically update the Wildometer with rewilding figures, ponds created, trees planted, hedges laid etc
Leave a third of our gardens wilded. Stop mowing lawns, or use a 4" cut for large swathes, or at the very least engage in No Mow May
Building on our enhanced awareness of the Natural world to encourage interest in our environment, visits to farms, open gardens, wildflower meadows, gravel pits, use a club WhatsApp Environment Group etc
Change behaviours, individually, collectively and as leaders in our community, that damage our environment.
Add a Green Spot to your Rotary meetings and/or Newsletters/Facebook. Include what members have done since the last meeting and ideas to try. Trickle feed ideas through Chris for the District magazine
Coalesce litter picking initiatives into the same date across population centres to coincide with the National Great British Spring Clean week.
Record all litter picking data on the Rivers Trust data collection form to drive change
Record all your Environmental Activities on DEEGIS the new District Environment Esri Geographic Information System
Poetry with an Environmental flavour– Each opportunity you get
Reduce significantly or preferably eliminate single use plastics, particularly at Rotary events.
Advocate: Refuse, Reduce, Repair, Reuse, Rehome, Recycle, Rot
Work with schools to encourage ponds/trees/wildflower gardens. Chair or contribute to, school 'Sustainability Boards' – listen to ideas and help make them happen. Provide educational materials for tutorials (from District)
Reduce unnecessary and polluting travel
Participate in Rotary initiatives, such as offsetting through Ecologi and Rivers to the Sea, it starts with me
Support the Young Environmentalist competition
Purple for Polio – Plant crocuses
Ensure a proportion of our unrestricted charity club funds go towards green charities or charitable causes
Invite Environmental speakers to club meetings
Use How Green is my Tally? Appendix: Club Environmental Policy
Post COVID, retain a proportion of meetings on Zoom or equivalent
Pursue a sustainable balanced diet
Reduce food waste
Buy local in season foods
Work with local farmers, councils & landowners to rewild and support environmentally friendly practices & nature
Encourage legacies. Leave an acre for Rewilding, a Pocket forest, Pocket Park, Nature reserve, Memorial park etc– DARWIN (District Acre Rewilding INitaitive)
Stop and Think, Compare & Decide & Act Now