A cost effective method of rain water harvesting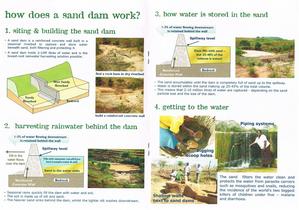 Great interest has been shown over the last 12 months from numerous Clubs in Sand Dams - the cheapest form of rainwater harvesting! Sand dams are the most cost effective form of rainwater harvesting, the dams hold between two and ten million litres of water and can cost as little as $10 per person for a local water supply for life.
Attached for your information is a flyer showing the basic principle of the sand dam Sand Dams flyer.pdf
We are moving forward at quite a pace and various clubs have confirmed that they wish to go ahead and together build a dam this year.
For a basic dam you need to raise a minimum of
Sand Dams pages:
Related Pages: