Rotary helps Albinos in Tanzania
During the last five years, District 1040 has been supporting a "hands on" humanitarian project in Ukerewe, an island in Lake Victoria , Ukerewe.
UKEREWE - 5TH PROJECT
On the island of Ukerewe, we spent 11 days undertaking a variety of projects - a report is attached;-
ROTARYS_HELPING_HAND_TO_THE_PEOPLE_OF_UKEREWE.pdf
If the slideshow does for start automatically, click on >
Crimes of Colour- a project to help Albinos in Tanzania
A doctor tells a mother to get rid of her new born healthy baby.

The father of a new born baby conspires with other relatives to sell a new born baby.
These may sound improbable. But these and similar instances have made the lives of a community of people in Tanzania unbearable and now a Rotary team from Yorkshire is going out to help them.

The victims of such abuse are called the Albinos. They have no melanin pigment in the skin and therefore appear "white". Their skin is sensitive to ultraviolet radiation resulting in many developing skin cancer.
The lack of pigments in the eye causes complex sight problems. Magnifying lenses are the only way to help them read. In schools they are conspicuous and crowded class rooms do not enable them to gain basic skills even if they want to.

More than 33,000 people in Tanzania are believed to have albinism.

Pushed to the margins of the society by complex physical deformities, they are also victims of hate. Witch doctors have spread myths that Albino body parts have magical power, that they do not die, they are ghosts and sex with them can cure Aids. A BBC report last month highlighted the plight.

Rotary international has pledged to support the albino community. They have granted about 75,000 to enable a campaign of peace building as well as improving health care and earning potential.

The project is led by Dr John and Chris Philip of Fixby both Rotarians at Mirfield who are going to Tanzania on Wednesday with a team of nine to launch the project.
25/2/15 For a full report, click on Rotary launches albino project
More information can be obtained from Dr John Philip, while additional information can be found in a BBC report on 13th January- BBC REPORT 13.1.15 http://www.bbc.co.uk/news/world-africa-30794831
30/7/15 To read the latest update, click on CHANGING_THE_LIVES_OF_ALBINOS_IN_TANZANIA_-_PROGRESS_REPORT.pdf
16/3/17RI Report- comprehensive and up to date report and includes reference to John Philip's team efforts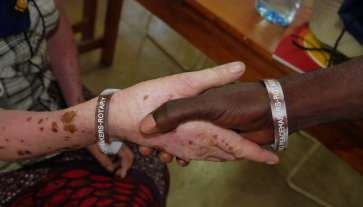 2/4/18 Albino Report April 2018;- A successful Rotary education campaign to help people with Albinism in Tanzania byt PDG John Philip


To read previous articles about the Ukerewe project, click on Ukerewe Archive