Rotary Club of Manchester Trailblazers Charter Night
Murder Mystery- 'The Bell, the Banner and the Bludgeoning Wheel' Three course meal and murder mystery entertainment Venue: The St. James's Club, 45 Spring Gardens, Manchester, M2 2BG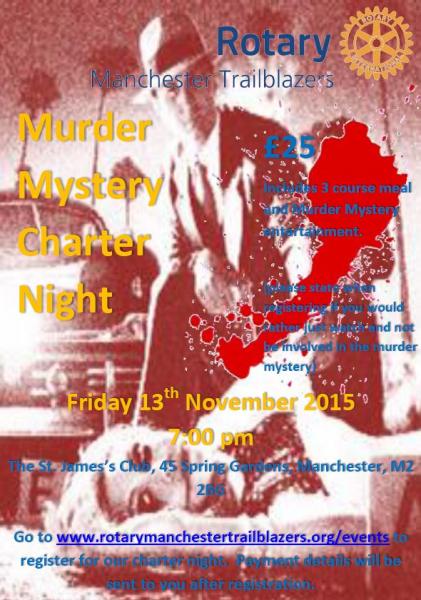 Murder Mystery- 'The Bell, the Banner and the Bludgeoning Wheel' Three course meal and murder mystery entertainment Venue: The St. James's Club, 45 Spring Gardens, Manchester, M2 2BG
To mark the 3rd anniversary of our Charter, The Rotary Club of Manchester Trailblazers will be celebrating in style with a Murder Mystery dinner, 'The Banner, The Bell and the Bludgeoning Wheel'
All the usual Charter Night action will ensue, with the added bonus of a murder mystery. This will be no game of Cluedo; can you solve the crime of the suspicious passing of the Past President? Can you put the clues together, weed out the red herrings and get to the bottom of this very Rotary misdemeanor?
The cost of the event is £25, and will include a 3 course meal of themed food. Drinks can be purchased separately from the bar. Payment details will be sent to you when you register for the event.
If you would like to join us for the event, but would prefer to watch rather than play along, that's fine. Just write in the comments box when you register.
-to register for this event see Manchester Trailblazers website