Future events in Rotary District 1285
completed events
Sat 30/03/2019 -
A Night at the Races - Race Night and Prize Draws
Middleton - Rotary Middleton's annual Race Night
more

Sat 30/03/2019 -
Gala Charity Ball
Radcliffe - Gala Charity Ball at Greenmount Golf Club. Good Food, Comedy, Magic and Dancing. All proceeds to our Cameroon Clean Water Project. If you would like tickets or would like to sponsor a table email the club at radclifferotaryclub@aol.co.uk
more
Thu 04/04/2019 -
Newton Rotary Beer Festival 2019
Newton-le-Willows - Newton-le-Willows Rotary Club 12th Beer Festival
Thu 04/04/2019 -
ANNUAL BEER FESTIVAL, Newton Sports and Social Club
Newton-le-Willows - DETAILS TO FOLLOW www.newtonbeerfestival.co.uk
Thu 04/04/2019 -
PI committee Twitter training
Being planned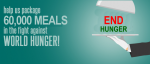 Sun 14/04/2019 -
District Mealpack
The next district mealpack will be hosted by Glossop Rotary on 14th April 2019 at Glossopdale School, Hadfield, Glossop
more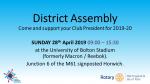 Sun 28/04/2019 -
District Assembly
Preparations for our new Rotary year
more
Sun 05/05/2019 -
RIBI Annual Business Meeting
The RIBI business meeting is taking place on Sunday 5th May 2019 14:00 – 16:30 online using the GoToWebinar system. A live stream will be broadcast via the RIBI website alongside the Webinar where all Rotary Members can view proceedings in real time.

Fri 10/05/2019 -
Rotary in Great Britain & Ireland Showcase (Conference) 2019
2019 sees an exciting transition from the traditional conference to a fantastic Showcase of Rotary in Nottingham
more
Tue 14/05/2019 -
Public Image Committee Meeting
Please contact committee chair Phil Dyer if you wish to attend. Venue is Remstone Construction Offices, Trident Park, Birchwood WA3 6BX
Thu 16/05/2019 -
PI training event
PI training event at Royal London 16th May
Thu 13/06/2019 -
PI training event
Being planned
Sat 15/06/2019 -
Rotary Ride
Help beat prostate cancer with Rotary Ride 2019
more
Sat 29/06/2019 -
WELLIFEST 2019
Saddleworth, W. Yorks. - Community Charity Concert Well-I-Hole Farm Greenfield Saddleworth OL3 7HX Tickets and info - www.wellifest.com
more
Sun 30/06/2019 -
DG handover / brunch
Handover / Brunch 30th June 2019 at the Deanwater
Sat 13/07/2019 -
Summer Camp
D1285 international summer camp will take place from 13th to 27th July 2019.
more
Sun 28/07/2019 -
RYLA 2019
RYLA July 28th to Aug 1st - see in youth pages for details

Wed 28/08/2019 -
Charity Golf Day
Tameside - Our annual Charity Golf Day @ Werneth Low Golf Club in aid of Willow Wood Hospice. cost for team of 4 including meal only £120. A really good day out.
Sat 07/09/2019 -
District Disabled Sports
Our annual district disabled sports will be held on 7th Sept at Sutton Sports Centre, nr St Helen's.
more
Fri 18/10/2019 -
District Conference 2019
2019 District Conference will be in Llandudno, 18th to 20th Oct
more
Thu 24/10/2019 -
World Polio Day
Polio Day
Tue 12/11/2019 -
District Council Meeting
At Swinton Golf Cub, 12th Nov.
Thu 28/11/2019 -
District Foundation Dinner
Advance Notice of District Foundation Dinner Thurs 28th Nov 2019 at Statham Lodge, Lymm.
Wed 25/03/2020 -
District Council Meeting
At Swinton Golf Club, 25th March.
Fri 01/05/2020 -
Rotary EXPO
1st to 3rd May more details to follow