Uxbridge Rotary Club - Kids Out
The Rotary Club of Uxbridge has for many years participated in this highly valued and successful activity. We arrange for 3 Special Needs schools in our area to attend Kids Out day at Thorpe Park and we are personally involved with Pield Heath School which has most requirement for our assistance.
Rotarians attend at the School around 8.45 and invariably arrange for the Mayor of Hillingdon to attend, in formal robes, to greet the children and wish them a good day out.
We assist in transporting them to and back from Thorpe Park and most of us stay the day and act as extra assistance, bag carriers and watchers with the teachers and other school helpers. We eat with the children and go on some of the (mostly less challenging) rides. It is also good to see all the other Rotary Clubs on the day out as well usually with varying coloured hats.
The whole thing is enjoyable and thoroughly worthwhile (if sometimes wet) and a good use of funds raised and a Rotary Foundation district grant.
John Childs, November 2016
Witney Rotary Club - Yellow Submarine Cafe in Witney Leisure Centre
An Rotary Foundation District Grant of £1,500 was matched by the Rotary Club of Witney to buy kitchen equipment for a café operated by a charity which provides training opportunities for young people with learning disabilities.
Yellow Submarine is a local award-winning charity that believes everyone deserves to live life to the full. It was selected as the Club President's Charity for 2015-16. Yellow Submarine recognizes that many people with learning disabilities leave school with limited life skills and as a result, poor life chances. The charity starts working with young people in community settings from the age of 11 onwards, to build their social skills, confidence, independence and ultimately their employability.
In order to provide these young adults with the skills and experience, Yellow Submarine opened a now award winning social enterprise café in Oxford, which provides a range of food and drink delivered to local businesses and to customers who drop in. The Charity provides a small number of employed staff who mentor the young people with learning disabilities in a wide range of activities associated with catering. This model proved so successful that Yellow Submarine opened their second café last August (2015) at the Witney Leisure Centre. Currently 144 adults are receiving in support. Those who show capability move on to become one of 8 trainees and then on to a formal 18 month apprenticeship which provides a Level 2 Certificate in Customer Service. Yellow Submarine then provides support for moving out into suitable mainstream employment.
Running this operation costs a significant sum of money and the strategy in this respect is for the Witney café to become self-sustaining by increasing the income and profitability. One way of doing this is to improve the efficiency of current operations and offer a wider range of products for sale. This should enable Yellow Submarine to expand operations and create more opportunities for people with learning disabilities. The Rotary Club of Witney has been working with Yellow Submarine and secured funding to purchase new equipment including a hot water boiler, a hot dog machine, a pizza oven, a soup kettle and a smoothie blender. Provision of this equipment at a total cost of £3600 will considerably improve Sales and Gross Margin without adding significantly to overhead costs. Rotary Foundation supported the project with a District Grant of £1500 towards the cost and Witney Rotarians raised the remainder with a Race Night and Countryside Walk.

Ashley Farmer, September 2016

Misbourne Matins Rotary Club - Life Education Bus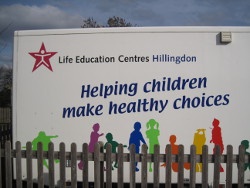 Misbourne Matins, as project leader, has part-funded the Life Education Bus in our area for the last five years. In the last year five schools were funded with the schools paying a proportion of the cost. Some 1,400 children went through the mobile classroom at five schools in Gerrards Cross,The Chalfonts and Denham in the last year.
"Life Bus" provides Life Education to infant and primary school pupils by means of a mobile classroom parked at schools for up to a week on each visit.. Children are shown how the body works, and the importance of treating it well, with the right foods whilst avoiding harmful substances. Explanations of how to react to aggressive behaviour is another of the many topics designed to help children develop understanding of each other.
Young children from the age of five to eleven enjoy the sessions, learning to look after themselves and to be good citizens in future years.

Simon, Misbourne Matins Rotary Club, September 2016