Our district judges made no mistake when awarding Florence Cain the vocalist title of District Young Musician in 2015! Florence went on to win the Regional competion to reach the Rotary GB&I national final of this fiercely fought competition and has now added the highly prestigeous BBC Radio 2 Young Choirister of the Year title to her achievements.
BBC Radio 2 Young Choristers of the Year 2016

Florence Cain (St Mary's, Warwick) and Edward Hyde (Rochester Cathedral) were announced as Radio 2 Young Choristers of the Year 2016 in a special programme broadcast on Radio 2 at 10pm on Wednesday 26 October.
Now in its 30th year, this BBC Radio 2 competition celebrates young talent singing for worship in churches, chapels, cathedrals and beyond. Following 2 rigorous preliminary rounds, the grand final of the competition took place at Manchester Cathedral and was hosted by presenter of Radio 2's The Sunday Hour, Diane Louise Jordan. Eight contestants from around the UK performed in front of a panel which included composer Bob Chilcott, vocal coach Carrie Grant, and Manchester Cathedral director of music Christopher Stokes.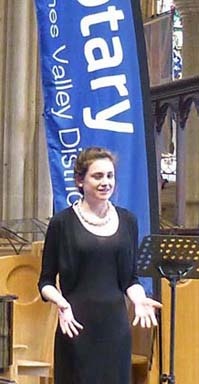 Florence's winning performance of Dear Lord and Father of Mankind and How beautiful are the feet from Handel's Messiah won fulsome praise from celebrity vocal coach Carrie Grant who applauded her authority, story telling and connection to the music and found the interpretation 'really, really, really moving'.

Head judge Bob Chilcott praised all the choristers' composure. 'The ability that these young people show is quite special. They hide such a lot of work and technique in such young people. To be singing to that level is quite something.'
A special treat was hearing Florence and Edward join with guest performers The Priests to sing Bob Chilcott's Irish Blessing to end the programme. Breath-takingly beautiful!

The winners each received a trophy and singing lessons, and will have the opportunity to take part in radio and television programmes for BBC Religion and Ethics, in addition to wider BBC engagements.
Those who had the pleasure of hearing Florence sing at the
Young Musicians concert at Dorchester Abbey
will know this is a young lady who is definitely going places. We are all delighted at her continuing success and send all best wishes for the future.