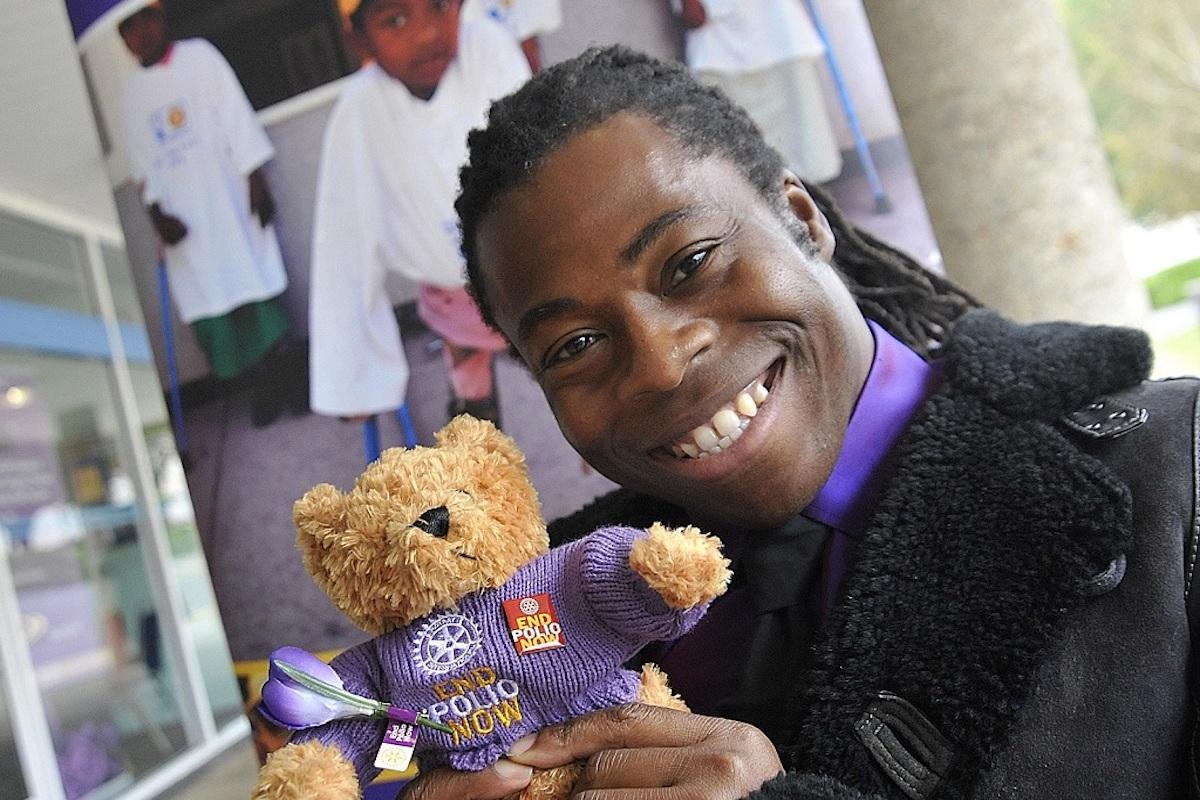 Paralympian and polio survivor Ade Adepitan as our latest Rotary Purple4Polio Ambassador.
"I'll be with you all the way"
says Ade Adepitan – as he agrees to become our latest Rotary Purple4Polio Ambassador Rotary International in Great Britain and Ireland is delighted to welcome Paralympian, broadcaster and polio survivor Ade Adepitan as our latest Rotary Purple4Polio Ambassador.
Ade, who has recently returned from Rio after presenting Channel 4's coverage of the Paralympic Games, has pledged to support Rotary "all the way" as we continue our efforts to rid the world of this life threatening and crippling disease.
Ade and Polio
Ade contracted polio in his birth country of Nigeria, a country which has had a recent setback and is on the polio endemic country list again alongside Afghanistan and Pakistan.
Speaking recently to Rotary magazine Ade commented: "Rotary always does a lot of good work on polio you are one of the leading charities on polio if not the leading charity."
Polio in 2016
Referring to the recent cases in Nigeria, Ade added "All the agencies must have a blueprint on how to tackle the Nigeria issue. The last mile is always the toughest." There are indeed well planned blueprints for such bumps on the road to a polio free world, and Ade is reminding us that we Rotarians must not be complacent in our efforts.
An emergency outbreak response is well under way in Nigeria under the guidance of the polio eradication Emergency Operations Centre, led by the Nigerian Government and supported by WHO, Rotary and others and includes work in surrounding and at-risk countries.
There have been just 28 cases of polio across the world in 2016 to 2nd Nov, the lowest ever in a single year, meaning we are closer than ever to eradicating polio once and for all.
Purple4Polio
This is where the Rotary Purple4Polio campaign comes in, the latest initiative from Rotary in Great Britain and Ireland aimed at continuing to raise awareness and funds for polio eradication efforts across the world.
As well as coming on board as a Rotary Purple4Polio Ambassador, Ade will also be taking to the stage at Rotary's 2017 Conference in Manchester. Secure your tickets now and hear Ade's amazing and inspiring story.
Let us continue to work together, embracing Ade's involvement and commitment, to maintain and strengthen the impetus within Rotary and ensure we finish the job we promised to do so the dream of a polio free world becomes reality.