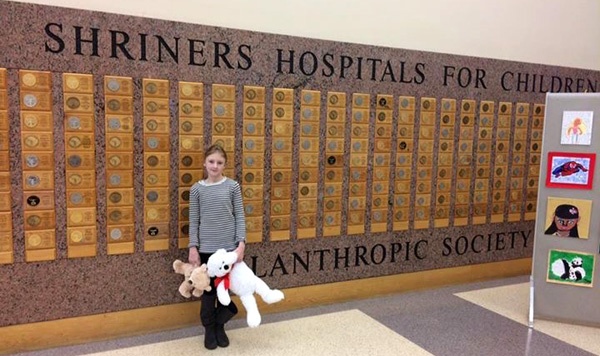 Rotarians reach across Atlantic to help Megan
NEWS Update November 2017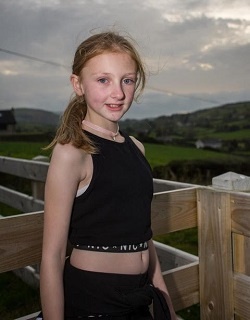 This recent photo of Megan Sadler shows how she is continuing to improve.
Megan is the girl who Rotarians in Southern Wales and Philadelphia took to their hearts when she had to undertake ground-breaking surgery at Shriners Childrens Hospital to correct a debilitating curvature of the spine.
Rotarians worked "across the Atlantic" to drive a £20,000 fund-raising appeal and enable the talented gymnast to travel with her immediate family to Philadelphia and stay for ongoing treatment.
Since the operation and returning home to Milford Haven, Megan has grown over six inches although she still tires easily and experiences some discomfort particularly at night.
Megan has returned to school a few days a week and staff and fellow pupils are being very supportive. The Headmaster has arranged for a special support chair to be loaned from nearby "Portfield School" which is a specialised unit for disabled children.
Megan still has a long road ahead but is doing really well and carries the good wishes of Rotarians for her continued recovery.
---
Partnership working between Rotarians from both sides of the Atlantic gave a boost to a young aspiring gymnast. Megan Sadler, from Milford Haven, who needed life changing surgery.
Megan has an ambition to be a gymnast. But the 10 year old suffers from severe scoliosis – curvature of the spine that means she has to permanently wear a body brace.
Although there are treatment options available in the UK, Shriner Hospital in Philadelphia are pioneering a treatment for her condition that will continue to correct the spine as Megan grows. The hospital had generously offered to perform the operation and treatment free of charge, but there were major costs to find to pay for flights and accommodation.
Milford Haven Rotary was alerted to the families fund raising efforts by their local inner wheel club who had already began raising money. The club sprung into action and there was a concerted fund raising effort from Rotarians and Inner Wheelers across Pembrokeshire.
In February 2017, Megan had to travel to Philadelphia for tests to ascertain whether she would be receptive to the treatment. The then District Governor Steve Jenkins, contacted District 7450 in Philadelphia to see whether local Rotarians could be there to say hello when they arrived.
When the Sadler family arrived at Philadelphia Airport, tired and jetlagged and wondering how they were going to get a taxi to the hotel there 30 Rotarians waiting at the airport with Welsh Flags and a myriad of practical gifts including food, toys and an i-phone with $200 credit. The taxi from the airport to the hotel would have cost $50 but not only did the Rotarians drive them to the hotel, they also set up a rota system to escort the family to and from the hotel to the hospital – a half hour journey.
The Sadler family were overwhelmed with the support from the American Rotarians.
Social media played a key role, not only in demonstrating the "family" of Rotary across the world, but keeping everyone in the UK informed of Megan's progress. Happily, Megan was judged to be a case that would be able to have a successful outcome from the operation. When the family visited Philadelphia in May for Megan's operation, District 7450 rose to the challenge once more.