George Mercer receives his award from Rotary GB&I President Eve Conway watched by, from left, District Governor Steve Jenkins, Cardiff North MP Craig Williams and Joan Mercer. (Credit: Chris Woods Photography Ldn)
2016-17 Rotary Champions of Change Awards Night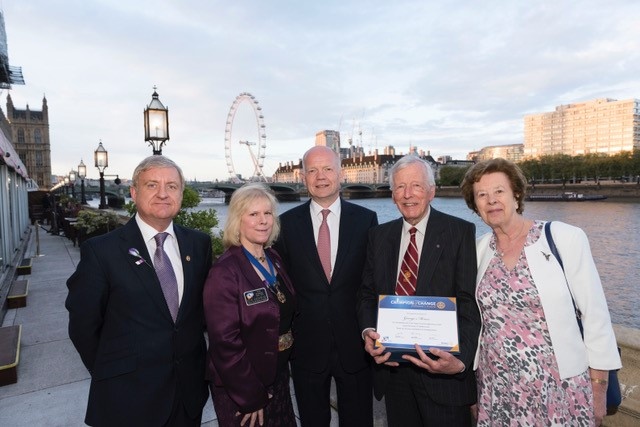 District Governor Steve Jenkins, Rotary GB&I President Eve Conway,
George and his wife Joan with Lord Hague of Richmond

The 2016-17 Rotary Champions of Change Awards Night added several new categories this year, one of which was the first ever Presidential Award made by Rotary in Great Britain and Ireland President Eve Conway.
The Award, presented to George Mercer of the Rotary Club of Cardiff, was for creating change and opportunity within the field of membership development.
George, who will be President of his club once more in the coming year as they celebrate their centenary.
He has demonstrated resilience and vision to change the mindset of Rotary International through their governing body which meets every three years.
George championed the notion of satellite clubs which has opened the door to a diversity of membership and created change and opportunity both in Great Britain and Ireland and worldwide.
This is a significant step forward for Rotary and a seismic change in how they approach the formation of new clubs in an attempt to embrace the changing circumstances both at work and in families that potential new members encounter.
President Eve Conway said: "It gives me great please to award George Mercer with RotaryGBI's first Presidential Award. Rotary will continue and expand its recognition of Rotarians like George who are showing outstanding commitment and flexibility for the development of Rotary."
---