Peter Woodhead, Chair of Foundation at Headingley RC, has detail and clarification to add to the recent announcement that Headingley Rotary has received the RI global grant for $35,000 which will enable The Sylvia Wright Trust to build the new Educational and Therapy Centre in Tiruvannamalai, in South-East India.
The project took nearly four years to achieve.
As lead club, Headingley was supported in fund-raising by The Rotary Clubs of Calverley and Roundhay.
We had to raise 10,000 USD which when we started was equivalent to £6,000 but with the fall in the exchange rate, this finished up as £8,000.
Headingley Rotary Club, with the help of a recent anonymous gift for £800, managed to raise the sum to £8,000.
We had great support from Tony Allinson, the chair of the Sylvia Wright Trust, and also from our District Officers Anita Rayner and Richard Henton-Jones.
We are still waiting for the bank account details from India to finally complete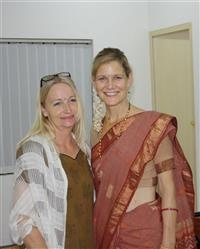 the work.
The centre opens later this year. There is a video on u-tube which shows Sylvia Wright's work, leading up to this achievement for the handicapped: 'A Ray of Hope' by Leslie Stager. It is produced by Lee Morgan, who has been raising money in the USA and has been working on the design of the centre. Lee has been visiting India for more than a decade to work with local children. Tereza Heckenberger from Munich has also joined the team. She is an expert in methods of rehabilitation and the education of disabled children.

Watch the video below: it tells a remarkable story.
https://www.youtube.com/watch?v=T_bO52emdrs
Chris Walbank
Publicity: Headingley RC