The programme is looking good and promises to be a stimulating, informative and entertaining weekend.
Ian Hopkins, Chief Constable of Greater Manchester Police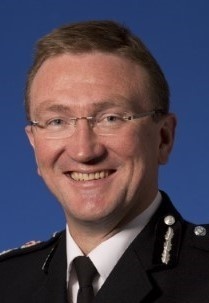 Ian will talk about the Police charity Retrak which supports homeless children in Africa.
"Retrak works to enable street children move from a life of vulnerability, exclusion and poverty to a life within a positive family or community. We work with the children and the family members to ensure everyone is as healthy, emotionally well, safe, educated, and as economically independent as possible.
Our work and research provides a beginning-to-end approach for street children and the wider-community, that improves their lives. We support these amazing children as they reintegrate back into their families and communities…back to being children again."
https://www.retrak.org
/
Milton Frary
Milton will be talking about his work with the Wheelchair Foundation, particularly the activities in Africa.
www.wheelchairfoundationuk.org
Dr Janet Grey
Janet has spoken to our conference before and was truly inspirational, she will talk about her time as she became the World Champion Blind Water Skier and her life since.
Kathryn Claydon Smith & Suzy Emsden
They will be giving a presentation on the work of NWTS, North West & North Wales Paediatric Transport Services. This Warrington Based Charity provides urgently needed Medical Transport for children.
www.nwts.nhs.uk
Denis Spiller
Rotary GBI President will give his message and outline the many changes he and his team are proposing to ensure the future of Rotary in these Islands.
Barney Callaghan
Barney is a great speaker and is part of the Training team at San Diego, he is speaking at a number of District Conferences this year. He was a governor in 2011/12 for Ireland.
Lea Roberts
Yorkshire based comedian who is a past winner of Comedian of the Year and comes highly recommended.
www.learoberts.co.uk
Youth Showcase
Youth Exchange
Grace Milner will describe her experiences during the last 12 months when she has taken part in a Short Term Youth Exchange and also the New Generation Youth Exchange programmes.
RYLA
Dominic Carvell, a RYLA attendee will speak on how the course has had an effect on his life.
Young Musicians
Molly Stretford-Ridehaigh will sing the song that she performed at the finals and Nick Rushworth will perform his competition piece for Alto Sax.
Young Chef
National Final Entrant Rebecca will give a talk on her experiences.
Youth Speaks
Competition Winners, Ladybridge School from Bolton will give their competition speech.
Rotaract
RIBI Rotaract Chairman Tony Jordan and Andrea Codolini, President of Manchester International and District 1285 Representative.