Area of Focus - Supporting The Environment
Caring for our environment is now The Rotary Foundation's 7th Area of Focus.

The Rotary Foundation will enable our members and their community allies to take action in these ways:
Protecting and restoring land, coastal, marine, and freshwater resources
Enhancing the capacity of communities to support natural resource management and conservation
Supporting sustainable agriculture, fishing, and aquaculture practices
Addressing the cause of climate change by reducing the emission of greenhouse gases
Strengthening ecosystems and communities affected by climate change
Supporting education initiatives that promote behavior that protects the environment
Advocating for sustainable consumption to build an economy that uses resources more efficiently
Addressing environmental justice issues and public health concerns
As of 1st July 2021, global grants will be available for environmemntal projects.
Club Environment Lead
Clubs should consider appointing a club environmental lead or champion; someone who is interested in the environment and is willing to take this programme on board.
The environmental lead will encourage the club to develop a club environmental sustainability policy. This will lead to setting annual club environmental goals and the development of environmental projects - working with the other Club members and other clubs wherever possible.
Environmental club goals along with volunteering hours spent on environmental projects should, like other club goals, be recorded in Rotary Club Central.
Recycling
Your club may consider collecting used stamps, old spectacles, mobile phones, printer cartridges, bras, and then later perhaps bicycles, hospital equipment, wheelchairs and computers (not more than 10 years old). Many of these items have a value so your club may be able to gain some income whilst helping with recycling.
Together, We Will Inspire The World
Reduce Plastic Waste
Avoid single-use plastics. Instead of buying individually-packaged drinks, consider buying a bulk container of the beverage you want and buying a reusable water bottle.
Plastic grocery-type bags that get thrown out and end up in landfills or in other parts of the environment. These can suffocate animals. Also, it takes a while for the bags to decompose.
Use Less Paper
Most of us print something at least once a week, and then print on just one side of the paper. It might seem like a little thing, but if you devote some effort to saving paper, you could conserve a lot of paper products every year. Send out club minutes by email. Likewise, club newsletters can also be sent out electronically.
Street/Park Litter Picks
The cost of cleaning up litter is in excess of £1 Billion per year in the U.K. and Ireland. We seem to have a culture of throwing away litter, cans, take-away packaging, sweet papers – you name it – from cars or anywhere where litter already exists.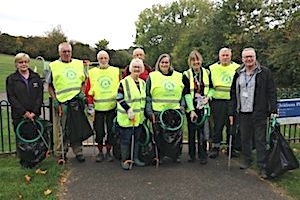 Chatham's Litter Pick
The Rotary Club of Chatham had a successful litter pick on Sunday 14th October 2018 with local Councillors in attendance and equipment donated by ASDA.
Club members visited a recreation ground and all filled a refuse sack of rubbish from around the area. The councillors arranged for the bags to be picked up the following morning to be disposed of.
Rotary Spring Clean
Spring is a good time to clean up as the ground cover will be at a minimum, having died back and possibly flattened by snow. Consider doing a Spring Clean during Climate Week, which is in March each year, and then register the event with Climate Week.
Beach Clean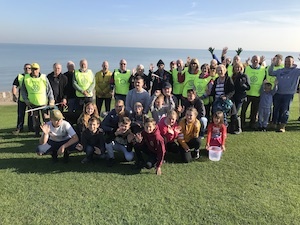 Minster-on-Sea's Beach Clean
The Rotary Club of Minster On Sea undertook a beach clean on the International ECO day.
The day which was also attended by the Rotary Club of Medway and Sittingbourne Invicta. The local Sea Cadets got in on the action as part of their "Ditch The Plastic Campaign."
Minster, Sheerness & Queenborough seafront areas were targeted and a large green recreational area known as Barton's Point.
A real team effort from all involved which was about 50 to 60 people in total. The picture illustrates Rotarians and Sea Cadets added to this was partners, children, grandchildren dogs.
River Clean-up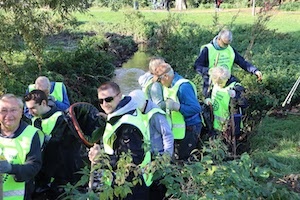 Cleaning the River Ravensbourne
17 intrepid Rotarians and friends of Rotary undertool a clean of the River Ravensbourne in South East London facilitated by Natures Gym an initiative by Nature Conservation Officers from the London Borough of Lewisham and Glendale ( a local contractor).
It was a very worthwhile event the group collected 8 black sacks of rubbish including 1 x mobile phone, 8 golf balls, 2 footballs and a tennis racket and ball, various bicycle bits, a cycle helmet, a tea pot, a curtain, various items of clothing, DVD's, a hat, one walking stick a pair of crutches, an 8 foot scaffolding pole, two traffic cones, mountains of plastic, 20- 30 cans and bottles and two obligatory supermarket trolleys!
Supporting Our Pollinators
Wild flower meadows are one of the rarest habitats in the UK and we have lost 97% of our wild flower meadows since the 1930s (according to the Royal Botanical Gardens at Kew). When wild flower meadows vanish so do pollinators, as well as other insects, and animals that eat insects, such as birds, hedgehogs and bats.
Communities and organisations are working together to return wild flower meadows to the UK landscape. Rotary clubs may wish to plant wild flowers to help our bees and other pollinators. Clubs can also adopt a beehive.
Tree Planting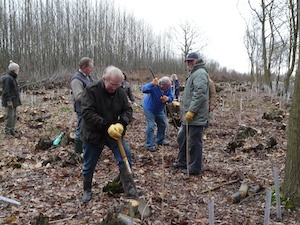 Sittingbourne Invicta's Tree Planting
The challenge of one tree per member, meaning a global target of 1.2 million trees, was set by the 2017/18 Rotary International President, Ian Riseley, who believed that protecting the environment and curbing climate change is essential to Rotary's goal of sustainable service.
This is a worldwide plan to help replenish forests and, as always, Rotary is getting involved in a hands-on way through physically putting these trees safely into the ground. Rotary is committed to helping the environment with many humanitarian projects carefully designed to work alongside nature.
The Rotary Club of Sittingbourne Invicta planted over 400 trees in Milton Creek Country Park, Sittingbourne over two days. A mixture of trees were provided by The Woodland Trust.
The club also previously planted trees in Cromer's Wood in support of Kent Wildlife Trust.
Free Trees
The Woodland Trust give away trees for community projects. Applications for planting in November have to be in by early September and for March by early January. Packs come in 30s, 60s, 105s or 420s. Try to involve schools and community groups in the planting. For sites contact your Local Authority Parks Department.
For free trees for schools and communities, please vist The Woodland Trust website.
Woodland Management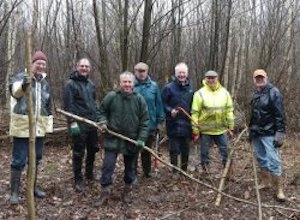 Coppicing Work for Kent Wildlife Trust
The Rotary Club of Sittingbourne Invicta has undertaken coppicing work in woods near Sittingbourne in support of the Kent Wildlife Trust.
Coppicing is a woodland management technique of repeatedly felling trees at the base (or stool), and allowing them to regrow, in order to provide a sustainable supply of timber. Smaller branches are then left to provide an habitat for wildlife.
Reducing Your Club's Carbon Footprint
Some Rotary clubs have become hybrid clubs; a mix of face to face meetings and online Zoom meetings. Meeting online means less travel to and from meetings so your club can lower its carbon footprint.
The Rotary Club of Wellington, Australia worked out they were responsible for producing 8 tonnes of carbon annually. They are now the first club to be certified carbon neutral.
Cars and Car Sharing
Taking public transportation, walking, or riding a bike are better options that help the environment and your budget, as well as getting some exercise in!
If you do need to use your car to get to a Rotary meeting consider giving a lift to another member in your club.
Petrol and diesel cars are harmful to the environment and will be phased out in the UK by 2030. It now makes sense to buy an all electric car or hybrid next time you change cars.
Farming & Eating Less Meat
Food production has become a serious environmental concern; from the distance in food miles, the way it is produces and the packaging it is sold in. Farming creates 10% of the UK's emissions.
Sustainable food production is key to feeding an ever-growing world population and reducing greenhouse gas emissions.
One way to reduce emmisions into the environment is to reduce your meat intake. It has been calculated that 14.5% of the global carbon footprint comes from the production of meat and livestock. Another way to reduce your carbon footprint is to buy more locally sources food. Don't waste food - we throw away 6.6 million tonnes of household food waste in the UK; 70% of this could have been eaten.
Fashion
The fashion industry is responsible for an alarming 10% of all of humanity's carbon emmissions. This is largely due to the rise of the "fast fashion" industry.
Today, because of the low cost and ever changing trends, consumers are buying twice as many items of clothing as they did a decade ago. As a result, more clothing is discarded and piling up in landfill sites.
Take action by buying less clothing and wear clothes we already own for longer. Alternatively, buy one second hand item for one new bought this year.
Working With Other Groups
Do what Rotary does best - try to work with schools and other local groups on environmental projects.
Environmental Sustainability Advocacy
Take to social media with messages on how your club is reducing its carbon footprint, helping to reduce climate change, tackling single use platics and polution of the environment.
Environmental Speakers
Consider having a speaker at one of your club's meetings to help raise awareness of environmental issues.
Club Environmental Sustainability Policy
As a first step, every Rotary club is urged to develop their own Environmental Sustainability Poilicy.
Support
For more information or help getting an environmental project underway please email the District Environmental Lead