Life For African Mothers - How It Began And How It Has Grown
Since the introduction of misoprostol in the prevention of postpartum haemorrhage, many women have been saved.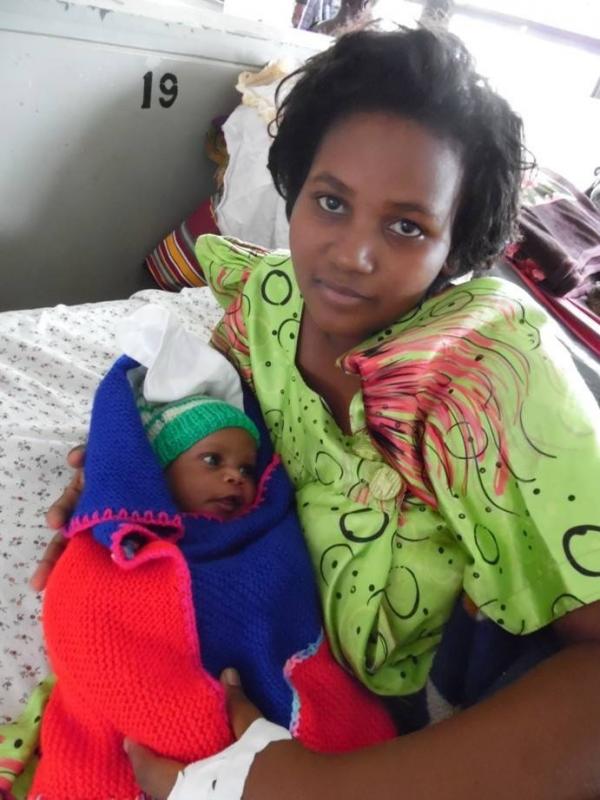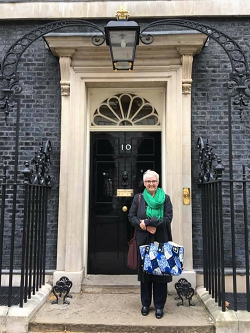 On 26th June 2005, the BBC screened an episode of PANORAMA which showed the appalling plight of pregnant women in Chad, Central Africa. In the hospital, the best in Chad they were losing at least one woman every day and almost a quarter of the
babies were dying. Most of the deaths were avoidable. The women needed medications which were not available and even if they were on the pharmacy shelves, the women and their families had to pay for them. I wrote to the BBC offering help and they put me in touch with the other people who had contacted them. We set up the charity and started shipping the most important medications including antibiotics and equipment. Then five months after I saw the programme, I was sitting in the same hospital that I had seen on the TV in Chad! We met the UNFPA (a wing of the UN which deals with Reproductive Health) and their representatives asked us to keep in touch with them. The BBC came out with us and filmed us for another PANORAMA, What Happened Next. Life for African Mothers Video
By 2007, we had reported some astonishing statistics to the UN Reps about how our medications had impacted on deaths in Chad and they asked us to help Liberia and Sierra Leone in the same way that we were helping Chad. We had to rethink what we were able to provide and took advice from experts on how best to use our limited resources. Finally, we decided to focus on the two biggest killers of women in pregnancy and childbirth (at that time, around 550,000 a year). Those conditions were eclampsia (very high blood pressure, leading to kidney failure, fitting and death for mother and baby, kills 70,000 women a year) and post-partum haemorrhage (Bleeding following birth which killed 180,000 women a year). The medications to treat or prevent such deaths in developed countries are always available on every delivery suite.
I travelled to both countries, mindful that they were trying to recover from the brutal civil wars and saw for myself how dangerous it is to be pregnant in these countries. In the UK, the lifetime risk of death in pregnancy and childbirth is 1:8700. At that time in Sierra Leone it was 1:7 and in Liberia 1:8. The situation was heart-breaking. Women were dying for the want of 50p worth of medications. Link
Since we started providing the medications, the requests from other countries have increased. We now supply the following countries or individual hospitals within countries through reliable contacts who are obliged to keep in touch with us and report back on stock usage and case studies.
Liberia Our charity is now the sole provider of the anti-haemorrhage drug called Misoprostol.
Sierra Leone We supply more than 50 hospitals and health centres with the Misoprostol.
Cameroon three hospitals through the Welsh Cameroon Women's Group based here in Cardiff.
Somaliland 13 hospitals and health centres through the Diaspora Community here in Cardiff. I also visited Somaliland five years ago.
Eastern Congo St Vincent's Hospital in Bukavu, a desperately poor hospital which is serviced by amazingly committed medical and midwifery staff, which has been at the centre of fierce rebel fighting for many years.
The medication to treat eclampsia appears to be becoming more readily available in many countries, but the anti-haemorrhage drug is literally like gold and even if it is available, families can be asked to pay up to $10 per tablet for it. A woman would need at least three tablets. An unimaginably impossible situation for anyone to deal with. Our medication has to be given free of charge and the people managing it are aware that if I find out that women are being asked to pay, we will stop sending it.
In the past 12 months, we have secured a significant supply of the Misoprostol from one of the biggest pharmaceutical companies in the world through an organisation called International Health Partners. They approach all the big pharmaceutical companies and obtain donations of a range of medications following natural disasters. We airfreight the medications and have a door to door service. We haven't lost one parcel in 13 years. In the four-year period 1st Jan 2015 to 31st December 2018, we have shipped 2 million tablets of Misoprostol, which represents around 600,000 women having it available to them. Some need 4 tablets and in catastrophic haemorrhage, some might need 5 tablets.
Our second activity is facilitating visits to Sierra Leone and Liberia by UK midwives in order to deliver skills sharing workshops. We had to suspend the visits during the Ebola crisis but have now recommenced them, working hard to raise the skill levels of those who have had to step in to fill the places of staff who have died of this terrible disease, including people I have known since 2008. I visited Liberia in June 2015 and Sierra Leone in November 2015 in order to recommence the workshops.
I have included some testimonies from doctors in some of our partner countries below..
CAMEROON "Thanks very much indeed for your assistance. The regional hospital BAMENDA is highly grateful and appreciative of this laudable effort.
In the month of August, we had a total of 295 deliveries. We had 10 cases of maternal, post-partum haemorrhage, which required doubling the, dose of Misoprostol administered. This was critical saving the lives of these women as the bleeding was controlled without the need for surgery. We therefore did not record any cases of maternal death this month, and remain grateful to you for this.
In September, we had a record breaking 19 cases of maternal post-partum haemorrhage which required doubling the dose of Misoprostol administered. Misoprostol played a fundamental role in controlling the bleeding in all these women. It is rare to have this number of postpartum haemorrhage without maternal deaths as post-partum haemorrhage is the primary cause of maternal death. This highlights the fundamental importance Misoprostol played in saving these women. We therefore did not record any cases of maternal death this month either.
As you can see from the above, thanks to God and to LFAM we have consistently achieved ZERO MATERNAL MORTALITY in approximately 1000 deliveries over the past three months. We are so grateful to you for his precious drug as the numbers speak for themselves. Indeed, Angela, you and the entire team for LFAM are truly giving life to the women of Bamenda Cameroon and from the bottom of our hearts we say THANK YOU. This thank you comes from the many pregnant women here in Bamenda whose childbirth process has been made safer by your kind donation.
Thanks so much for helping to save the lives of women and children in Cameroon. Thanks for making me a part of this. Please find attached some pictures of today's presentation." Sincerely, Dr Frederick Morfaw
LIBERIA "Angela, I don't think you fully realise the enormity of what you are doing in Liberia. The UN has now stopped sending their occasional supplies because you have it so well organised. You are saving thousands of lives across Liberia." John T Harris. Ministry of Health in Monrovia, Liberia in June 2015.
SIERRA LEONE "Thank you for helping to save the lives of thousands of women in our country". Head of the Reproductive Health Unit within the SL Government". (We are the sole provider of Misoprostol to Sierra Leone.)
EASTERN CONGO Saint Vincent Medical Centre. Since the introduction of misoprostol in the prevention of postpartum haemorrhage, many women have been saved. The success of St Vincent's use of misoprostol has been so great that several hospitals have come to ask St Vincent to share misoprostol with them, others have begun to refer cases with probable PPH to St Vincent. In hospital staff, misoprostol is very popular because it works well and is easy to use.
Here is the testimony collected from a woman who benefited from misoprostol in St Vincent: "I'm from Kalonge (40 km from Bukavu). I always give birth hard and I lose a lot of blood. The last time the doctor told me not to conceive again but unfortunately, I became pregnant again. The village midwife gave me traditional products to help me give birth. We were 4 to take these products but these products instead of helping us, seems to complicate more the childbirth. Two of those who took these products with me gave birth and died of haemorrhage, I was told. So I got scared. I decided to come to give birth in a big hospital of the city. I took the vehicle; on a trip I told my story to a woman who was traveling with us. that woman told me there is a hospital called St Vincent who has a medicine he gives to women to avoid losing a lot of blood during childbirth. She gave me the address and I came. I gave birth, and I started losing a lot of blood. I was really afraid to leave my children. But the doctors came, he gave me three tablets to put under the tongue. The haemorrhage continued; they did a lot of other things …, after he added me other 3 tablets and after 45 minutes the haemorrhage stopped. I am very happy because I am well as well as my child. Thanks to all the caregivers for those who support our hospital St Vincent".
There are many more such stories I could add.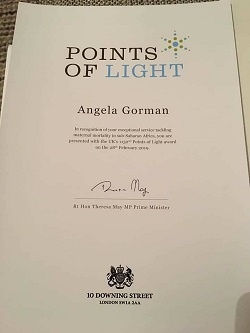 In the past year, I was shortlisted for the First Minister's St David's Award and the Welsh Government chose (with Kensington Palace's approval) to donate £1500 to us in lieu of a wedding present to the Duke and Duchess of Sussex, to fund a midwife to travel to Liberia. She will be making the visit at the beginning of May and will provide a written report back to the royal couple on her return.
The most extra-ordinary fact is that the pharmaceutical company donating the Misoprostol are not doing this for any other organisation IN THE WORLD! Our little Wales based charity is absolutely unique in providing this most precious of medication to so many women. Given the appropriate level of resources, we could significantly scale up this support.
THANK YOU…
ANGELA