Ian's Greatest HITS - Photos and stories from around the world
Ian Macpherson has been exploring the world's wild places for very many years. His presentation will include stunning photos and anecdotes from his life's travels. This is a night not to be missed by all those who have enjoyed his previous presentations.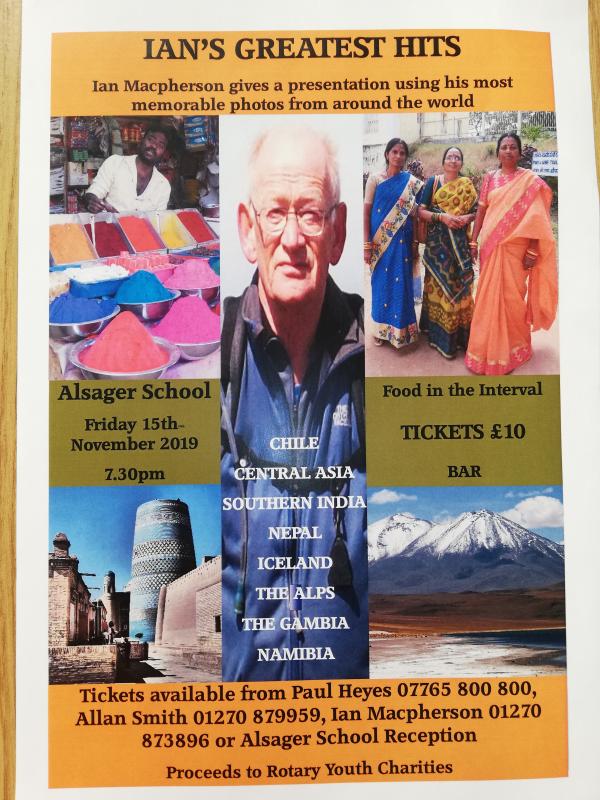 Ian's talks have raised many thousands of pounds for local and International Charities. This years profits will go to Alsager Rotary Youth Charities. ( Schools and deserving causes along with various Rotary driven competitions within the schools)
This talk is the latest, (and maybe the last) in a long series of very successful events delivered to a packed audience at Alsager School.
It will feature highlights of his life of touring exotic lands from South America to the Himalayas and Africa.
If you have enjoyed Ian's talks in the past then make sure that you do not miss this one. It will be a relaxed and fascinating evening with the added attraction of a bar with food in the interval.
We look forward to seeing you there.
Results:
Profit from talk £800 going to local youth charities.
Members donation £350
Total £1150
Save the Children Collection raised a further £235
We would like to thank everyone that attended for their support and generosity.