Rotary Keeping Calm & Carrying On
Rotary People of Action during the current Covid-19 pandemic
Let Us Know What's Going On In Your Club
We would like to hear from all Rotary South East clubs about what you are doing during this period of social distancing because of coronavirus.
Please send us your stories and #PeopleOfAction photos for us to post and share with other clubs.
What ideas do you have for keeping in touch with club members to offer support and tackle possible loneliness?
How are you communicating with the public to maintain Rotary's public image?
Please send your stories, ideas and photos to the Rotary South East's Project Corona Team.
What Clubs Are Doing
Marshalling For NHS Virus Testing
Maidstone Riverside and Dawn Patrol clubs are now working closely together for the marshalling of an NHS hot hub for virus testing.
Club members are marshalling visitors who remain in their cars for safety. Elke of Dawn Patrol is working extra hard with the scheduling of the 8 hour shifts. The clubs have both Rotarians friends and associates working with the club members.
They also continue to work with the local council on food parcel deliveries which is going well.
Delivering Groceries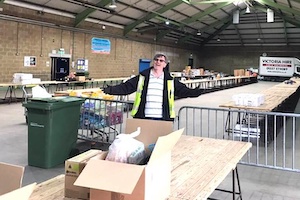 Distributing food parcels
Members of the Rotary Club of Maidstone Riverside are busy distributing food parcels to those in need in isolation due to Corona virus - a great scheme in conjunction with Maidstone Borough Council
Supporting Other Groups
Medway Sunlight are working with St, Mary's Island Community Group and Salvation Army.
Faversham members are working with the local Foodbank.
Chestfield members are co-ordinating offers of volunteering help with the Parish Council.
Maidstone Dawn Patrol is contacting local care homes to support the residents by sending letters, cards and small gifts.
Kings Hill club members are working with a local hospice to replace the usual volunteers who are no longer available.
Orpington Crofton members are donating their "dinner money" to keep local charities afloat.
Chislehurst have made a donation to a local hospital and have a Feeding the Nation project underway.
The Margate club has provided gazebos to the local hospital for setting up a safe zone for staff meetings outside the hospital.
Helping Club Members to create a My Rotary Account
Many Rotarians will wish to keep in touch with the Rotary World via the internet whilst confined to their homes. This will inevitably mean logging in to Rotary websites; Rotary International, RGBI, our district website and club websites. However, much of the member related information is within member-only pages, and for this you require a My Rotary login.
Support can be given to those unsure how to go about obtaining a My Rotary account. In the first instance, most people will find the "How To Create a My Rotary Account" PDF file of help.
Sending Funds To PolioPlus
With coronavirus at the front of our minds at the moment it may be easy to forget Rotary's 30-year fight to end polio around the world.
Did you know the same polio workers on the ground in India, Pakistan, Afghanistan, Nigeria and a host of other countries are also now being used to support the work of combatting the spead of coronavirus. Using the vast infrastructure developed to identify the poliovirus and deliver vaccination campaigns, the polio eradication program is pitching in to protect the vulnerable from COVID-19, especially in polio-endemic countries. From Pakistan to Nigeria, the program is drawing on years of experience fighting outbreaks to support governments as they respond to the new virus.
So a big thank you to all clubs who are continuing to send funds to Polioplus this year.
Community Chests
The Rotary Clubs of Kings Hill and Sittingbourne Invicta are carrying on with what Rotarians do best; supporting our communities. Both clubs are currently opening up their Community Chests for applications for funds from local small clubs and groups.
Clapping the NHS
Many Rotarians stood outside at 8pm on 26th March and again on 2nd April and applauded NHS workers. One Rotarian reports; "Yesterday, as well as clapping for our wonderful NHS workers, I went out of my way to shout a thank you to a team of refuse bin collectors. Today I said thank you to the person delivering my post. Don't take these other essential workers for granted. Let them know you appreciate them bringing your post and taking away your rubbish. Oh, and I also said a big thank you to the person serving me at the supermarket checkout too."
Faversham Carrying On
Faversham Rotary Club has just agreed to a donation of £500 to Serve Kent Bloodunnners. In addition, one of our (younger) members will be supporting the West Faversham Community Support hub in the delivery of essential food supplies to the vulnerable.
We are currently looking at support to the local food-bank and to providing small Easter gifts to the Cottage hospital, Alms House and Care homes.
Rotary Whilst Exercising
Getting some exercise on a cycle had a different dimension for one Sittingbourne Invicta cyclist today (26 Mar). Whilst cycling 12 miles, taking in two local villages, the cyclist stopped outside the homes of 9 fellow club members and called them up on his mobile to check they were all OK.
Other Rotarians are using long walks for exercise as an opportunity of passing the homes of other members and checking they're OK from a distance. Keeping in touch with Rotarians, friends and neighbours is particulary important at this time to combat loneliness.
Helping Foodbanks
Foodbanks are struggling to find sufficient donated provisions to help the needy at the moment. Some Rotarians are therefore, donating the money they would have spent on Rotary dinners to local Foodbanks. Faversham and Margate members are helping their local foodbank. Other clubs like Malling are donating larger cash sums out of their club reserves. The Rotary Club of Sittingbourne Invicta has donated £1000 to the Swale Foodbank.
Taking Care of Members
The Rotary Club of Margate have set up a "pastoral care" system with the club officers each looking after a number of members and keeping in touch with them regularly either by phone, email, whatsapp and possibly zoom.
This is particularly important for members living alone and isolated. A phone call will help combat loneliness and ascertain the health and needs of club members.
Covid Symptom Tracker App
Kings College London launched a new App on 24 March which tracks symptoms related to novel coronavirus (COVID-19), allowing anyone to self-report daily.
Rotarians are now downloading the Covid Symptom Tracker App and providing daily updates on their health. This will help researchers track both healthy and Covid-19 positive people. The information will help the researchers identify high risk areas, those people most at risk and how fast the virus is spreading in your area.
This research is led by Dr Tim Spector, professor of genetic epidemiology at King's College London and director of TwinsUK a scientific study of 15,000 identical and non-identical twins, which has been running for nearly three decades.
To join in this study and links to the App please go to the Covid Symptom Tracker webpage.
Making Good Use of Rotary Funds
The Rotary Club of Tonbridge is alive and well. Still working for the community behind closed doors and supplying much needed funds to FEAST in Tonbridge.
Following the closure of schools, Tonbridge Rotary Club acted swiftly to assist local food charity FEAST by providing it with much needed funds (£500) for local families unable to obtain free school meals. Members also decided to donate some of their usual meeting lunch expenses to FEAST, thereby offering ongoing financial support.
FEAST ( Families Eating And Sharing Together) is a Tonbridge based initiative that welcomes school age children and their families to join us for healthy hot meals during the school holidays.
Little Acts of Kindness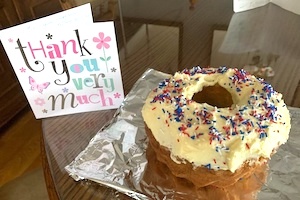 Little Acts Of Kindness
Little acts of kindness are appreciated This cake was placed on a doorstep by one of our Rotarians, and this thank you was found on social media.
"A deep and heartfelt sincere thanks for beautifully light and wonderfully iced cake I found as a COMPLETE surprise on my doorstep. I am a consultant anaesthetist and myself and my colleagues are very much on the front line. It means so much to have received this cake. As you can imagine we are working around the clock to completely overhaul our professional and personal lives to meet this challenge. I will certainly be adding this to the good news and kindness internal communications at UCLH. Thank you."
NHS Volunteers
A number of Rotarians have said they are volunteering to help the NHS. Not a route for everyone, but it is great to see so many people coming forward to become NHS volunteers Rotarians, and maybe prospective rotarians!! It is relatively easy to do and very well explained.
To volunteer go to https://www.goodsamapp.org/NHS. This is a site from the Royal Voluntary Service.
Click on Join Us and add in your contact details as shown. What you are doing is registering on the Good Sam volunteering register. You will be able to choose:

NHS Transport Volunteer
Community Response Volunteer
Patient Transport Volunteer
Check-in and Chat Volunteer
All that is likely to be involved is explained.
When you submit your details you get an immediate confirmation of receipt, and will need to verify your email address. You are then informed that there will be a wait as they carry out an identity check.
Consider doing this now .
Getting Club Officer Data for 2020/21 Updated
Clubs have been updating their club officer data for the next Rotary year in DMS following a request from RI. As of 25 March 2020 there are now 75 out of 77 2020/21 club presidents listed in DMS. However, there are only 53 Secretaries and 51 Tresurers listed. Now is the time for clubs to update DMS with the names of their next year's President, Secretary, Treasurer, Rotary Foundation Chairma and Membership Chairman.
Setting-up the Romney Marsh Support Hub
The Rotary Club of Romney Marsh has been involved in the setting up of the Romney Marsh Support Hub. The group includes a number of charities (C.A.R.M, Shepway Foodbanks, etc.) as well as local church leaders, Kent Police, FHDC, New Romney and Lydd council members, Rainbow Centre, doctors surgeries, community wardens, scout groups and others.
The aim of the Hub is to ensure that there is a consistent and factually correct message going out to the public and to avoid duplication of effort. Club members are of course very happy to be involved.
The club has also issued Coronavirus Update No. 1 dated 20th March 2020; a newsletter to keep all club members updated.
Sharing Hobbies
The Rotary Club of Canterbury is aware members are feeling isolated, bored, and stressed. One member came up with the idea of a series about hobbies - past and present. This will give members something to read and maybe inspire some. Members will also learn about each other and stay connected.
Joining E-Club Meetings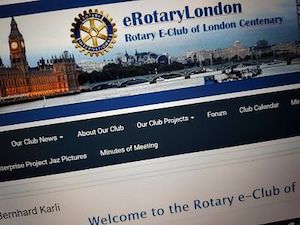 Why not visit an Eclub meeting?
Last week was supposed to be a scatter week for the Rotary Club of Canterbury i.e. attending another club's meeting. Sadly, this was not possible because of the coronavirus crisis, so one member decided to "visit" an eclub instead. Keeping Rotarians connected and carrying on.
Baking Cakes
Langley Park Rotarians are cooking cakes, scones, bread etc. and taking to the elderly residents in the neighbourhood.
Following this, a neighbour of Rotarian Christine Atkinson left 60 eggs on her doorstep so that President Nolene of Langlay Park can continue making cakes for local hospital workers. The latest cake has been delivered to Beckenham Beacon Hospital.
Reaching Out To Other Clubs & Rotarians
The Rotary Club of Sittingbourne Invicta has been in contact with a Rotarian in India since 2005 when a joint project was undertaken. News and information about what clubs in the respective countries are doing during the current cornavirus situation is being shared.
Sumitra from the Rotary Club of Guahati City in the state of Assam says (26 Mar), "India is under a full lock down for 21 days, IE until 14th of April. We can do nothing but stay home. Essential services, groceries etc are operational, although we have not had to go out now. It's been only 3 days now. Hopefully our stocks will last until then. Let's hope for the best. "
Other clubs like Dover are reaching out to their Contact Clubs. Rotary The World Over.
Litter Picking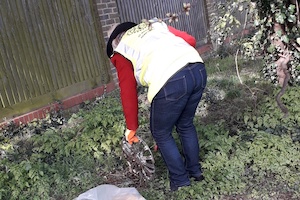 Maidstone Dawn Patrol - Litter Picking
Members of the Rotary Club of Maidstone Dawn Patrol have been taking regular exercise whilst maintaining social distancing during the Covid-19 outbreak.
Whilst out for a walk they have also been litter picking and carrying on caring for the local environment.
Using Social Media
Many clubs are continuing to reach out to other clubs, Rotarians and friends to maintain their networks. Social media needs to be updated regularly. This may be somewhat difficult news-wise whilst events are cancelled, but Rotarians can reduce the possibility of loneliness by using their own social media platforms to reach out daily to their friends.
Using Zoom To Keep in Touch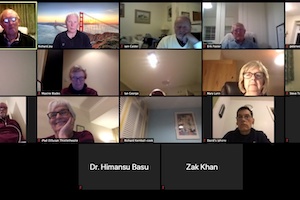 Zoom Meetings for Rotary Clubs
The Rotary clubs of Ashford, Faversham, Gillingham, Kings Hill, Tonbridge, Minster-on-Sea, Canterbury, Sittingbourne Invicta, Folkestone and Margate amongst others are all now using the Zoom App to keep in touch with members whilst normal meetings are cancelled. This is one way for members to keep in touch, share what they have been doing and let other members know if they need support. Zoom meetings will also reduce loneliness for members.
Zoom works like Skype and Facetime but allows up to 100 participants at a time to join in. Zoom Basic is free, but is restricted to 40 minute meetings once more than 3 members are participating. If you would like to know more, then please visit the Zoom Meetings webpage.
Zoom Meetings have also been used by District to run meetings for the Assistant Governors and a Rotary Foundation Seminar online using a shared PowerPoint presentation.
Updating Club Websites
The Rotary Club of Sittingbourne Invicta has created an "event highlight area" to announce that meetings are now online and events have been cancelled or postpones for the coming months due to coronavirus. This is banner at the very top of a club's RIBI template website - see invictarotary.org.
If you would like to put a similar banner on your club's website please contact the RSE web team.
Neighbourhood Card
Some Rotarians are issuing the neighbourhood card to homes in their community.