Fantastic News For Rotary South East!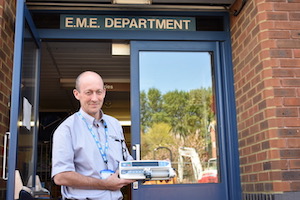 Syringe drivers for the NHS
Rotary District 1120 has been successful in applying for a $25,000 Disaster Response Grant in support of equipment for the NHS. The Rotary Foundation declared COVID 19 a "Disaster", and as such gave us the opportunity to apply for a Disaster Response Grant . Only $1M was available worldwide (nominally 40 Grants) so we had to move quickly.
Special thanks to Peter Nash from the Rotary Club of Eastbourne and East Sussex NHS Trust, along with my Foundation Committee, who acted quickly to help me get this grant application in and achieve this fantastic result.
The funds will be used to purchase 18 Syringe Drivers which automatically dispense fluids and medication to patients aiding their treatment and recovery whilst crucially freeing of nurses to attend other patients .
(Report by PDG Ray Dixon, Rotary Club of Soverighn Harbour & DRFC 1120)
Project "Wash In A Bag"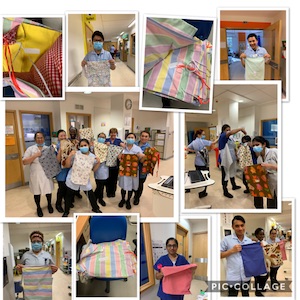 Wash In A Bag Project
Rotary Satellite in Orpington is coordinating the community sewing of bags for nurses in local hospitals, and acting as the central collection point. These bags will help keep our nurses and their families safe.
2500 washbahs have now been distributed to 5 hospitals.
Thank you Orpington volunteers and friends further afield, to sewers, collectors and deliverers. You have made a difference . We hope you will continue to keep in touch with Rotary as we move out of lockdown and together support our local traders, charities and services blossom again.
(Report and photo from PDG Brenda Parsons)
Making Scrubs for the NHS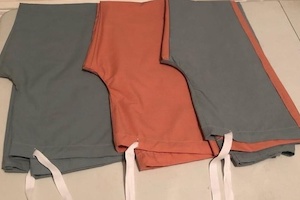 Scrubs made from bed linen
Members of the Rotary Club of Pantiles in Tunbridge Wells are collecting bed linen from their area. The linen is then being supplied to an Inner Wheel member who is making scrubs and bags for the NHS. The scrubs are very much needed by NHS staff during this coronavirus period.
Many donations are being received straight into the back of a parked van at a Rotarian's home. The club have also sourced donations of bed linen from the Crowborough area, and would welcome further donations from other clubs looking for a useful project at this time.
Once sorted, not all bedding is usable. However, what is not used will be handed over to other charity shops once they reopen or even sold as rags so nothing is wasted.
Rotary Club of Tunbridge Wells members are also partnering Inner Wheel and involed in sowing scrubs for the NHS.
Faversham members have given a cash sum of £450 for the local manufacture of scrubs for the local GP surgeries.
Strood members and partners are active in making scrubs bags.
Bromley, Ravensbourne and West Wickham are also assisting with the production of scrubs bags.
Food for NHS staff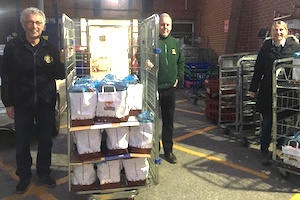 Food parcels to Medway Maritime Hospital
The Rotary Club of Chislehurst, together with their Satellite Group, have purchased frozen meals for the benefit of front line staff at the Princess Royal University Hospital, in Farnborough near to Bromley. They donated £2,500 to start the project, and have also received a District Grant. The food has started to arrive at the Covid-19 Staff Room so hard working staff will be able to have a hot meal 24/7.
The Rotary Club of West Wickham has also provided meals to doctors and nurses at the Princess Royal Hospital, Farnborough Common. The club secured another district grant at were able to donate £1600 to the provision of meals which were made by a local restaurant.
Medway Sunlight Rotary have launched a Community Initiative to provide 'Essential Food Bags' to NHS staff at Medway Maritime Hospital as they leave their night shift. Working closely with the hospital and 'Boomers', the popular Australian themed Cafe at the Outlet Centre, Chatham Maritime, bags of both fresh and long life food are being delivered to the Hospital. The club has donated 181 bags of food to NHS staff to date.
Bromley obtained a grant to give the NHS frozen and instant food.
Supplying Creams To Hospital Staff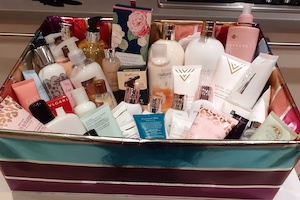 Creams for Princess Royal Hospital
Members of the Rotary Club of West Wickham have supplied creams to Princess Royal Hospital's doctors and nurses hub.
Doctors and nurses were finding they were getting chapped hands from wearing latex gloves and frequent washing. They also found the same need for their faces due to wearing surgical masks all day.
President Div of Ravensbourne Rotary Club has also sourced 400 hand creams, for nurses and doctors, which have been delivered to the Princess Royal Hospital Bromley. The cost of these has been supported by a Rotary District Grant.
Holding An Online Auction
The Rotary Club of Uckfield has made donations to three local hospices. They are also looking at holding an online auction to rasie more funds to support the hospices.
Marshalling For NHS Assessment Centre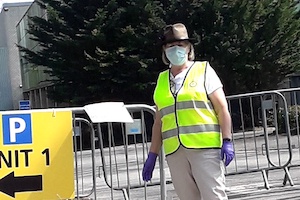 Volunteering to help the NHS
The three Maidstone Rotary Clubs are working closely together for the marshalling of an NHS assessment centre set up for virus testing.
Club members are marshalling visitors who remain in their cars for safety. Elke of Dawn Patrol is working extra hard with the scheduling of the 8 hour shifts. The clubs have both Rotarians friends and associates working with the club members.
They also continue to work with the local council on food parcel deliveries which is going well.
Supporting Other Groups
.
Maidstone Dawn Patrol members have contacted local care homes and are supporting the residents by sending letters, cards and small gifts.
Kings Hill Rotary Club members are working with a local hospice to replace the usual volunteers who are no longer available.
The Margate club has provided gazebos to the local hospital for setting up a safe zone for staff meetings outside the hospital.
Margate members are also working with East Kent Hospital Trust and knitting "Loving Hearts" for patients and their families who cannot visit whilst in hospital. Thirteen sets of hearts have been delivered so far.
Malling members have sewn scub bags for local care homes, and also sent a fruit box to the local medical centre as well as donating toiletries tp three local hospitals.
Clapping the NHS
Many Rotarians stood outside at 8pm on 26th March and subsequent Thursdays at the same time to applaud NHS workers.
One Rotarian reports; "Yesterday, as well as clapping for our wonderful NHS workers, I went out of my way to shout a thank you to a team of refuse bin collectors. Today I said thank you to the person delivering my post. Don't take these other essential workers for granted. Let them know you appreciate them bringing your post and taking away your rubbish. Oh, and I also said a big thank you to the person serving me at the supermarket checkout too."
Little Acts of Kindness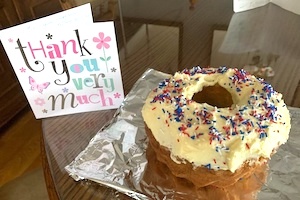 Little Acts Of Kindness
Little acts of kindness are appreciated This cake was placed on a doorstep by one of our Rotarians, and this thank you was found on social media.
"A deep and heartfelt sincere thanks for beautifully light and wonderfully iced cake I found as a COMPLETE surprise on my doorstep. I am a consultant anaesthetist and myself and my colleagues are very much on the front line. It means so much to have received this cake. As you can imagine we are working around the clock to completely overhaul our professional and personal lives to meet this challenge. I will certainly be adding this to the good news and kindness internal communications at UCLH. Thank you."
NHS GoodSam Volunteers
A number of Rotarians are volunteering to help the NHS. Not a route for everyone, but it is great to see so many people coming forward to become NHS volunteers Rotarians, and maybe prospective rotarians!! It is relatively easy to do and very well explained.
To volunteer go to https://www.goodsamapp.org/NHS. This is a site from the Royal Voluntary Service.
Several Strood club members have joined the army of NHS volunteers
South Foreland members are NHS volunteer responders offering telephone support and shopping and collecting prescriptions for vulnerable people.
Baking Cakes
Langley Park Rotarians are cooking cakes, scones, bread etc. and taking to the elderly residents in the neighbourhood.
Following this, a neighbour of Rotarian Christine Atkinson left 60 eggs on her doorstep so that President Nolene of Langlay Park can continue making cakes for local hospital workers. The latest cake has been delivered to Beckenham Beacon Hospital.
(Thanks to JAGtechnic for permission to use the Main Pic graphic)