Lunches for Children in Need
Canterbury Rotary Club has used a district grant to help support the Prince of Wales Youth Club in Canterbury so they can provide 1000 lunches to children in need.
Tonbridge Supporting FEAST
The Rotary Club of Tonbridge is alive and well. Still working for the community behind closed doors and supplying much needed funds to FEAST in Tonbridge.
Following the closure of schools, Tonbridge Rotary Club acted swiftly to assist local food charity FEAST by providing it with much needed funds (£1700) for local families unable to obtain free school meals. Members also decided to donate some of their usual meeting lunch expenses to FEAST, thereby offering ongoing financial support.
FEAST ( Families Eating And Sharing Together) is a Tonbridge based initiative that welcomes school age children and their families to join us for healthy hot meals during the school holidays.
Delivering Groceries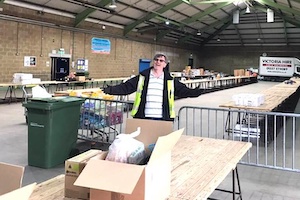 Distributing food parcels
Members of the Rotary Club of Maidstone Riverside are busy distributing food parcels to those in need in isolation due to Corona virus - a great scheme in conjunction with Maidstone Borough Council.
The club has delivered over 1200 food parcels and prescriptions to the vulnerable locally during COVID-19. They've given over 800 hours of their time volunteering to give this service, as well as marshalling traffic at the COVID-19 assessment centres.
Helping Foodbanks
Foodbanks are struggling to find sufficient donated provisions to help the needy at the moment. Some Rotarians are therefore, donating the money they would have spent on Rotary dinners to local Foodbanks.
Bexhill, Hailsham, Kings Hill and Margate members are helping their local foodbank. Faversham, Dover, Gillingham, Rye & Winchelsea, Langley Park, Whitstable, Uckfield, Romney Marsh, Bexley, and Malling clubs are all donating cash sums out of their club reserves.
The Rotary Club of Sittingbourne Invicta has donated £1000 to the Swale Foodbank and provided Christmas shoebox presents for the children of families supported by the Foodbank.
The Rotary Club of Beckenham
successfully applied for a district grant to assist their local foodbank, Living Well Bromley, whose Treasurer wrote to say, "On behalf of Living Well Bromley. please will you pass on our thanks to the Rotary Club of Beckenham for its generous gift of £1.560."
The
South Foreland
club has also secured a district grant to buy supermarket store vouchers for Dover and Deal Foodbanks.
Orpington members have donated money saved from meals to the Orpington Foodbank.
Given the increased hardship being experienced in Eastbourne due to lockdown the Sovereign Harbour club has continued to support the local Foodbank. This picture (see right) is of one recent donation, and members also continue to make financial donations to the organisation which helps fund their advisory service.
Food for NHS staff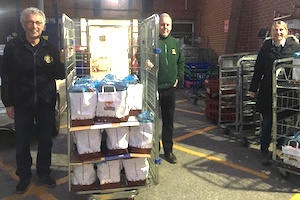 Food parcels to Medway Maritime Hospital
The Rotary Club of Chislehurst, together with their Satellite Group, have purchased frozen meals for the benefit of front line staff at the Princess Royal University Hospital, in Farnborough near to Bromley.
They donated £2,500 to start the project, and have also received a District Grant. The food has started to arrive at the Covid-19 Staff Room so hard working staff will be able to have a hot meal 24/7.
The Rotary Club of West Wickham has also provided meals to doctors and nurses at the Princess Royal Hospital, Farnborough Common. The club secured another district grant at were able to donate £1600 to the provision of meals which were made by a local restaurant.
Medway Sunlight Rotary have provided 110 'Essential Food Bags' to NHS staff at Medway Maritime Hospital as they leave their night shift. Working closely with the hospital and 'Boomers', the popular Australian themed Cafe at the Outlet Centre, Chatham Maritime, 50 bags of both fresh and long life food were delivered to the Hospital. The club is hopeful of more donations from the public in order to be able to repeat the operation in the coming weeks.
Langley Park members have baked cakes and biscuits for NHS staff.
Other Food Activities
Sittingbourne Invicta, working through the Rotary Club of Grantham, have provided a financial support so members of the Rotary Club of Meru in Kenya can feed orphaned street children.
Tenterden members are volunteering with the Tenterden Hub and are delivering food and medicines to vulnerable residents.
The Rotary Club of Pantiles are collecting food from members to provide much needed supplies to the local Nourish Food Bank.
A member of the Gillingham club is liaising with several local restaurant businesses to donate free of charge meals to rough sleepers who have been housed at the King Charles Hotel in Gillingham.