return to the Foundation homepage
Rotarians across the globe are talking about the importance of our End Polio Now campaign, as part of the World Health Organisation's World Immunisation Week.
Of course everyone is talking about vaccines at the moment: the need for a COVID-19 vaccine before life can return to normal after lockdown in so many countries. But Rotarians can continue to tell their friends and colleagues how close we are to eradicating polio.
The two are linked.
While the polio vaccination programme in some countries will be reduced at the moment because of the risk to volunteers and front line health workers, the infrastructure developed over the last few years is being used to support monitoring of COVID-19. This is particularly the case in the countries that still run mass vaccination programmes such as Nigeria and Pakistan.
An extract from a report by Mike McGovern, Chair of the Rotary International PolioPlus Committee and John Germ, Past Rotary International President and Chair of the Polio Countdown to History Committee:
"A program begun by Rotary is employing thousands of health workers to address the Covid-19 pandemic. The program is the Global Polio Eradication Initiative (GPEI) which includes Rotary's PolioPlus program. From the earliest days of polio eradication in the Philippines, the generosity and advocacy of Rotarians and our partners has nearly stopped polio, stopped Ebola from becoming an epidemic in Nigeria and now responds to Covid-19.
Over the next four to six months the polio program is offering its tools, workforce and extensive surveillance network to support countries as they respond. Globally, the polio surveillance network is being trained on Covid case detection, contact tracing, laboratory testing and data management. GPEI is deploying its coordination mechanisms such as emergency operations centers and sharing physical assets like vehicles, computers and mobile phones to combat the pandemic."
Read the full statement issued in early April.
More information can be found on the following sites:

World Health Organisation










Global Polio Eradication Initiative

Rotary End Polio Now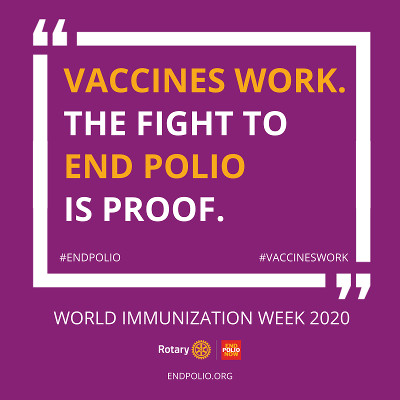 updated April 2020