$1 Million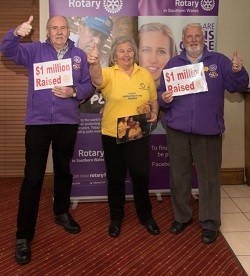 World Rotary Day (23 February) is being marked in South Wales by Rotarians from the area celebrating the milestone $1 million they have raised towards the major goal of eradicating Polio worldwide.
The money raised is specifically towards polio eradication and is in addition to the many thousands of pounds Rotary Clubs raise for local and international projects each year. More...
---
---
Paul Harris Society Membership Awarded to District 1150 Rotarians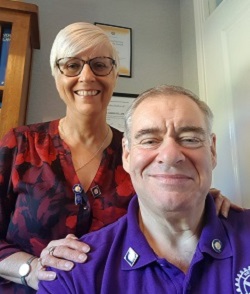 Rotarian Malcolm Hallewell and his partner Carol, both of Cowbridge Rotary, have become members of the Paul Harris Society for their annual support of the Rotary Foundation. More...
Click here to find out more about the Paul Harris Society
---

Children in Need Update
March 2020 update regarding the Rotary partnership with BBC Children in Need. More ... Merchandise...
---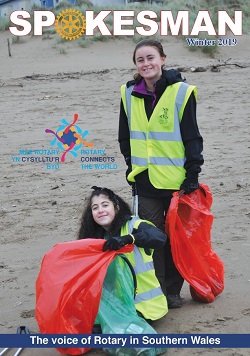 ---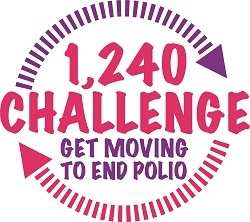 World Polio Day, 24th October 2019

Our District was asked to support RGBI President Donna by organising and hosting the national launch of "Get Moving to End Polio" in Cardiff on Thursday, 24th October 2019.
The event was held in Cardiff Castle and Footballer Gareth Bale's Eleven Sports Bar. More…
---
Our students in the Youth Exchange Programmes are off on their adventures all over the world.
It is already time to think about next year.
Time to start encouraging students 15 to 19 years old next summer to find out about the programmes on offer More...
---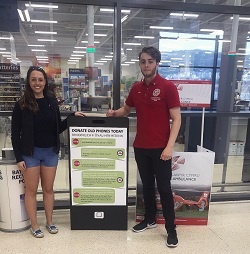 Rotaractors in Action
Aberystwyth Rotaractors partnered with Tesco. Viktoria and Aiden collecting old mobile phones to raise money for Wales Air Ambulance
---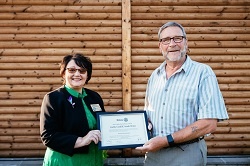 New Rotary Club Chartered
Garth satellite club has joined the Rotary family in the Southern Wales District receiving their Charter from RGBI President Donna on 12th July. Charles Middleton President stressed the five principles of Garth Rotary are: Keeping things informal, Being of mixed gender, Making new Friends, Helping in the Community and Having fun while doing this. Meeting Tuesdays at The Lewis Arms on Heol Goch Pentyrch CF15 9PN More...
---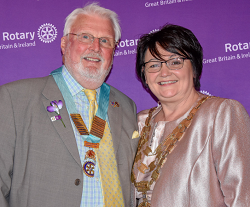 Four Generations of Rotary Celebrate!
RIBI and District Handover in Cardiff Bay. Together with Brynmawr and Pembrey and Burry Port. It was a Rotary Family handover in more ways than one at the Exchange Hotel in Cardiff Bay on 30th June.
Rotarians from all over Britain and Ireland came to Wales capital city to witness the inauguration of the new President of Rotary GBI Donna Wallbank; the National President of Rotaract GBI Anamarie Koeve of Edinburgh Rotaract and Southern.
More Click Family Handover - Peter Hamilton
---
Summer is here !!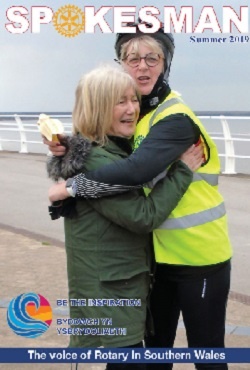 Click here to read the exiting Rotary News.
---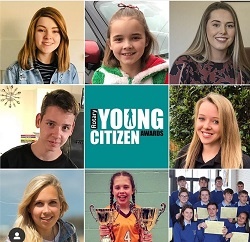 Rotary young citizens awards
It's time to meet the amazing winners of this year's Rotary Young Citizen Awards! Eight outstanding winners are being recognised for their outstanding citizenship, volunteering efforts and community engagement. #peopleofaction
---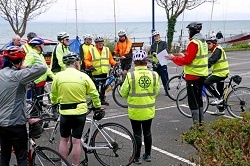 Rotary helping African schools
Rotary Bridgend visits Mumbles for an hour. Fourteen intrepid cyclists left Knab Rock to cycle the 50K to Laleston. In aid of an International Project being funded by the Club to help with facilities for two schools in Africa. More...
---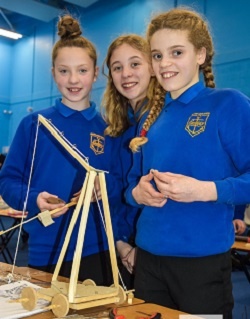 Rotary Technology Tournament
For the first time, Rotary Clubs within Pembrokeshire organised the first-ever Rotary Technology Tournament hosted by Pembrokeshire College. The schools came up with innovative ideas to produce a construction to manually lift a load from a track and move it back along the track while balancing it, so the crane-like structure didn't overturn. More ...
---
Rotary "State of the Nation" Report
Read the 2020 Rotary GB&I State of the Nation Report, plus access to the 2018 and 2019 reports more...
---
South Wales Rotary Alumni

Association undertook a 24Km trek with the aim of raising money and awareness of the ongoing humanitarian crisis in Yemen More...
---
Spokesman - Spring/Summer 2020 Edition
Click on the cover picture on the left to read the latest issue of Spokesman which features news and photographs from clubs around District 1150.
"As far as the authors are aware all content is copyright-free or has permission for use, if this is not the case, please contact us and that content will be removed."