If you have a project that should be highlighted Email: publicimage@rotary1150.org
DG Alison will choose each month her best Club project for that month, for the work done by a Rotary Club in District 1150 who will receive £50 for their Charity account.
---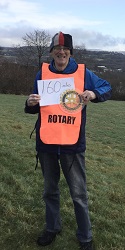 June Club Project
Rotary Club of Blackwood Rtn. David Ellis'
2021 Virtual Challenge Land's End To John O'Groats
During these difficult, socially distanced times, it has been impossible for the Rotary Club of Blackwood to carry out its usual fundraising round for local and wider good causes. With this in mind, Rotarian David Ellis has come up with a great idea to raise funds. More ...
---
May Club Project
Fishguard and Goodwick are awarded the District Governor's story of the month award as a
result of their dedication to keeping their members updated since 1976 as a result of their
monthly Bulletin More ...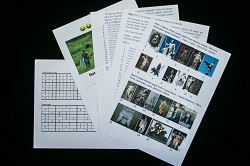 Llandeilo Rotary – Creates lockdown quizzes, Sudoku and jokes
Richard, who is a Past President of Llandeilo Rotary has prepared and run an online quiz every week for his local community since Wales went into lockdown in March 2020.
More ...
---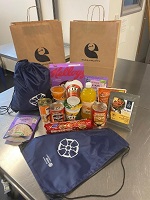 March Club Project
Rotary Cardiff Breakfast
Brekflex Group – Backpack Project
The group are working with St Teilo's Church-in-Wales High School in Cardiff to provide a backpack of food for the weekend for a young person in need. The backpack is not meant as a regular source of food, but as an emergency measure when a crisis occurs. More ...
---
February Club Project

"The Rotary Clubs in Cardiff have joined forces to support the Cardiff Foodbank by launching a £15,000 appeal. An edited version of the launch event is available here. Please share on your social media platforms".
---
November Club Project awards - Two this month!
Maesteg Club has provided a defibrillator in the community - details and photo awaited.

Cwmbran Vale - the Christmas Pudding Club - carried out a Canal Relay Marathon. Over £1200 collected so far for Charity. Well done to all the participants and thanks to those who sponsored us.
---
October Best Club Project Award
The Rotary Club of Knighton and District win October's best club project award from DG Alison for their original Christmas Card designs. They have linked with local artist Jane Wells to produce this selection of cards with a unique twist. As Christmas approaches, this is a great opportunity to purchase your cards from a Rotary club within our District.

Click here for more details and photos......
---
September Best Club Project Award
The September Best club Project award of £50 goes to Cowbridge for their Production of a Wartime memories book. President Steve Pearce said "VE day and VJ day resulted in a lot of conversations about the war and Rotarians experiences. These conversations triggered a decision to capture the experiences of Rotarians and their relatives in an illustrated booklet called 'Wartime Memories of Cowbridge Rotarians and their families'. Fifteen Rotarians or members of their family made contributions to the book. The book has been made available to local schools, dementia and elderly person groups as well as the local History Society and Town archive and has been well received."
Click here to read more
---
August Best Club Project Award
DG Alison has chosen as her best Club project for August the work done by Bridgend Rotary Club with the Rotary Club of Beruit Cosmopolitan who have distributed food and medical supplies.
Congratulations to Bridgend Rotary who will receive the £50 for their charity account.
Read the detail
here
.