Welcome to the Rotary District 1070 Compliance pages for the Rotary year 2020-21
The District 1070 Compliance Advisor is Will Cowell from the Ramsey Rotary Club.
The District Safeguarding Advisor for 2020-21 is Kate Haythornthwaite, in the Melton Aurora club.
They are all enthusiastic Rotarians and between them they hold a wealth of knowledge across business, health and safety, management, and the legal and health service sectors. They continue to stay abreast of current legislation and gain the relevant qualifications.
They would rather you ask for help before there is a need for intervention or, worse still, a situation that then requires rectification after the event.
They are willing to attend club, area or district events as requested. Here, Moira is seen talking to Area 8's forum: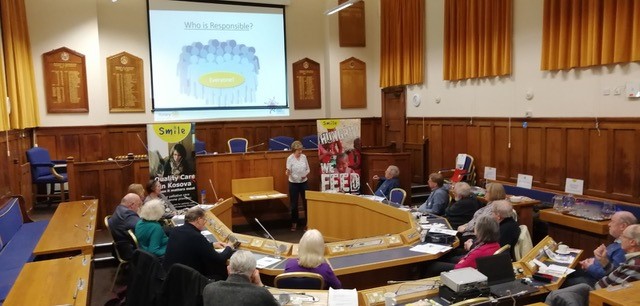 Will became a full-time solicitor in 1994 after a 20-year engineering career, and he was very actively involved in the running of his own legal firm in Cambridge until its merger at the beginning of April 2020. He found time to put in 15 years of service to the Cambridgeshire Law Society, serving as President twice and Treasurer for 6 years. He continues to chair the board of the Cambridge & Ely Child Contact Centres, so he is no stranger to regulatory requirements. Like his predecessor, Will is very keen to see equality and diversity taken seriously, albeit for different reasons. He views this post as a resource and a source of help for all clubs, and perhaps particularly for Secretaries and Clubs' own Compliance officers, whatever title they may hold.
Moira spent a 35-year career in the health sector, as a Senior Radiographer specialising in Cardiography. She has a passionate, no-nonsense approach to Safeguarding. Her experience in both Rotary and the wider community means her message is clear. She is able to confidently advise and support Clubs, as well as individual Rotarians, alongside children and vulnerable adults. She is a good communicator with a unique compassion for equality within Rotary and developed her skills as the Assistant Compliance Officer before taking on the Safeguarding role.
Will is new to Rotary, having joined in early 2019, but is already busy making himself useful. Moira has been her Club President, and has held posts on Club Council, committee roles as well as the Secretary and Presidential positions.
We all, as Rotarians who perform wonderful acts of kindness and service to our communities, need to review and, if necessary, update some of our practices. Will and Moira are both keen to assist in helping to review current risk assessments for projects that have been in existence for some time as well as new projects that come on board. They are happy to talk through any issue you require help with. Please call if they can be used as a sounding board, a source of reference, or even to signpost you to another place to gain the information you need. Nearly every situation is different and as Rotarians we are not exempt from the Law.
You can contact either of them by email on compliance@rotary1070.org or safeguarding@rotary1070.org as appropriate – or via the 1070 membership handbook under their appropriate clubs.
This section of the District 1070 website contains the Compliance documents for your Club and associated Policies and information.
These need to be signed and recorded in your Club council minutes at the start of each Rotary year, then returned to Rotarian Will Cowell. A link to the 2020-21 form can be found below, followed by Compliance information.
Thank you in advance.
To go directly to specific District 1070 Compliance pages, click the links below:
Why Sign the Compliance Statement?
Protection of Vulnerable Adults Policy
Links to Rotary GB&I information:
Rotary GB&I General Data Protection information
Rotary District 1070 operates under its own GDPR Privacy notice (see here Privacy Notice). For wider information about Rotary in GB&I's approach to GDPR please see the Rotary GB&I website.
Rotary GB&I Rotary GB&I Equality and Diversity Policy (linked with the Rotary GB&I Dignity Policy)
Rotary GB&I Health and Safety Policy Statement
Rotary GB&I Safeguarding – Children and vulnerable Adults
Rotary GB&I Insurance