What is Rotary Day?
Rotary Day is on 23rd February each year; the anniversary of the first Rotary meeting in Chicago in 1905.
The lead up to Rotary Day is now a celebration of the work of 1.2 million Rotary members in 35,000 Rotary clubs throughout the world. It's a time to say, "We are Rotary and this is what we do!"
Rotary South East Celebrates Rotary Day
Rotary clubs in Rotary South East & Gibraltar will be celebrating our own People of Action this year; a year that despite Covid-19 restrictions Rotarians have volunteered in all sorts of ways to help the National Health Service and our local communities.
Rotary Radio UK, based in Sittingbourne in Kent, will be making special broadcasts in the run up to Rotary Day highlighting the work of Rotarians across the whole of Rotary GB&I.
Rotary South East will also run a social media campaign and invite all 76 clubs to submit a short story about their work as People of Action to "showcase" their work (see stories below).
Where can I Volunteer?
Would you like to volunteer in your local community? If so, we can help you. Rotary has many volunteering opportunities right now. You don't need to be a Rotarian to volunteer with us. We work with family, friends and members of other groups. Just contact us on corona@rotarysoutheast.org and we'll put you in touch with a Rotary club near you.
Skin Care Balm For Hospital Workers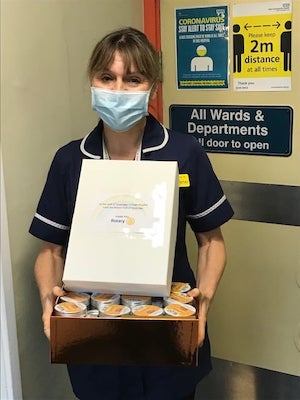 Tonbridge Cottage Hospital staff have been on the front line during this last year nursing patients with Covid and experiencing much of the same physical and emotional pressures as those in the acute sector.

The Rotary Club of Tonbridge, wishing to show gratitude for their dedication, purchased hand salve for each member of staff. Hands which are frequently washed and sanitized can get very dry and sore, especially in this cold weather, so it is hoped that the balm will bring some comfort.
Tonbridge Cottage Hospital's Sister Catherine Gillespie, receiving 54 tins of skin care balm for all the staff said, "This balm will relieve sore hands with all that necessary hand washing and gel-ing! "
Receptionist Sally said that in the current pandemic, this is probably the handiest present all the staff have received.

President Peter Ruck said, "We wish them well and hope that this will go a little way to support our local NHS staff in carrying out their never-ending duties."
Pictured is Sister Catherine Gillespie with the generous donation.
Covid Vaccination Centre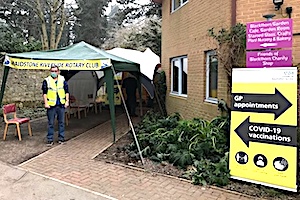 Maidstone Riverside Rotary Club has provided volunteers to marshal the car park and external premises. Over 50 volunteers, working 2 hour shifts at 3 people at a time, have been enthusiastically taking part since before Christmas to help guide people to the appropriate registration point and then onto their inoculation.
Members of the Rotary Clubs of Kings Hill, Maidstone Dawn Patrol and Malling have also volunteered at the Leybourne Vaccination Centre during December 2020 to February 2021. In total, during this period 62 volunteers covered 23 days and completed 644 volunteer hours.
We are pleased to let you know that the two Folkestone Rotary Clubs have been nominated as Hero Of The Week by BBC Radio Kent.
Bromley Work Club
Rotary clubs in Bromley Borough have launched phase two of its Rotary Work Club. Following on the back of a successful initial launch last October, the Rotary Work Club is expanding its reach to help the unemployed in the area.
Last autumn, the eight Rotary clubs in the London Borough of Bromley worked together to offer free online learning opportunities to people in the town who were out of a job, or who felt at risk of unemployment.
For more information, please see Dave King's article on the Rotary GB&I website.
Laptops For Schools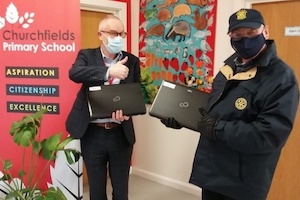 Beckenham Rotary has provided over 30 laptops to local primary schools in recent months and plans to deliver more in future.
Initially two laptops each were given to four primary schools to make sure they were what they wanted. Since then another 23 laptops have gone to seven schools.
Sidcup Rotary Club has supplied 25 Chromebooks to a local primary school; Orchard Road School. This is where club members also help with a reading programme. This laptops were funded at a cost of £4,300 from the Rotary Club of Sidcup's Educational Trust.
Margate Rotary Club also responded to a request for help to provide laptops so Thanet pupils could access home learning.
Members agreed to fund Chromebooks for students in need to enable them to bridge the inevitable educational gap that Covid has caused to many young people.
The Club has already collected 36 unwanted IT devices and has agreed to provide £15,000 to buy Chromebooks specifically designed for educational purposes. These, will then be loaned to pupils. Seventeen schools are set to receive the much-needed devices in time for the half term break as a result of Margate Rotary's supportive action.
Covid Testing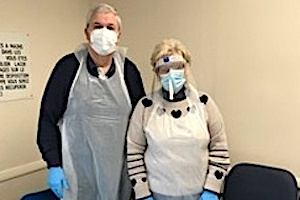 Mark and Linda Garnett of the Rotary Club of Heathfield and Waldron (pictured right) at Newhaven Port helping with Covid-19 testing over the Christmas period.
"Your continued commitment and dedication never fails to impress and astound us. To respond to such a challenging situation, not least at Christmas, was not only welcome but critical to us getting more than 100 people home to their families for Christmas." - Marc Clothier, Superintendent, Sussex Police.
Christmas Gift Bags in Eastbourne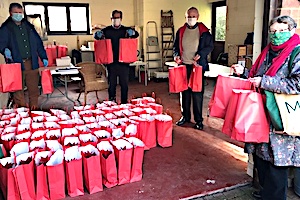 The Rotary Club of Eastbourne helped Homes For Homeless over the Christmas period.
When their "Alone At Christmas" lunch for lonely and isolated people had to be cancelled because of Covid, Rotarians still managed doorstep visits on Christmas Day to almost 100 residents with gifts and goodwill messages from community leaders.
A further pandemic initiative saw the Eastbourne club donate a much-welcome £3,730 to the local foodbank from its suspended lunch meeting fees.
Pictured wearing face masks and preparing Christmas gift bags for delivery are, from left to right, Eastbourne Rotarians Bob Hamblyn, Alan Wenham and Club President Brian O'Neil, along with volunteer Jane Ferguson.
Christmas Gift Boxes to Swale Foodbank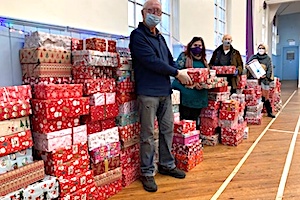 The Rotary Club of Sittingbourne Invicta delivered around 380 Christmas Gift Boxes to Swale Foodbank on 2nd December 2020; to make Christmas a little brighter for children in Swale.
The boxes for boys and girls in various age groups have been put together by Rotarians, their families, Friends of Rotary as well as with donations from the wider public who believed this simple gesture could make such a big difference.
Swale Foodbank Project Manager Esther Hurwood said "We were absolutely thrilled to receive this incredible number of Christmas Gift Boxes filled with all kinds of goodies today, that we will distribute alongside the hampers in our Hampers Of Hope campaign. "
Christmas Goodies in Faversham
There was no Santa Tour of Faversham town due to COVID-19 this year, but the Rotary Club of Faversham stepped up to make a difference to some special deserving community members by distributing gifts and goodies to Faversham Young Carers, residents of Carnalea and Cooksditch residential homes and Faversham Alms Houses.
The club had tremendous support from local businesses including Morrisons, Pilgrims Hospice shop and Macknade Food hall. Sheldwich WI and Fillers Sandwich Shop also helped get the goodies ready. Davington Primary and St Mary's of Charity schools helped with handmade Christmas cards and messages.
Club President, Michael Hoey, said "Faversham Rotary was determined to bring Christmas to those who might feel alone or struggling. The generosity of friends, individual members and the generous surprise contribution from the Worshipful Company of Fruiterers has ensured a very wide distribution of gifts in what has been a most challenging time for everyone."
Food Bank Support in Tonbridge
In a year where nearly all our usual community activities have been cancelled or curtailed, Tonbridge Rotary members have continued to be a force in the local community.
Recognising the urgent need for Food Bank support, members have been donating their own lunch fund payments to finance the purchase of fresh food which is always in demand as food banks receive donations of many dried goods. This has provided several local food bank charities, including the Salvation Army and Church food banks with funds. Some of our members have also arranged an online shop from supermarkets specifically tailored to the cries for help.
As with all other service organisations our fundraising has almost dried up but, thanks to local initiatives, we have been given donations from a local theatre which streamed a pantomime online over Christmas and a member asked for donations for her birthday. Things like this have enabled us to support local domestic violence support services and supplying hand cream to our local NHS Cottage Hospital – which sadly gets forgotten in favour of the larger regional hospitals.