Junior Category (for students aged 7 - 10 years)
Winner: Natasha Evans (age 10) "Endangered Animals" - sponsored by Rotary Club of Farnborough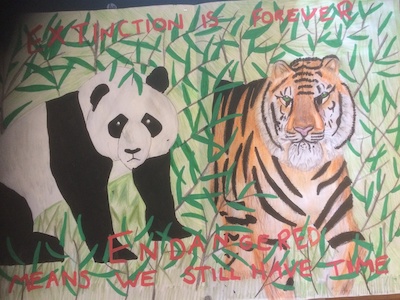 Judges comments: "Demonstrates use of more skills, techniques and different mediums - paint, pencil, line drawing, blocks of colour and lettering. The image also uses text to portray a message which appears personal to the artist - a tie between the artist and the observer."
Intermediate Category (for students aged 11 - 13 years)
Winner: Merryn Stroud (age 12) "Fox" - sponsored by Rotary Club of Bookham & Horsley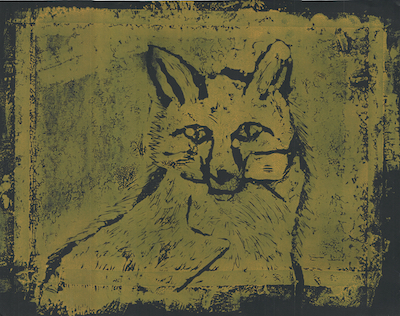 Judges comments: "The fox image is original which uses the natural texture of block printing to portray the texture of the fox's fur. The use of line is minimal but each line has a real purpose and has been carefully thought through. The simple use of colour implies the fox is an animal which blends in with the environment it finds itself in and so is a creature to which many people can personally relate."