Recycling
Clubs may consider collecting and recycling used stamps, old spectacles, mobile phones, printer cartridges, bras, and then later perhaps, bicycles, hospital equipment, wheelchairs and computers (not more than 10 years old). Many of these items have a value so your club may be able to gain some income whilst helping with recycling.
Canterbury Rotary Rotarians Bob Anderson and John Hill collect a few items from club members that can be useful to others rather than go into landfill - stamps, trade tools, spectacles, green plastic milk bottle tops and ring pulls being just a few (to help the local hospice and other charities). They aren't set up to do this among the community, but they do encourage others to find out what recycling options there are in their community. One man's unwanted goods may be useful to another!
Beckenham Rotary collected over 30 unwanted laptops which were then processed and provided to local primary schools for home schooling during the 2020-2021 Covid restrictions. Uckfield Rotary Club also donated ten computers to six local primary schools.
Beckenham Rotary are also collecting empty tablet blisters and taking them to Superdrug for recycling. All Superdrug pharmacy are participating in a Teracycle scheme to turn medical blisters into cash donations to Marie Curie.
Note: Teracycle have recently suspended blister pack recycling
Consequently, we have been told that Marie Curie can no longer benefit from this scheme.
If you are aware of any other recycling scheme of Blister Packs, please let the District Environmental lead know
Medway Sunlight Rotary Club is working with a project group on St Mary's Island and has help from a local school to collect and recyle:
printer ink cartridges - providing funds for the British Heart Foundation
used postage stamps for Kicks Count
egg boxes for Gillingham Street Angels to enable to give out donations of eggs to those receiving food parcels
Tools With A Mission
The Rotary Club of Chestfield collects old tools and equipment, which are then refurbished by Tools With A Mission before being put into trade sets and sent to developing countries.
All types of hand and power tools (for carpenters, motor mechanics, builders, electricians, plumbers, gardeners, sewing machinists etc.) can be collected, refurbished and supplied to tradesmen overseas.
Contact Trevor Cox at the Medway Workshop to get involved.
Bikes For Africa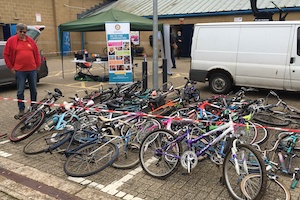 Maidstone Riverside are collecting old cycles for a charity which refurbishes them before shipping them out to Africa.
Bicycles can dramatically improve lives by providing simple, affordable transport cutting travel time and increasing opportunities to gain education and find work.
In Africa, bikes are difficult to find and expensive, while in Britain millions of them lie unused in sheds, outgrown, abandoned or replaced.
Repurposing/Upcycling
Upcycling is taking something that's considered waste and repurposing it. The upcycled item often becomes more functional or beautiful than what it previously was. This creates something useful and avoids an unwanted item going to landfill.
Lots of things can be repurposed including furniture, decorations and large things like pallets or even shipping containers. Old curtains can be turned into retro cushion covers. Outdated CDs may often be seen dangling from a tree to form a bird scarer. Wooden roof beams can make very attractive mantlepieces.
Medway Sunlight Rotary Club have been upcycling by: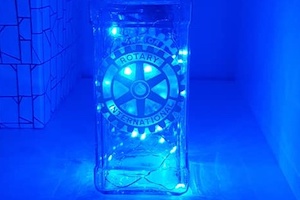 collecting empty bottles and turning then into light bottles decorated with a Rotary badge and battery powered led lights inside to give a little bit of magic to summer gardens. They will be selling these with £5 going to charity
collecting can ring pulls for The Purple Community which are then used for making purses, handbags and other items
collecting used crisp packets which are then turned into blankets and sleeping bags for homeless people.
(Main photo by Pawel Czerwinski on Unsplash)