Update from Shelterbox on 8th September 2021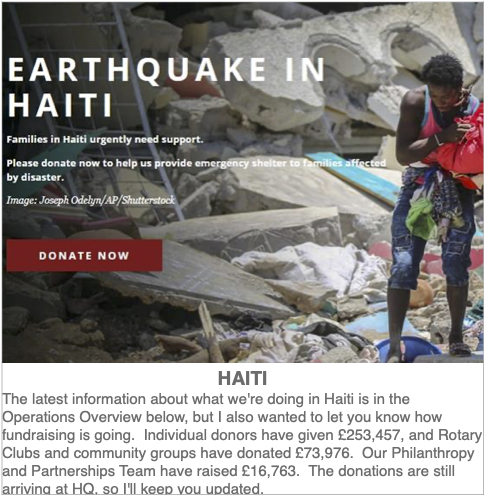 OPERATIONS OVERVIEW
Concerns about security forced our team to delay travel from the Dominican Republic to Haiti. They should be arriving in Les Cayes today. We will be partnering with Habitat for Humanity Haiti to support families who have lost their homes. ShelterBox will be providing shelter kits including tarpaulins and fixings, thermal blankets,solar lights, kitchen sets, sleeping mats, mosquito nets and water carriers.
We will also organise international logistics and provide training and technical support with the aid items we are providing. The pre-positioned hub in our Panama warehouse, means that aid is nearby and ready to be delivered.
Habitat for Humanity Haiti brings local connections and knowledge of communities. They will be responsible for identifying needs in local communities and finding those not being served by other agencies. They will help to delivering training, running distributions and post distribution monitoring activities.