Karen Eveleigh, 23rd January 2022
A Rotary Foundation peace grant has supported the production of a new series of books to help young children discuss everyday dangers.
David Brodie from Jordans Rotary used the grant, matched by funding from his own club, to pay for the illustrations for some of the Purple Pup books. David developed the Purple Pup character and his adventures a few years ago, and during 2021 he developed the stories to cover themes such as water danger, diversity and bullying.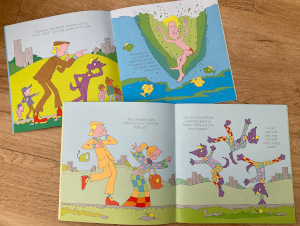 He is working in partnership with Lynn and Tony Churchill of OK Our Kids. Lynn and Tony's Watch Out books and board game have been supported by many Rotary clubs across the Thames Valley as well as by Rotary clubs in other parts of the UK. Clubs have bought books and board games for their local primary schools and the project has been supported by schools, police services and education authorities.
The Purple Pup books are also designed for use in schools and at home, to encourage conversations on how to deal with the obstacles and dangers that children face.
David first met Lynn and Tony when they visited Jordans Rotary club to speak about their book and project. The club bought copies of the book for local schools, and David discussed the possible collaboration with Tony and Lynn. David rewrote the stories to illustrate and emphasise for each story one of the dangers in the Watch Out book.
Five books were published in December 2021 and David hopes that Rotary clubs will become involved again, purchasing the books for their local schools. David says that his mission is to get these books into every class in every primary school in the UK.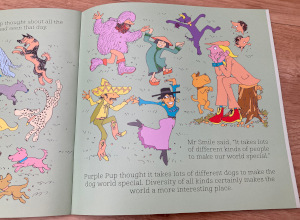 How does David write for young children?
"It has to be fun, the message is important, and there needs to be a reasonable amount of action, plus also a magical element."
The books were first reviewed by Tony and Lynn, then with some friends and then with colleagues in county authorities, and only minor changes were needed.
The books are aimed at the primary school age range, from 4 to 11 years. They could be a first reader or for parents and teachers to read to children, and then enter into a discussion about the issues.
At a launch at a dinner dance in November, David met a leader of a Rainbow (Girl Guides) group. She read them for the first time at the dinner and got very excited about using them with her group.
When asked if there is a gap in this area and a lack of guidance and information for children, David explained that while the information is all available somewhere, the Watch Out book brings everyone into one accessible book. And the Purple Pup books complement the Watch Out book and board game.
David is clear on the value of paper books versus electronic resources.
"I'm a book lover. I think there is a certain magic in holding something and turning the pages, and having parents or teachers looking over children and helping them read and being able to discuss the different issues in a direct way.
"From my experience of children, once they get in front of a screen, they tend to disappear into a corner and don't interact. A book has more potential for involvement. When children see the book, they love to turn the pages, they want to read the whole thing and they don't get distracted."
The next big task is distribution and David hopes that Rotary clubs across Great Britain and Ireland will become involved.
For more information about the Purple Pup books please contact David Brodie profbrodie@hotmail.co.uk
For more information about OK Our Kids please visit the website www.okourkids.co.uk
Tony and Lynn from OK Our Kids will be at the Rotary District Conference in Oxford on Saturday 19th March to promote the Watch Out book and board games as well as the Purple Pup books.