Details of our programme for the Presidents Elect have now been confirmed. The details are:
22nd February 2022 - DGE Briefing to PE's, District Officers Elect, PDG's and a general invitation to all current Rotarians in the District.
The programme was largely in the hands of DGE Eric and covered his report from the RI Virtual Assembly including President Elect Jennifer Jones' key messages.
Programme of directed self-study from the
Learning Centre in RCC
. There were recommendations for PE's who are new to the role and a different set of recommendations for those that are taking the role for the second or more times.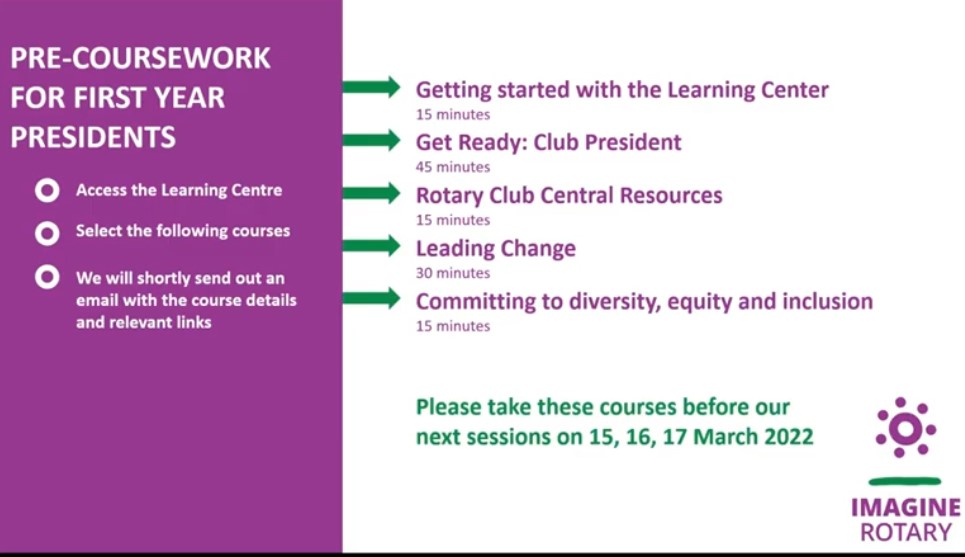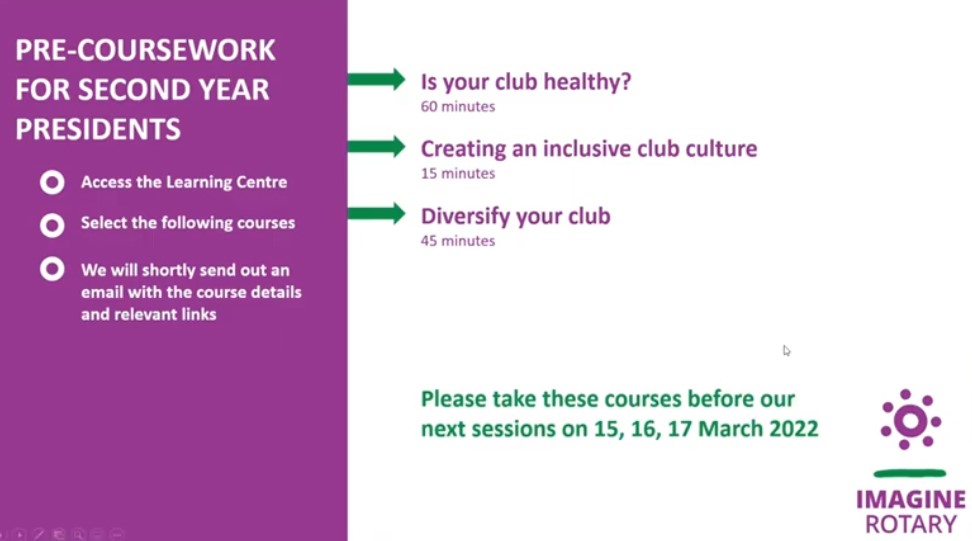 15th March 2022 – Foundation Seminar for PE's and Club Foundation Reps. The seminar will cover three areas.
a. General introduction and update to Foundation - Patrick Tyrrell
b. District and Global Grants – Gwyneth Millard
c. Rotary Club Central, Goal setting and records of Club Foundation giving – Patrick Tyrrell
16th March 2022 – Presidents Elect Preparation Seminar. Part 1. It is recognised that many repeating presidents are not well disposed to attendance at preparation events that are similar to events they have attended before. There is a risk that as we leave virtual or hybrid meetings we can slip back to the well-known and comfortable ways that we left in 2019 without considering if this is the best way of helping our clubs to flourish. This year we are proposing a new event aimed at engaging the PE's to improve the look, feel and working of our clubs. This is the basis of the vibrant club programme that was introduced last year. We will be encouraging our existing and potential members to join our club officers in making clubs more attractive by paying more attention to our public image, to developing new projects. This session will be run jointly between the LDT, Membership and Public Image teams.
17th March 2022 - Presidents Elect Preparation Seminar. Part 2. This session will be conducted by the AG's in Cluster Groups. The emphasis will be on developing the value of clusters and ways of working together. Planning for the year will also be covered and, in particular the preparation and running of a club assembly.
There is a need to offer some guidance and support to other club officers. It used to be that sessions specifically for club secretaries and treasurers were run at District Assembly, but the nature of Assembly has changed so there is a need to run this in a different way. This will be discussed further with Tony Graves and Dennis Hobson.
A decision on the format of District Assembly for 2022 will be made very soon.
This is a dynamic page as material will be added throughout the year, so please keep coming back to it to see updates.
If you need further information or want us to provide specific learning events for your club or team, please contact us.
Please remember there are excellent training courses available in the RI learning centre.

We look forward to hearing from you.