Our time in Oradea, Romania. April 2nd to 9th, 2022
By Andrea Fiford, Melton Rotary Enterprise Group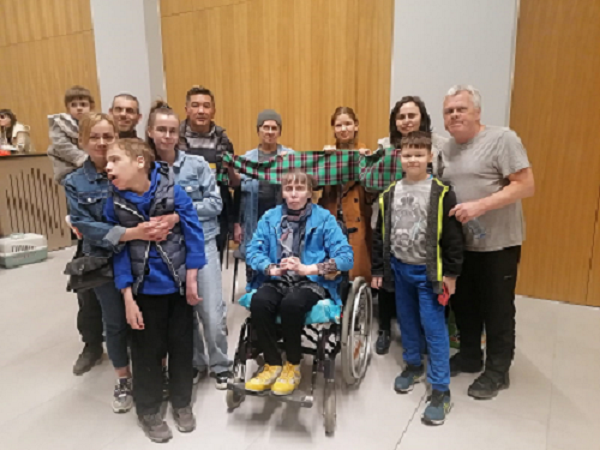 Please, is there internet? Do you have water? and Can we have a cigarette? were the firtst questions we were asked when we collected 30 disabled refugees and their partners from the Ukrainisn border at 3am in the rain and cold, on 8th Aprl.
The most important question for most was internet access, so they could tell family they had safely made it out of Ukraine. After three days traveling from Eastern Ukraine, they were most grateful to be on the last leg of their journey into Romania and to safe accommodation awaiting in Oradea. The strength and graciousness of this group of people amazed me, after all they had been through and how tired and scared they must have been, their thoughts were with reassuring family and friends and thanking us for collecting them. They had one more journey left to make that night!
Three of us had travelled to the Ukrainian border in a rented coach to collect this latest group of refugees. Kerry Malster and I from Melton Mowbray Rotary Enterprise group in England and Pete Malkin from the English charity, Ability Unlocked. Pete had made this trip many times before.
The coach journey through the night was a surreal experience and there were lengthy border checks to be undertaken before we could head back into Romania. Even at this early hour, there were charity tents set up at the border to support those coming through and to provide snacks and drinks, which were brought onto the coach for our group.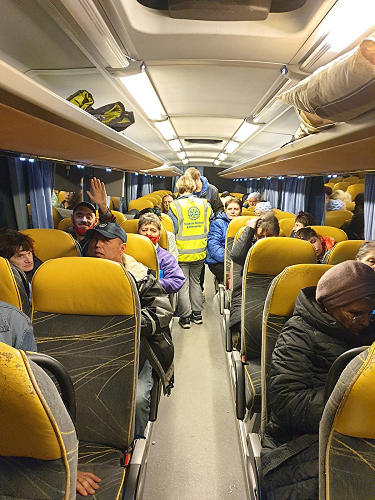 Pete and the Romanian charity, People2People, are informed by Rotary Uzhhorod in Ukraine each time a group of disabled refugees need transport out of Ukraine. We learned that there was nowhere for this group to stay in Uzhhorod. Seven people were in wheelchairs, four were blind and a number had other disabilities. Each had a partner with them. This meant our coach had to be ready as soon as they reached the border at 2.30am! We assisted with the transfers and supporting individuals on the last leg of their journey, including getting on and off the coach for a toilet break. At 7.30am, the group finally reached Nobel House, a lovely facility offered by Caminul Felix - a Christian charity that provides accommodation, care and vocational training for orphans.
The organisation of care being given was impressive and efficient. People2people register each individual as a refugee and provide specialist accommodation and support for about a week. Families are supported to identify suitable long-term accommodation options across Europe and assisted in travelling to these when they are in place.
During our stay two more families were collected by Pete from the border. One woman with seven young children and one sister with a younger brother. Their situation was not typical in that there was just one child with a learning delay and there had been an unusual error in directing them to Pete. We were relieved they had been though, as there were some child protection concerns we were able to jointly recognise and highlight. It was reassuring to see how People2People arranged for a social worker and translator to come out within a couple of hours. It transpired that the sister with the younger brother had two children in foster care in Romania that she wanted to find. A phone call from the social worker to Ukrainian social care resulted in a call back within an hour to confirm the children were safe, and that they would contact the foster carers to ascertain if she could see them. It was confirmed they would however need to stay with the foster carers until legal processes had reviewed the case. So, even in a time of war, it was impressive and reassuring to see how agencies are still able to work together across borders to safeguard children.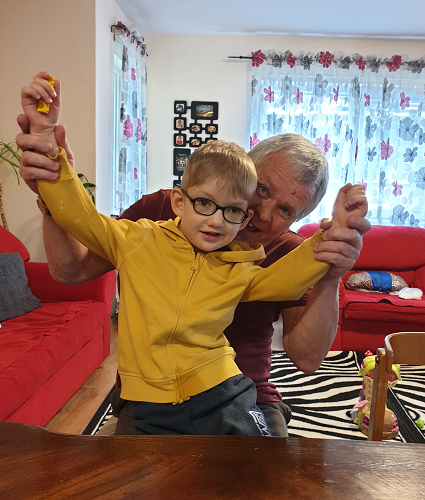 Pete has worked closely for some years with People2people and was able to encourage additional support for disabled vulnerable people to include supporting disabled Ukrainians as soon as the crisis began. As you can imagine, this takes a significant amount of funds! People2people, Ability Unlocked and Caminul Felix are supported by a number of NGO's and some Christian charities, but these funds are ring fenced, and additional funds are haemorrhaging as the crisis continues. To date, 750 disabled refugees and family members have been assisted though the charity.
Nicu, the charity leader from People2people, works tirelessly to co-ordinate all the work the charity is doing, which also includes prevention of human trafficking in Romania and practical help for some of the vulnerable Roma communities living in extreme poverty.
Kerry and I first heard about Pete's amazing dedication to disabled children and adults through a fellow Rotarian who had met and worked with Pete in England some years back. Pete had kept in touch and told us about the work he was doing, originally supporting orphans in Romania, and then supporting disabled people there too. Facilities and support networks for the disabled are much reduced in Romania compared to the services we expect in this country. Many disabled people in Romania are isolated and totally dependent upon family members for their care. Pete and Nicu were able to come together and immediately respond to the tragic and desperate situation in Ukraine as it unfolded. They are making constant trips to the border, then identifying accommodation and on-going transport for these vulnerable people. They also take aid into Ukraine and have close working relationships with key partners in the country, including the Ukrainian minister for disabilities and a small number of Rotary groups there too.
The two charities are very small and there are just a few people doing all this work. As we began to talk with Pete, via WhatsApp from UK to see how our Rotary group could help, it soon became evident that practical support might be needed as much as finances. Kerry and I had both lived abroad much of our lives and said we would be happy to help drive minibuses across Europe if that would be of use.
These were early days into the conflict and, as keen as we were to help, we were not very aware of how Rotary works on an international scale, being members of a young new club. We contacted the UK disaster relief team and our district governor to seek support for an aid trip over to Romania. Our DG was most supportive and we contacted Rotary in Oradea to establish links with them. This turned out to be a game changer and we were totally blown away by the open, warm response we received from two of the clubs there. We began to communicate with Dacian from Rotary Oradea and shared with him details about the work Pete and Nicu were doing. Dacian quickly arranged to go and meet them himself, and even went out with them on a border trip to collect disabled refugees. Dacian was impressed with the work they were doing and confirmed they would be more than happy to work with us in this critical venture that was so positively impacting the lives of those fleeing the conflict.
We made plans to raise more funds, to take aid over and to spend a week helping in any way we could. Initially we thought of hiring and taking a minibus but this was too costly and it was becoming apparent at that time that money and medicines were priority. So, instead, we collected two large suitcases of over the counter medicines kindly donated by local residents in Melton Mowbray, and took the short flight to Oradea on 2nd April (nervous as to whether we would get through customs with two suitcases full of drugs!) Kerry and I were both clear that we would fund our own travel and accommodation costs, though we unexpectedly blessed to receive a generous donation from a fellow Rotarian towards our costs.
When we arrived in Oradea, Pete met us at the airport at midnight. The airport was just a short way out of town and, on the way, in we stopped off to visit a new refugee facility at a shopping centre that had just been opened. The duty worker, a lovely lady called Maryann, showed us around and spoke with us for an hour about how local NGO's were working together to develop this facility. Maryann mentioned at the end that she was a member of Insignia Rotary, a younger Rotary group in Oradea! This was the start of our recognising how highly valued and active Rotary is in Romania!
It was only a short way from there to our accommodation at Caminul Felix, a wonderful farm with spaced community houses for orphans, each home having a set of house parents. There were training facilities and services there, along with a welcoming boarding house for guests and volunteers. We were very impressed with this facility and much more comfortable there than we had expected to be!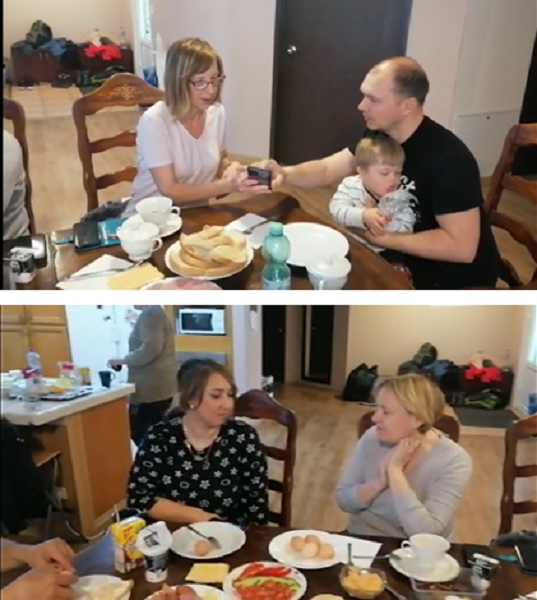 The first morning we visited one of these community houses and had breakfast with four Ukrainian families who had disabled children. They had arrived just two days earlier and were settling in, seeming very welcoming of two strangers joining them. The families did not speak English so we used a translation app to help us communicate. We heard a little of their stories from Ukraine, with one lady sharing images on her phone of the destruction of her town and home. She remained composed until recalling that she had to leave her cat behind; our pets are such a key part of our family aren't they?
Lighter moments were playing with the children, sharing a meal together and laughing at the errors from the translation app!
A tricky moment came when my question to a father about their ongoing destination was translated as 'I love you'! The poor man replied ''I have a wife!' Thankfully the text was on the screen and we were able to correct and clarify the misunderstanding swiftly, before laughing together about it.
The reception we received from the Rotary Oradea and Rotary Art Nouveau Oradea clubs was amazing and heart-warming. It was so good to meet Dacian face to face, along with his wife and the two presidents Emil and Sorina. Along with Pete, they took us out to dinner and we enjoyed a good few hours getting to know each other and finding out about our respective clubs and shared ambitions. Their openness and warmth was inspiring and engaging and we gladly agreed to attending their joint Rotary meeting the next evening and to meeting up again later in the week.
Our week didn't go as we expected due to the fact that the number of refugees coming over the border slowed down for the few days we were there. Assistance with transport was not required. This gave us time to get to know more about the work People2people and Ability Unlocked are doing in the area. Nicu took us out to see for ourselves the terrible plight of the low cast Roma people literally living on a rubbish dump. This was a real shock and distressing to see. Nicu was visiting to meet with the council there about progressing plans to establish sanitation and electricity to the makeshift shacks. The charity is also supporting educational developments at another Roma location in Romania.
Another day we drove out with Pete to some of the surrounding villages and met a few families with young adults living with disabilities. Again, the welcome we received was heart-warming, and it was interesting to see how, the only outside contact these people would otherwise have had was via their local church. Romania is very much a Christian country. Pete has recently also initiated the development of a new day centre for disabled adults in Oradea and is keen to raise funds to help acquire a disabled-access minibus to enable more people to attend, and to do so in a more dignified and humane fashion.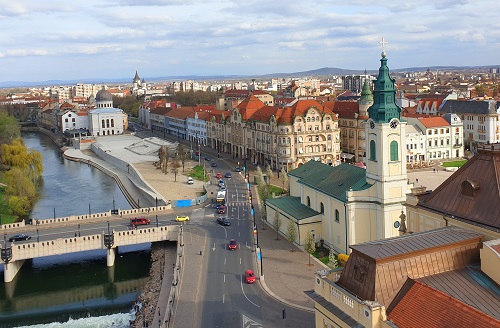 It was fascinating to see a little of Oradea as well. What a pretty city it is, with many restored art nouveau buildings, independent shops and eateries and a lively centre. We would definitely recommend it as a city break option from UK. They are such hospitable people and have achieved a great deal in the last few years to make it a welcoming, comfortable city with English widely spoken.
District Rotary funds raised for Ukraine are being disseminated through district leads to local projects with Rotary contacts in the areas affected by the crisis. At the start of our trip we were most grateful to hear from Hugh in District 1070 that we could apply for some of this money. After developing a much clearer understanding of what the local objectives were, and of the systems in place in Oradea, it was really helpful to talk directly with Nicu and Pete and clarify what further funds would be of most help. They are trying to achieve so much with so little and, as each request comes in to assist the disabled refugees out of Ukraine, Nicu has to consider if they have sufficient funds in place to make each individual trip. Besides accommodation costs of around £5 per person per day, coach hire and transport to the border and back costs approx. £850. We agreed it would be most helpful if we could assist in funding transport and accommodation costs.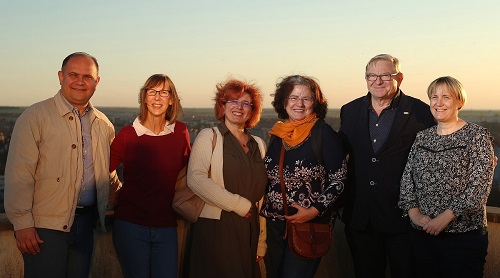 The Oradea Rotary club leads, Sorina, Dacian and Emil, also told us of one of their project getting aid into Ukraine. They have acquired a railway carriage on a train frequently crossing the border and regularly load it with aid to send to their contact Ukrainian Rotary clubs for dissemination. The medicines and dental resources we took over were going on this train and we also wanted to assist in financing further supplies for this.
Our request, along with a simple chart outlining the needs, was sent to Hugh, district foundation lead for area 1070. Within a day of our return from Romania, £10,000 had been transferred to the two Rotary clubs we are working with in Oradea, with £4000 more to follow. Thank you!
During our Zoom meeting with Nicu, Emil, Dacian and Sorina this week, Nicu has highlighted the plight of displaced, disabled orphans who have been moved to the now overcrowded towns on the western border of Ukraine. Just last week, Nicu visited a large orphanage of over 200 children in Chernivtsi which has taken in an additional 52 severely disabled orphans who have fled the Donbas region. Their orphanage has been bombed and destroyed. There are very few facilities for them and they are in need of basic care such as beds and bedding, as well as medical care and support.
The story of these and other orphans there in a similar plight was shared by the BBC news on 4th May. We were heartbroken to hear of their situation and to see the images Nicu brought back. Efforts are being made by us to source additional help for here too.
The trip to Romania has been a humbling experience, as well as being inspiring and educational for Kerry and I, greatly improving our understanding of how Rotary works internationally. We have made friends for life and will continue to work with Rotary in Oradea and jointly support People2people and Ability Unlocked. Sadly this crisis is far from over and there is a long, unknown road ahead for the Ukrainian people. This experience has enabled us to share the wider reach of Rotary with our club and really motivated us for the long term - we will definitely be promoting the benefits of 'seeing with your own eyes' and further building relationships across the Rotary family.
Thank you for taking the time to share our journey. If you would like more information or to assist the orphanage please do contact me, or donate to the Rotary Ukraine disaster appeal
https://www.rotary-ribi.org/districts/page.php?PgID=870845&DistrictNo=1070
https://ability-unlocked.org/en/ https://www.people2people.ro/
https://rotaryoradea.ro/ https://rotaryartnouveau.ro/