One Team - Working Together
The four Districts of the Central Eastern England Cluster are coming together to share experiences, understanding and to encourage greater support.
This event is brought to us by the District Foundation Chairs.

Gordon McInally will be President of Rotary International in 2023-24.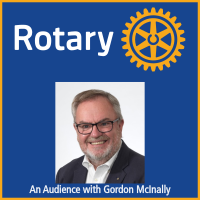 He will be speaking and taking questions on The Rotary Foundation.
Gordon joined The Rotary Club of South Queensferry in 1984, and has held many roles within the club. He was District Governor in 1997-98 and served as President of Rotary in Great Britain and Ireland in 2004-05, a member of the RI Board of Directors between 2007 and 2009, he has subsequently served extensively on a number of Rotary International committees.
Please register in advance for this event. Use the QR code or this link
https://us02web.zoom.us/meeting/register/tZUsceuuqzgtHtS2pDkCvbjN4XfCWrlnVugd