Dave King, 25th March 2022
This article first appeared on the news pages of the Rotary in Great Britain and Ireland website
Professor Gilbert spoke at the Rotary in the Thames Valley District Conference in Oxford explaining the work of her team at the Nuffield Department of Medicine at Oxford University.
Afterwards, she was presented with a Paul Harris Fellowship by District Governor, Karen Eveleigh, in recognition of her work during the pandemic.
Karen, from Faringdon & District Rotary in Oxfordshire, said:
"It was a great honour to be able to present the Paul Harris Fellowship award to Professor Dame Sarah Gilbert.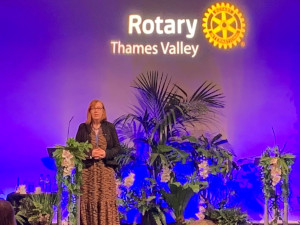 "I was delighted that she could join us at our district conference and that she was able to tell us about the work to develop the covid vaccine.
"I was also really pleased that she heard about Rotary's work on polio eradication with the World Health Organisation and so understood how committed Rotarians are to vaccination programmes.
"It was also lovely that she helped us to recognise a few Rotarians who gave so much of their time to supporting others through the covid pandemic.
"Professor Gilbert and her team have received many honours over the last year. Ours was just one more.
"However, from the standing ovation that she received from the almost 400 Rotarians present, I hope that she could see how much we all appreciated the amazing work that was carried out, and continues, in vaccine research, in Oxford University and in their collaborating organisations."
In her presentation, Professor Gilbert praised Rotary for its work with polio, while explaining how collaboration had made it possible for the creation of the Astra-Zeneca vaccine from the beginning of the process in January 2020.
She also pointed out how important there was equitable distribution of vaccines around the world through the Covid-19 Vaccines Global Access or COVAX.
"More than half a billion doses have been released for supply to 168 countries," she told delegates in Oxford. "Around 80 million doses have been delivered to COVAX, representing 96% of the total COVAX supply.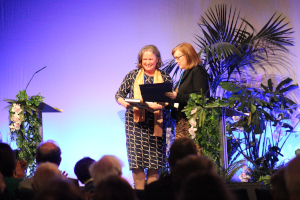 "To produce this volume at pace, Astra Zeneca has built more than a dozen parallel regional supply chains and are collaborating with more than 20 partners across 15 countries."
The three-day District Conference featured Hannah Ingram-Moore from the Captain Tom Foundation, Gert-Jan van Dommelen from End Plastic Soup, Aaron Dryden from Carers UK, and Abdi Mahamoud from the World Health Organisation.
Jersey Rotarian, Allan Smith, who leads the Rotary GB&I Humanitarian Disaster Response Taskforce for the Ukraine, spoke about how clubs can get involved in supporting the fund.
Dr John Philip from Newbury Rotary, from the International Rotary Fellowship of Healthcare Professionals, spoke about the need to get medical aid urgently to the Ukraine and bordering countries.
A collection by delegates from District 1090 raised £3,000 for Rotary's Ukraine appeal.