Karen Eveleigh, 23rd April 2022
Clubs and Rotarians across our district continue to work with local organisations and use their contacts with Rotary clubs in Ukraine and neighbouring countries to support those affected by the war in Ukraine.
Many of our clubs have held successful collections in their town centres and shopping centres. Here are reports from just a few, mostly taken from Facebook posts.
Members of Burford & Kingham Rotary served teas & cakes at Chastleton House on 13th March and all funds were collected for Ukraine support.
Banbury Rotarians collected at Castle Quay on 26th March.
Witney Rotarians were in the town centre on 19th March, supported by Windrush Radio and raised £2,600.
Wallingford & Didcot District Rotarians collected over £2,300 on 2nd April in Didcot.
Cookham Bridge Rotarians raised £2,000 at their street collection.

Rotarians from across the district gave over £3,000 at our district conference in Oxford on 19th March, after hearing from Rotarians Allan Smith and John Philip about Rotary's work supporting Ukraine (see their presentations from the conference on our International pages).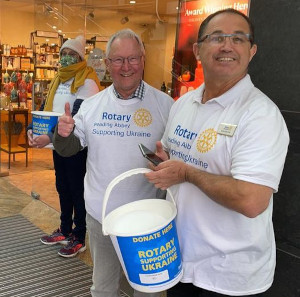 Reading Abbey Rotarians organised a collection with support from the other Reading clubs on 9th and 10th April in The Oracle shopping centre. They raised £3,700 and even had t-shirts provided by a local company.
From their Facebook post:
"Reading be proud - it's support like this that retains our humanity."
And clubs are doing their bit to tell their Facebook followers how Rotary is operating: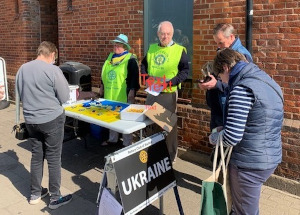 Marlow Thames Rotary Facebook post:
"The Rotary Clubs of Marlow and Marlow Thames joined forces last Saturday, 26 March, to hold a street collection in aid of the Ukraine. During the day, 26 Rotarians and friends filled one-hour slots and collected over £4,000 from generous Marlovians and visitors to the town.
"After adding gift aid, the Clubs will be donating over £5,000 to the International Rotary Fellowship of Healthcare Professionals. This world-wide group of largely Rotary doctors has members in both the Ukraine as well as neighbouring countries. The Fellowship has established a supply chain from the UK and Poland that sources medicines and medical equipment and delivers them to those hospitals and clinics that report urgent needs, and it therefore complements the wider work of the WHO.
"Our collection took place on a weekend when the WHO reported that hospitals and health-care facilities seemed to be particularly targeted by Russian forces. It also reported that more medical supplies were required to deal with wounds and trauma caused by explosive devices."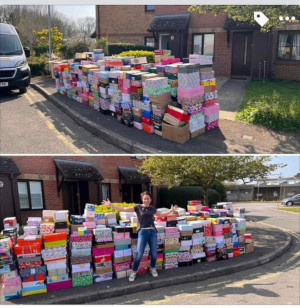 Reading Matins Rotary Facebook post:
"Like the rest of the world, members of Reading Matins have been horrified by the war in Ukraine and it's devasting effects.
"In order to support in both financial and practical ways, our members immediately voted to donate £1k to The Red Cross from the Charity account, as well as joined forces with Woodley Netball Club and organised a collection of shoeboxes full of essentials.
"The huge numbers of shoeboxes pictured, contained essential items such as batteries, underwear, toiletries for Ukrainian refugees and have since been transported to those in need. Well done team!"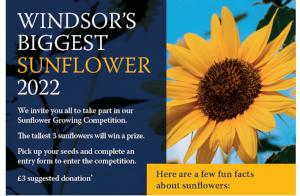 Windsor St George Rotary has a sunflower growing competition, with all funds going to their Ukraine appeal.
"We hope this will bring you lots of fun and enjoymnet as well as raising funds for Windsor St George Rotary which will be channelled directly to conflict refugees. As well as being Ukraine's national flower, they produce 50% of the world's sunflowers.
Members of Marlow Thames Rotary have worked with scout groups across Buckinghamshire to collect medical and other items. These will be delivered to Banbury Rotary since the club is working with a local Polish community group who are delivering items to the Polish-Ukraine border.
Other clubs have also given donations to the Rotary Fellowship of Healthcare Professionals: Gerrards Cross Rotary donated £1,500 partly collected at a gala dinner; Banbury Cherwell Rotary donated £1,000 ; Misbourne Matins Rotary donated £3,410 from a street collection and some member donations; Faringdon & District Rotary donated £1,000 ; and Langley & Iver Rotary held a quiz night and donated £560.
And finally, for this update at least -
Bourne End & Cookham Rotary lit up their peace garden in Bourne End in March – with blue & yellow lighting and paper peace doves. They also donated £5,000 to the Fellowship of Healthcare Professionals. From their Facebook post:
"On Thursday night, in partnership with Wooburn and Bourne End Parish Council, we illuminated the Peace Garden at Penny's Corner in Blue and Yellow in respect for the brave people of Ukraine. Thank you to all those who came to show solidarity."
Visit the International pages to read more about activities supporting Ukraine.