Liz Yardley, Bourne End & Cookham Rotary, 5th May 2022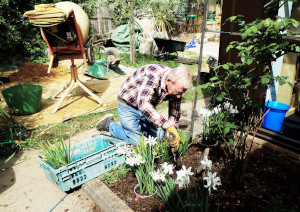 The proposal to revamp the Day Centre Garden had just been agreed when Covid 19 struck and lock-down curtailed plans.
Although frustrating that action was delayed, in many ways it turned out to be positive as it gave us the opportunity to thoroughly investigate what was suitable provision for purpose and how to make costs manageable through being realistic about over-ambitious ideas!
The pandemic showed social care to be the Cinderella of statutory provision and even the award-winning Princes Day Care provision suffers from limited budgets.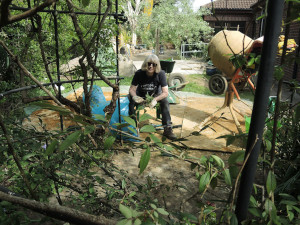 The existing garden had some attractive planting, but regular maintenance was not part of the staffing budget and relied on voluntary effort. Because fund-raising was seriously curtailed, the first set of plans proved way beyond our budget, despite a generous Rotary Foundation District Grant of £750. So, it was down to voluntary effort of boys (and girls!) with their toys and their vocational skills with essential input from commercial specialists for the heavy-duty work requiring larger machinery as few of us claim to be Superman or Wonder Woman.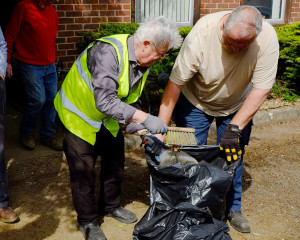 Among our membership and partners we have an architect, quantity surveyor, botanist, special needs provider, several keen gardeners and enough good listeners and realists to make the skill set productive. The most significant requirements identified by the Day Centre manager and her staff was the need for more paving to increase access for the less mobile and to accommodate outside seating safely. Also, ease of maintenance had to be significantly improved to limit the ongoing costs incurred. Immediately, President Ian's Quantity Surveying skills and Geoff's Architectural technical drawing skills came into action!
With a well drawn-out plan of the existing provision, and an explicit list of the new requirements, tenders were sought locally from landscaping contractors and progress moved on apace.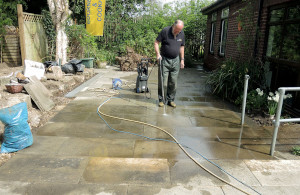 There is little more therapeutic than working with nature for a good cause! By coincidence, the sun shone for both our initial clearing of the site in July and the final scrubbing down, tidying and replanting of nurtured plants in April following the main heavy-duty activity of the landscapers, affording some very enjoyable and surprisingly energetic hours of productive labour for all concerned. An additional bonus was that several of our friends in the community, including the LitterBlitzers and other activity-focused individuals joined in and we are now looking forward to an increase in membership!
Bourne End and Cookham Garden team
Visit the Bourne End & Cookham website and Facebook pages
Before...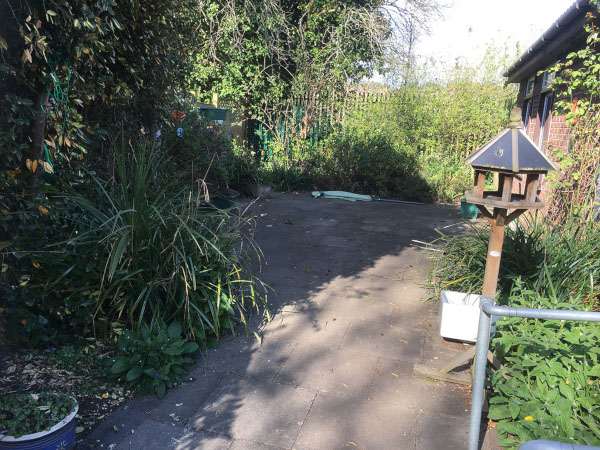 .... and after