Clicking on the next image will take you to a PDF report of action being taken by the Rotary Club of Kyiv.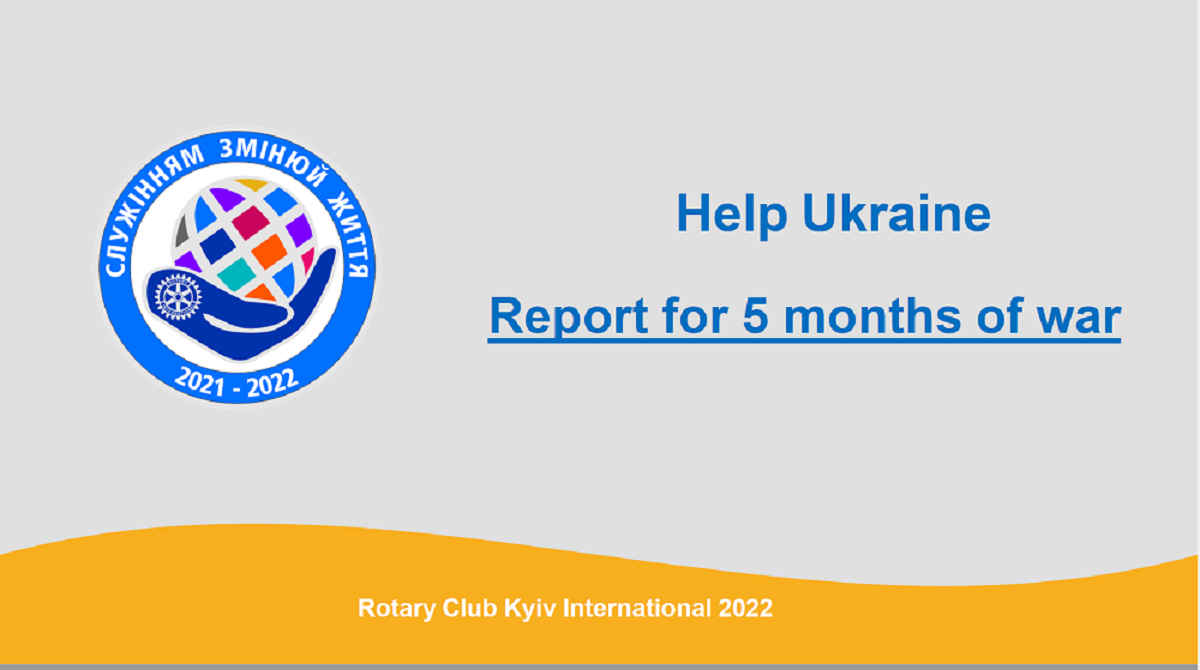 The presentation shown on the video can be downloaded in pdf format by clicking here
Current initiatives that Rotarians can engage with the Ukraine Crisis
27 May 2022
Projects that RC Kyiv Central are co-ordinating (Please contact Sergii Zavadsky: RC Kyiv-City, serhiy_zavadsky@yahoo.com):
1. Proving humanitarian aid like medicines, food, warm clothing to more costly, but very necessary instruments, equipment, machines, and vehicles.
2. Electrical generators needed (new and used) – 2.2-10 kW supply
3. Ambulances – needed in many areas
4. Fire trucks – do have at the moment, but always in need
5. Medical supplies, tourniquets, Celox, and tactical first aid
6. Medical equipment – operating tables, lamps, external fixations systems/lamps, backpacks, boxes with operation equipment
7. Water supplies for Mikolaiv – Aquabox or other
8. Practical equipment for shelters – see Shelterbox
9. Transportation for seriously wounded abroad
10. Support in vaccinations for covid and polio.
11. In the next 3 months projects requesting assistance include:
a. Ambulances
b. Portable ultrasound equipment
c. Mobile baby incubators
d. Mobile x-ray machines
e. Patient vital monitoring
f. Kyiv (or liberated area) region rebuilding – Tradeaid or Rotary service
Requirements from Andrea Fiford (RC Melton Mowbray Enterprise orking with Romanian Clubs):
1. Nappies for all ages and baby toddler food
2. Salt
Requirements from Angela Woods (RC District 1070 E-Club working in Poland):
1. Bags and backpacks
Contact the Rotary GB&I Ukraine Crisis Taskforce for details on the following:
1. UNICEF and Water Survival Box and Aquabox
2. Taskforce and Ukraine/Bulgaria ICC presentation: https://docs.google.com/presentation/d/1Z8O-lQmT9vAI71-9KbXONILIGVh2Uyo7/edit#slide=id.p1
3. Food, hygiene products, medicines, baby products