Karen Eveleigh, 1st July 2022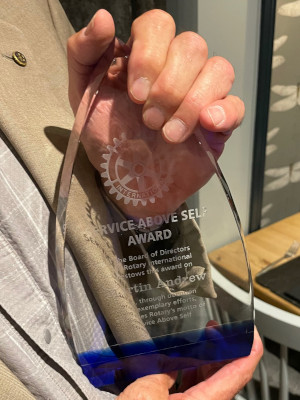 I had the great honour to present a Service Above Self award in my last week as District Governor. Each District Governor can make one nomination each year and there are just 150 awards across the globe each year. These awards honour outstanding Rotarians and Rotaractors whose service activiteis deliver an impact to their communities.
Julian Smith, club president of Haddenham & District Rotary contacted me back in October and asked me to consider a nomination for Rotarian Martin Andrew. I was delighted to help.
Martin was recognised for his leadership of the team of volunteers at the local covid vaccination centre in Haddenham. He was approached by the local council when the vaccinations started across the country and he established a team of over 100 volunteers helping with the daily clinics. He has spent many hours organising the shifts and covering shifts himself.
Well done to Martin and to all members of the Haddenham team within and beyond the Rotary club.
Across our district many Rotarians volunteered at covid vaccination centres. Some clubs led on the volunteering while others provided manpower for the shifts as requested. We asked clubs to record their volunteering hours and it was great that lots of you shared the information with us.
From December 2020 to February 2022 Assistant Governor Alan Clare recorded 15,231 hours and using the minimum wage of £8.91 this can be valued at £135,708
These hours came from 18 clubs: Abingdon, Abingdon Vesper, Banbury Cherwell, Banbury, Easthampstead, Faringdon & District, Gerrards Cross & Chalfont St Peter, Haddenham & District, Langley & Iver, Loddon Vale, Maidenhead Thames, Marlow Thames, Cookham Bridge, High Wycombe, Maidenhead Bridge, Reading Maiden Erlegh, Windsor & Eton and Windsor St George.
Thank you to all clubs who have supported their local vaccination centres and a particular thank you to the clubs that helped us tell this story by sharing the volunteering hours with Alan.