The Plastic Blitz September 2022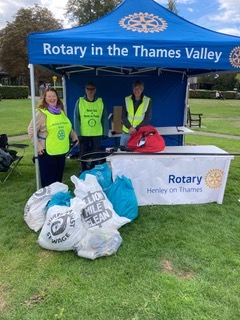 With over 35 groups involved in last months 'Plastic Blitz' about 20 of these groups involved and organised by Rotary clubs in our District 1090 The Thames Valley it was a great success. Those involved I hope you enjoyed the event and felt that you had made a differance.
In Henley we didn't clear as much rubbish as we did in May 'The Thames Valley Clean-Up', we would like to think that the message is getting through and the public are being more responsible in disposing of rubbish, recycling and cutting down on single trip plastic. Of course, it is not all down to Rotary, other green groups are playing their part.
See below the data on quantity and type of litter collected which will be fed into the Europe wide Preventing Plastic Pollution project.
Please Register and join the Webinar on Monday 14th November. We want Rotary to take a leading roll in this discussion and want to hear of your clubs experiences.
Phil Fletcher
Dear Plasticblitzers,
With only a couple of groups left to upload data, I'm pleased to share the headline results from this year's Plasticblitz!
35 volunteer teams completed Plasticblitz litter picks. 461 people took part in these litter picks with 1168 hoursof volunteer time spent litter picking. Clean ups covered over 45km of river bank and in total 437 bags of waste were collected (smashing last year's total of 139 bags!). For the competitive ones amongst us, the top three groups on the leader board were Chiltern Rangers (57 bags), Crossness River Action Group (40 bags) and Slough Anti-Litter Society (39 bags).
Of the 437 bags collected, 14,581 items were individually categorised, with 85% of this being plastic. Across both tidal and non-tidal sites, the top 5 items were as follows:
Wetwipes- 30.45% of the total
Small plastic pieces (1-10cm)- 10.79%
Smaller plastic pieces (0-1cm)- 7.06%
Sweet wrappers- 4.89%
Plastic bottle tops & cigarette stubs- joint on 3.9%
Looking at just the tidal sites, the top five items were:
Wetwipes 48%
Small plastic pieces (1-10cm)- 14.8%
Smaller plastic pieces (0-1cm)- 5.3%
Cotton bud sticks- 4.99%
Plastic bottle tops- 4.22%
And looking at just the non-tidal (freshwater) sites, the top five items:
Cigarette Stubs 10.31%
Small plastic pieces (0-1cm)- 9.9%
Drinks Cans- 9.1%
Sweet Wrappers- 6.8%
Drinks Bottles- 5.8%
The full raw data sheet is here if you want to dive into more details about the results. I'll be submitting this to the Rivers Trust for inclusion into the Preventing Plastic Pollution project. We're also currently putting together a press release to use these results to catch some headlines and draw more attention to the issues of single use plastics in our rivers.
I'll be hosting an online meeting on Monday 14th November @ 6.30pm where we can come together as a group to discuss these results and give feedback on the project as a whole. A link to sign up to this is here: https://www.eventbrite.co.uk/e/the-plasticblitz-2022-the-results-tickets-444558996927
All the best and a huge thanks for taking part,
Will
Will Oliver
Catchment Partnership Development Manager
Roding, Beam & Ingrebourne and South Essex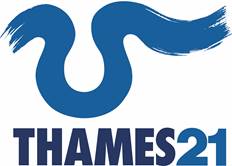 Connecting you with your river
M 07826913307 | W www.thames21.org.uk