Karen Eveleigh, District Foundation Team, 19th December 2022
Asylum seekers housed in hotels in our Rotary district have benefited from three of the district teams working together to encourage clubs to support these vulnerable groups. Following the success of the Rotary Foundation grants used by many clubs to support Ukrainian refugees (see note 1), Foundation Chair John Philip asked how we could support refugees and asylum seekers from other countries, to address in part the inequalities between the different national groups as they arrive in the UK.
Working with David Sutherland as International Chair, Tony Eldridge as Community Chair, and Karen Eveleigh as Resilience Officer and member of the Foundation team, John asked clubs across our district to try to find out more about asylum seeker groups in their areas and to find out how clubs could support them.
At a meeting of Newbury Rotary in October, Rotarians from across the district heard from Karen Reeve and Joyce Zealey of the West Berkshire Action for Refugees (WBAR), a charity that is supporting asylum seekers from many different countries in a hotel in Thatcham. We also heard from an Iranian asylum seeker who told a very moving story of his arrival in the UK and in Thatcham and also told us a little about his life at home before he fled his country, job and family.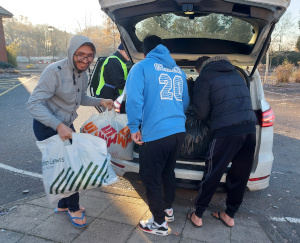 Those at the meeting were very moved by his story and the stories of others, and we were shocked by many of the details that we heard from WBAR and from Nick Harborne from the Reading Refugee Support Group.
Following the meeting, the four members of the district team drafted a promotion to send out to all clubs requesting support.
A few clubs took part in the first collection of items for the Thatcham hotel. Donations from members and friends of Marlow Thames, Newbury, Maidenhead Bridge and Banbury Cherwell clubs were delivered by John and Chris Philip, David Sutherland and Tim Pritchard on 15th December. The items were very gratefully received as can be seen from the photos and the thank you note.
As John Philip explained:
"I want to thank all those who supported this initiative. Yesterday morning, we took 3 cars packed with warm clothes and personal items to the Regency hotel in Thatcham where we met a group of asylum seekers from different countries. They helped us to unload the donations under the supervision of Karen Reeve and Joyce Zealey who are coordinating support for this group of very unfortunate people. Most of them have faced perilous journey and dangers in getting to this country. Whilst their legal status is being considered by the Home Office they are our guests. Unfortunately the process of verifying their status is slow - in some instances it takes more than a year. During this period the asylum seekers live under difficult conditions with little support from the authorities. There are some volunteers doing their best to make the lives of these people more tolerable. Rotary has a unique opportunity to get alongside these volunteers and extend to the asylum seekers friendship and care."
David Sutherland also spoke enthusiastically about the visit:
"It was great to be part of the delivery of so much stuff to these people. It was important to show the volunteers at the Regency that Rotary can deliver on this project. This will enable better co-operation henceforth."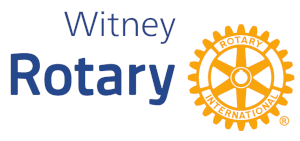 Witney Rotary club has also been active in its support of a new group of asylum seekers that has recently arrived at a Witney hotel. As explained by Witney Rotarian John Summers:
"We have established a strong connection with Churches Together in Witney (CTiW) and WODC aimed at ensuring a planned response to the new arrivals. They have been provided with plenty of clothes donated from across the community, and vouchers to purchase shoes. The hotel management company provides most of the day to day requisites under their contract with the Home Office, and so we have focussed on the "gaps" in the official provision. To this end, I delivered about £150 worth of toiletries, cosmetics and underwear to the hotel in Witney, at the beginning of last week. I have struck up a good relationship with the hotel manager on site and assured her that, as a nimble organisation, we can respond quickly to emerging needs.
"In addition, the Club has donated £500 from our Trust funds into the CTiW Hardship Fund. This money is being used to provide a "goodie bag" for both residents and staff at the hotel, from the Witney Community. Once again, an example of us working in partnership with others in the area."
There are around 200 asylum seekers in the Witney hotel and many are children, so the club also used £600 to match against £600 from Kids Out to provide toys and games for the children.
Note 1
Clubs in our district were able to apply for Disaster Response Grants to support Ukrainian refugees in our district. The district team applied for two grants, each of 25,000 USD, from the Rotary Foundation. This particular grant scheme was only available to support those from Ukraine. Our standard Foundation District Grants can be used by clubs to support refugees and asylum seekers of any nationality.
Read more about the refugee and asylum seeker support groups
https://www.facebook.com/westberksrefugees/
https://refugeesupportgroup.org.uk/
And visit the Kids Out website