St Ives
Rotary Club is involved in many aspects of the local community as well as international projects, and welcomes both men and women over 30 years of age. St Ives club has a wide age range and welcomes applications from people of all ages and backgrounds.
Our local projects include:
Promoting projects within schools such as Young Musician, Young Chef and Young Citizens. We also help provide a fun filled day for some 12 Young Carers at Grafham Water. We provide Christmas lunches for the elderly in a number of care homes and help serve it. In the summer we take a party of the elderly for a 'Walk round Holt Island' and give them an afternoon tea and entertainment.
We support Sailability, which helps disabled people to enjoy sailing at Grafham Water, in conjunction with other Rotary clubs. Volunteers help set up the equipment and launch and recover the boats.
We have various fund raising events throughout the year including a Christmas Cracker Concert, Carol Float collection, Charity Pub Quiz with a difference and a Charity Fashion Show.
International projects include:
Fund raising by means of collecting in the town, for projects such as Water Aid, Shelter boxes, Sand Dams and relief from natural disasters as they occur. We have also supported various humanitarian projects and Rotary International is committed to eradicating Polio in the Third World. Much work has gone into trying to achieve this, with great success.
Click on the picture to see a full report about the Sand Dam Project.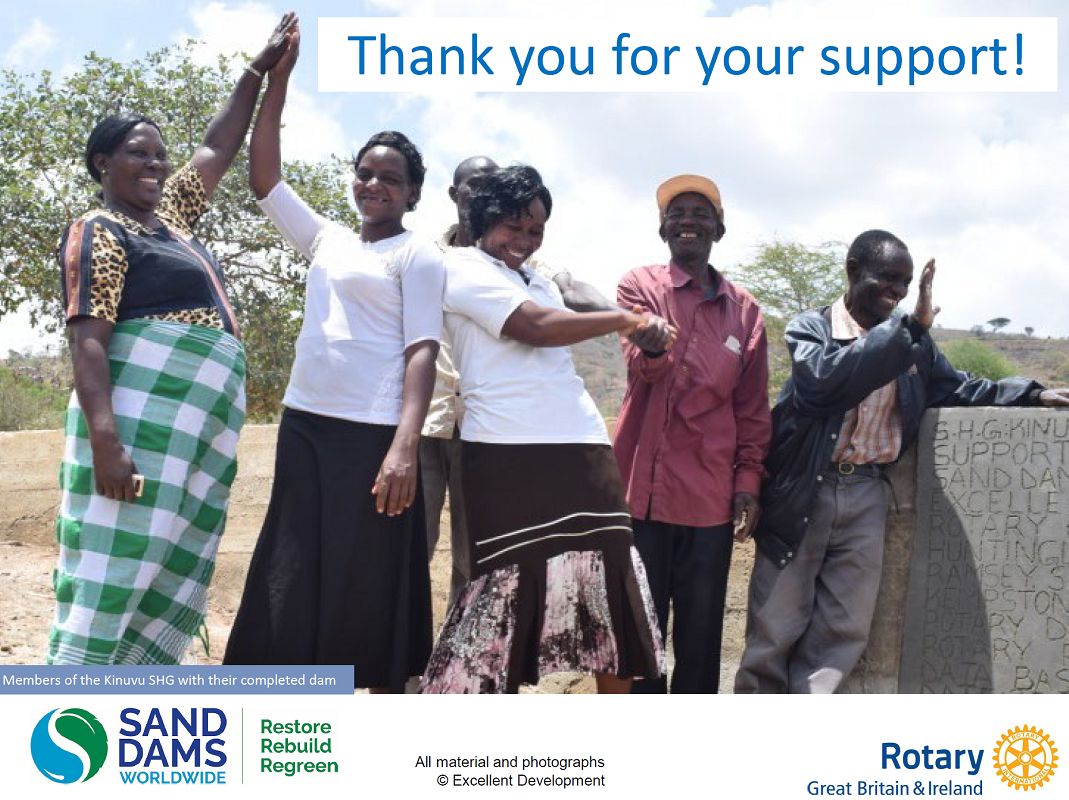 Meeting Details
We are a friendly, active Club that believes in working hard but having fun and fellowship at the same time. We meet every Tuesday at 6.15pm at the Slepe Hall and are always delighted to welcome visitors to our club. So if you would like to come along and spend an evening with us please get in touch.
Follow this link to learn more