Future meetings and events
Wed 27th March 2019 at 19.15 - 22.15 Speaker Meeting

Memoirs , a talk by Peter Lloyd
Wed 3rd April 2019 - 23.55 Club meeting cancelled
This is to advise that our usual meeting on the 3rd April has been cancelled due to the number of members visiting The Netherlands that week.
Wed 3rd April 2019 at 19.15 - 22.15 No meeting tonight

Wed 10th April 2019 at 19.15 - 22.15 Committee Meeting

Committees meet after the meal
Wed 17th April 2019 at 19.45 - 22.15 Charter Night 35 years of service

We were chartered in 1984 and hold a charter event every five years.
Charter night is effectively the club's birthday celebration .
Sun 19th May 2019 at 12.00 - 17.00 Heatons Open Garden Day
The return of this very popular event . Programs on sale after Easter at £5 per couple/family , see details of programme sellers below.
Thu 30th May 2019 - Mon 3rd June 2019 Presidents Weekend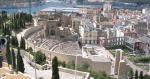 Social Weekend in Cartagena Spain
Details to follow
Sat 22nd June 2019 at 19.30 - 23.00 Presidents Evening
Stockport Golf Club , details to follow.