Future meetings and events
Fri 21st September 2018 at 11.30 - Charity Golf Day at Northenden Golf Club Friday 21st September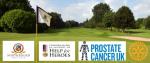 Proceeds to "Help for Heroes" and "Prostate Cancer UK"
Sat 22nd September 2018 at 11.00 - Heaton Mersey Scarecrow Market 22nd September
St Johns Church , Didsbury Road , Heaton Mersey
Wed 26th September 2018 at 19.15 - 22.15 Speaker Meeting

Rev Helen Scanlan will be talking to us about "Men in Sheds"
Wed 3rd October 2018 at 19.15 - 22.15 Speaker Meeting
Canon Adrian Rhodes will be speaking about the Manchester Bees , the real ones !
Wed 10th October 2018 at 19.45 - 22.15 Committee Meeting

Committees meet after the (buffet) meal
Wed 17th October 2018 at 19.45 - Paul Harris Fellowship Presentation Night

This will be at Heaton Moor Golf Club at 19:15 for 19:45 .
It will include a three course meal and music from professional classical guitarists.
Fri 19th October 2018 at 19.00 - E Club Charter Event

The satellite e club will celebrate its "independence" with a Charter presentation event on 19th October.
We wish them every future success as the Rotary e club of Greater Manchester and Cheshire.
Wed 24th October 2018 at 19.00 - 20.00 Fish & Chips

Fish and Chips supper with fun and bingo at Taylor's of Woodley
Sun 9th December 2018 at 14.00 - Community Christmas Party
At Heaton Mersey Community Centre on St Johns Road
Contact Tricia Canning for details