Future meetings and events
Wed 20th November 2019 at 19.15 - 22.15 Committee Reports

Committee Chairs reports after meal
Wed 27th November 2019 at 19.15 - 22.15 Speaker Meeting

Lydia Luck will be talking about a project in Tanzania . Lamplighters made a donation to help fund Lydia's trip to Tanzania
Sun 1st December 2019 at 11.00 - 17.00 Heatons Christmas Festival

This event will take place on 1st December on and around Shaw Road.
Santa and his helpers will be there and look forward to meeting you.
Sun 8th December 2019 at 14.00 - 16.00 Community Christmas Party

Heaton Mersey Community Centre on St Johns Road
Wed 18th December 2019 at 19.15 - 22.15 Club Christmas Party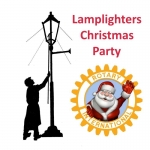 Members, Partners and guests enjoy a festive meal with entertainment.
Sun 12th January 2020 at 10.50 - 13.00 New Years Walk and Lunch

Our annual walk with lunch . Walk starts at 10:00 with lunch at 13:00
meet at Foresters Arms Romiley
Wed 5th February 2020 at 19.15 - 22.15 Paul Harris Fellow Presentation Event
The presentation will be made jointly by the District Governor and the Club President
Sun 17th May 2020 - Heatons Open Gardens Day 2020
The return of this very popular event , details to follow