Above will appear on the carousel the key news items that we want to highlight
Click on the arrows to move through the photos, click on the photo or the "Read More" sign to get more information
The Annual Rotary Clubs Fun Day is on Sunday 17th September this year
Below you will find a description of Epsom Rotary Club
---
ROTARY CLUB OF EPSOM
We are a vibrant club at the centre of the community of Epsom in the heart of Surrey, a town famous for the Epsom Derby. We are involved in local community and international projects, organising social and fund raising events and supporting local charities, schools and organisations, enjoying fun and friendship along the way. We have the motto "Service Above Self", with thousands of clubs world wide and well over a million members. Please also explore the links listed under "What we do" above at the top of this site for details of our committees, the work they do and for news. Our club President last Rotary year (2015/16) was Andy Ballard and we thank him for a great year. Our club President this Rotary year commencing 1st July 2016 is Clive Richardson and we look forward to supporting Clive in taking our club forward.
A warm welcome awaits everyone who is interested in learning more about us. For more information, or to arrange to meet up please either click on the "Join Rotary" button to the top right of this page for a form which you can complete and send to us, or email us at epsomrotarymembership@gmail.com. We are also on Meetup or phone 07775 187 824

For other matters and Epsom and Ewell Borough Funday at epsomrotary@live.co.uk.
WE ALSO WELCOME THE FANTASTIC HELP WE RECEIVE FROM OUR SUPPORTERS AND IF YOU ARE INTERESTED IN HELPING US PLEASE DO EMAIL US AS ABOVE.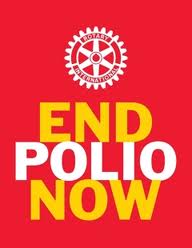 Eradication of polio in the world is a major project for Rotary and its clubs. We have been fighting polio for 30 years and the fight is nearly won. The Global Polio Eradication Initiative includes Rotary, UNICEF, the U.S. Centers for Disease Control and Prevention, the Bill & Melinda Gates Foundation and governments of the world, with the support of many others. Please click the image left for an interactive web site where people can come together to end polio.
If you would like to help in this or any of our projects please Email our club as above.
Our club supports the Children's Safety Education Foundation. A copy of our Certificate of Appreciation can be downloaded via this link and the Foundation's web site can be accessed via this link.
Many thanks for looking us up and for your interest in Epsom Rotary.
To see latest news click on "What we do" above and the first menu item is latest news.
---

Meeting Details
Interested in joining Rotary
In the next 30 days...
Social Media...
Meeting Information...
We meet on Thursdays at 12.30 (For details of meetings & events please see our club calendar that can be accessed from the top of our Home Page. Once a month we meet in the evening - check the diary!) Cuddington Golf Club, Banstead Road, Banstead SM7 1RD tel: 020 8394 2827