Rotary Club of Stockport Lamplighter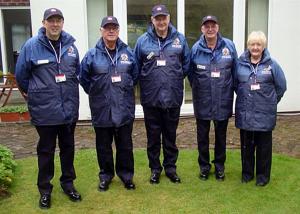 'Heat on' - Rotary Firing on all Cylinders.
Heatons based Rotary Club of Stockport Lamplighter, under the guidance of new President Clyde Raine, is taking positive action to reaffirm its commitment to service in the community.
The Club has recently become involved in a Community Service partnership between Rotary and Greater Manchester Fire and Rescue Service. Nine members of the Club have undergone training, and as Community Volunteers will assist in:
1. Providing a friendly and accessible local point of contact between the community and GMFRS.
2. Raising awareness of fire and safety issues in the community and the home, through public contact and during local community events and home visits.
President Clyde, who is also Chairman of the Heatons and Reddish Group of The University of the Third Age, said; "We want to enhance awareness of Rotary as a Service centred group but this initiative is primarily about commitment. Lamplighter, with help from the general public, regularly raises funds to assist many worthy causes in the local community and in support of numerous humanitarian projects overseas. Training as GMFRS Community Volunteers is yet another important practical and helpful 'hands on' approach to utilising our members experience and commitment to serving our own community."
Photographed are some of the volunteers.
Left to right; Bob Jordan, Eric Patton, President Clyde, Bill Caldwell and Barbara Sherlock.