East Cliff Open Invitation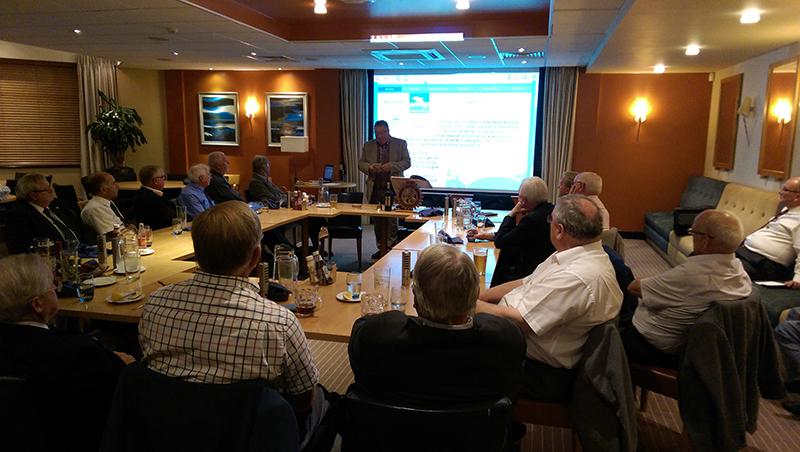 Dear ,
I am writing on behalf of the Rotary Club to invite you to join us at any or as many of the evening dinner meetings listed under (Programme - Future Diary) that you wish, where we have a series of what promise to be interesting topics with good speakers.
East Cliff Rotary meets on alternate Thursday evenings at 7pm in the Bar of The West Hants Club which is in Roslin Road, Talbot Woods. There is good free parking and you can be sure of a warm welcome and a good meal. The cost is £15 – payable on the evening.
There is no commitment to join us in Rotary but we hope that this taster of how we run our club throughout the year may give you a better understanding and appreciation of how acquaintances use fellowship to develop friendship. You will learn how Rotarians pool their various skills and resources when we take on a challenge to raise some charity funds or launch a project to try to change the lives of others for the better.
We ask you to please advise our secretary Paul on the below email of your intention to attend a meeting by 6pm on the Tuesday evening prior, he will ask you to choose menu options for a two course dinner. We assemble at table at 7.30pm and usually finish our meal and club announcements etc. by 9pm and this gives our speaker a good 30 minutes to give their presentation with usually time for questions. We are normally finished by 9.45pm.
Should you have booked to attend and for any reason cannot, please let Paul know asap so we can try and avoid payment for a meal not taken. If you have a friend you would like to bring please advise Paul, ladies/partners are very welcome when we have our periodic spouse evenings

Please join us in the Bar for a pre meal drink and make yourself known to our members when you arrive so that they can know you are with us on that evening.
17th December Quiz night courtesy of Ian Robertson – get your brains working in time to understand Christmas Cracker Jokes – relaxing fellowship evening with a cutting edge.
7th January 2016 The Curator of The Tank Museum at Bovington, Richard Smith, who will tell us of the transformation from being just a museum into becoming a top class tourist attraction. Richard was appointed as the first non military person to this post. He comes from a commercial marketing and sales background in the cut throat business of world container shipping – he has brought an entirely different vision to the display of this world leading collection of battlefield armour.
As you can tell there are some very interesting local topics covered by our Autumn/Winter programme and I do hope you will take advantage of this invitation to join us and attend as many of these meetings as you are able.
Yours sincerely
David Trenchard, Speakers Secretary, Eastcliff Rotary.
davidtrenchard@hotmail.com 01202 394108 07870 555010
16 Wilfred Road, Bournemouth, Dorset, BH5 1ND
Paul Email: enquiries@solosigns.co.uk www.eastcliffrotary.org.