Bo'ness Community Bus Project - Val Ferguson Thurs 14 March @ 18.30
Thu 14th March 2019 at 18.30 - 20.30
Bo'ness Community Bus Project - Val Ferguson Thurs 14 March @ 18.30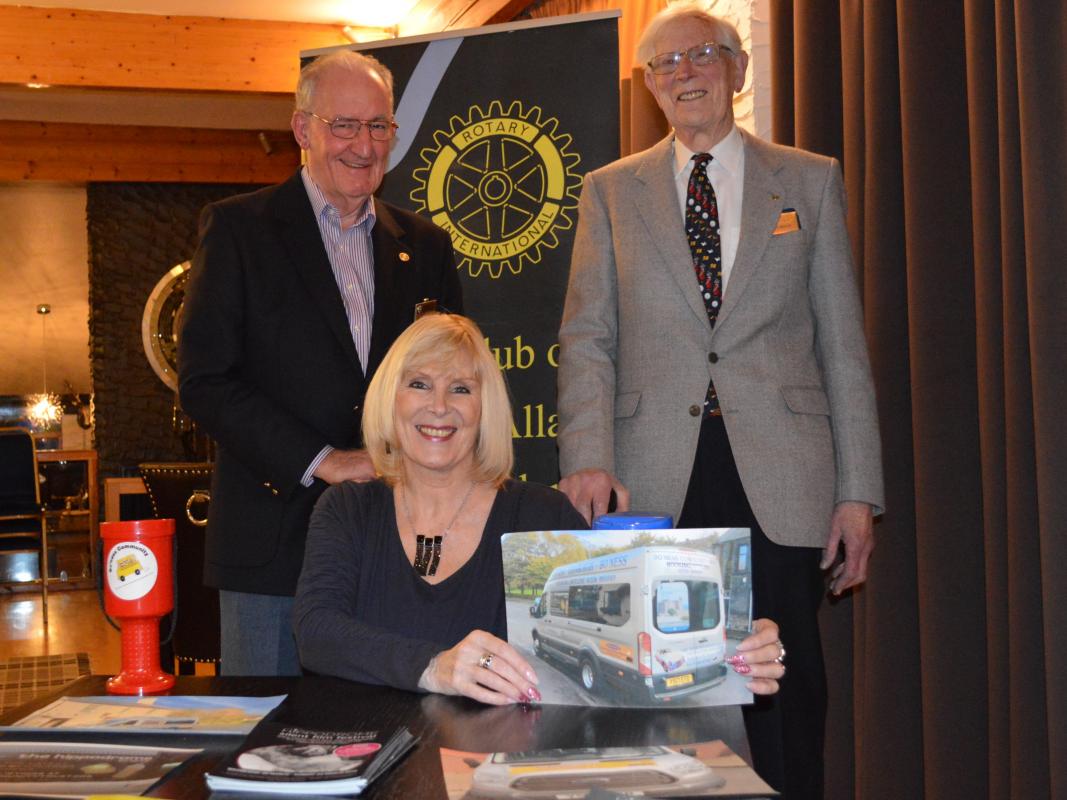 Bo'ness Community Bus Project - Val Ferguson Thurs 14 March @ 18.30
Making a welcome return to talk to the Club, President John Kilby introduced Val Ferguson, OBE as guest speaker last week.
Val's previous talk was about the work she did when working for the Ministry of Defence which led to her being awarded an OBE. Last week's talk was something completely different when she spoke about the work of a group of dedicated volunteers and employees involved in the setting up and running of the Bo'ness Community Bus Service. Val explained the background to this was due to the cancellation of the scheduled commercial service for financial reasons in 2016 which left Bo'ness with no public transport to Edinburgh. Initially, a small group tried to persuade Citylink to adjust their Dunblane to Edinburgh service to go through Bo'ness but this was rejected on financial grounds. The group then decided to set up a Charity to assess the feasibility of funding and running their own service. Less than a year later, they had an initial pilot service running which soon extended to 4 services a day and currently offers 5 services as well as offering a competitive hire service to local groups and schools. Indeed, their success in setting up the service led Citylink to do what they had previously refused to do and diverted their Dunblane to Edinburgh service to go via Bo'ness, although they excluded the Town Centre and rural communities. This is now the first Community-led scheduled Bus Service in Scotland run by a charity.
With funding from various sources, and donations from passengers, they overcame many hurdles, including problems with Edinburgh police and traffic wardens who were reluctant to accept that they operated a bona fide public transport service, despite having all the necessary permits, registrations and permissions. The service runs through 3 local authority areas.
Now, some 2 years later, the C19 bus service currently has three 16 seater minibuses on the road and is attracting passengers from across the globe. It is listed on Traveline Scotland website and the group are working with many organisations, both local and national, to promote and increase their service.
Val outlined their objectives which were to become sustainable by the end of 2019; increase awareness, especially with Edinburgh residents to encourage them to visit the attractions in the Bo'ness area; improvements to ticketing and signage and to offer a competitive hire service to compete with other transport providers.
David Mackie proposed a well-deserved vote of thanks to Val for her talk and enthusiasm in helping with the setting up and running of such a successful project. The Club members warmly endorsed this and wished Val and her team every success for the future.